CALENDARS
Happening around town



MOVIES
First-run film listings




PAST WEEK:





GENERAL
Phones, email, advertising



WHERE TO BUY IT
Stores and newsstands



SUBSCRIBE
Have the paper delivered



SUBSCRIBER FEEDBACK
Circulation contacts



HEADLINES BY EMAIL
Let Starbulletin.com come to you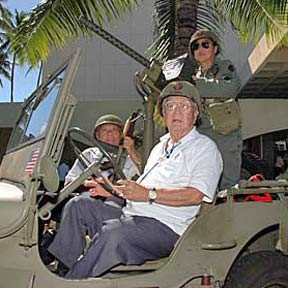 Ron Oba, front, Takamori Miyagi and Earl Nishioka attended a private screening of the World War II movie "Only the Brave" yesterday at the Blaisdell Concert Hall. Oba was a member of the 442nd Regimental Combat Team and Miyagi was a member of the 100th Battalion. Nishioka, a member of the Hawaii Historic Arms Association, wore a style of uniform that Oba and Miyagi wore in World War II.
[ MORE INSIDE ]
Starbulletin.com publishes online editions Monday through Sunday. New editions normally posted online between 2:00 and 5:00 a.m. Starbulletin.com publishes articles written by our staff and selected articles of particular interest to our readers. Entire contents of this Web site © copyright 2005 Honolulu Star-Bulletin. All rights reserved.
| | |
| --- | --- |
| Featured on: | Partner site: |
— ADVERTISEMENT —

Delays burden city tax appeals
»Isle exchanges aid disaster relief
»Movie honors legacy of 442nd
»411th keeps eyes on mission
»Family tells isle heritage with its own
»Chief favors brains over brawn
»Students support their soldiers
»Submariner dies after vessel runs aground
»Shakespeare showcases orchestra's range

Burning lesson
»Local Color: An artistic view of territorial days
»Gallery: Pegge's Italian past
»D&Q: 'Blindfolded's' visions enlighten
»Bookshelf: Isle Pages

The Search for Hawaiian Life

'Bows enjoy rare blowout
»'Bows rotation grows
»Singh strikes back at Els
»Kaye in good company
»Spartans hold off Hawaii in overtime
»Weir, Weisskopf pace Buffanblu
»McLachlin sparks Punahou in return
»Five seniors eager to check out Oregon State

Room enough for two airlines
»Barnwell hits right combination
»Inside Hawaii Inc.

U.S. holds itself hostage to oil interests
»McCain shouldn't block Akaka bill
»Letters to the Editor



— ADVERTISEMENTS —

— ADVERTISEMENTS —