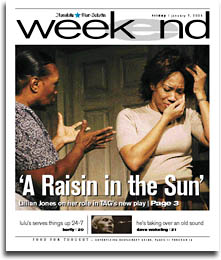 [ WEEKEND ]
---
---
The life of
a black family
"A Raisin in the Sun"
bares the hopes, dreams
and disappointments of
the 1950s
The young airman may have wondered if she was psychic, but Lillian Jones was just being in touch with her roots.
"I was on Hickam Air Force Base, and it was coming up to Thanksgiving, and there was a young guy who looked like he was about 25 talking about what he was going to cook. When he said he was from Chicago, I said, 'I bet you have relatives in Mississippi' -- and it turned out that his father had grown up in Mississippi," Jones explained in a late-night phone interview Sunday.
Real-life drama
Presented by The Actors Group

Where: The Yellow Brick Studio, 625 Keawe St.

When: 7:30 p.m. today, tomorrow and Wednesday, and 4 p.m. Sunday

Tickets: $10

Contact: 722-5941 or tickets@taghawaii.org
Jones was fresh out of a rehearsal for The Actors Group production of "A Raisin In the Sun." The show opens tonight with Jones playing upwardly mobile Beneatha "Bennie" Younger in Lorraine Hansberry's classic African-American play.
So what's the Mississippi connection? Jones grew up in Mississippi, but many members of her extended family live in Chicago, and that's where the play takes place.
"You can almost take a pencil and map the migration from certain areas in the South -- people in Louisiana who migrated to Houston, and people from Mississippi who migrated to Chicago. My father started moving people to Chicago in the 1950s, and five of my father's sisters moved there. ... I would say that (Hansberry) definitely had her roots in Mississippi, because she made reference back to Mississippi ... and during that time (she was writing about), people were moving towards Chicago."
---
---
HANSBERRY was born in 1930 and grew up in Chicago at a time when de facto racial segregation was a fact of life there.
She wrote "A Raisin In the Sun" while still in her 20s, and drew on her own family's experiences in describing the hopes, dreams and bitter disappointments of a black family in the 1950s.
As the story goes, Mama Younger wants to use the $10,000 check from her late husband's life insurance policy to buy a home in a white neighborhood. Her son, Walter Lee, wants to invest the money instead in a neighborhood liquor store and provide a better life for his wife and son. Mama's daughter, Beneatha, who is the first member of the family to go to college, wants to use the money for her medical school tuition.
Beneatha also is juggling relationships with two men -- one is a wealthy African-American who believes in assimilation and getting along with white people, and the other is a Nigerian student who wants Beneatha to go with him when he returns to Africa.
"A Raisin In the Sun" opened on Broadway in 1959, and subsequently made into a 1961 film that starred most of the original cast. It's also been adapted into a Tony Award-winning musical, produced for television, and revived on Broadway last year.
"A good number of people in Honolulu are familiar with it, and then a good number are not," said Jones. "But I would say that even if someone were intimately familiar with this particular play, I think they will buy into the characters who are on stage.
"What I've noticed (during rehearsals) is that it has been difficult for some of the people to actually utilize the same language that the author used. ... One member of the cast grew up in California and she did not capture (the dialogue) the way the author had written it. It was difficult for her because she was not accustomed to speaking that particular way."
---
---
Some people find it convenient to describe Hansberry's play as "black theater," but most of the issues it addresses transcend race -- i.e., the desire for a better life in a good neighborhood, the problems caused by poverty and lack of education, racial prejudice, cultural identity, the role of women in the home and in the workplace, and women's access to abortion.
"Beneatha, throughout the play, is the one who is supposed to be distinct from the rest of the family because her English is more standard," Jones said. "She's the first person in the family to go to college (and) her speech is generally a bit different from the family. When I think about Beneatha and her speech, I guess a lot of people will find it offensive -- and some people don't particularly put that much emphasis on it -- when somebody says 'you don't sound like you're black.' "
JONES' involvement in theater began with school plays and continued with professional work on the mainland before she moved to Hawaii four years ago. In fact, she first did "A Raisin In the Sun" "years ago" with a theater group in Nashville, and says that doing "Raisin" again has been great fun.
"I've found it interesting that my emotions are at different places this time. I don't recall feeling the way that I'm feeling now, but no matter how many times we rehearse, it is always so enriching and so rewarding that we still can spark various conversations from it ... and I love the fact that we can still generate dialogue, in spite of having worked on this script for a couple of months. You can never get enough of it."