[UH FOOTBALL]
---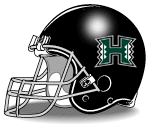 Spartans' Smeland
returns to Aloha Stadium
The former UH defensive
coordinator now holds the
same position at Michigan State
There's a guy in Michigan who feels the despair of Hawaii volleyball fans.
Chris Smeland is disappointed UH won't play a home match this week in the NCAA tournament.
"They're not hosting? That's too bad. I was really looking forward to seeing the Wahine play," said Smeland, the Michigan State football defensive coordinator, who comes to Oahu with the Spartans tomorrow.
Michigan State (5-6) and Hawaii (6-5) meet Saturday in the regular-season football finale for both.
Smeland's job is to spoil the Warriors' Hawaii Bowl hopes, but he had also wanted to see his good friend, Dave Shoji, coach a first-round match at the Stan Sheriff Center.
Smeland and Shoji became neighbors and then pals when Smeland was a UH football assistant coach in 1991.
"He's a runner, and he got me to run with him," Shoji said. "We also went to Churchill Downs together when he was coaching at Louisville.
"I thought he was a very bright up-and-coming coach. He was innovative, a student of the game, and an easy guy to get to know," Shoji added.
Smeland became the UH defensive coordinator under Bob Wagner in 1992, the year Hawaii won a share of the Western Athletic Conference championship and the Holiday Bowl.
"My fondest memories are of the players I was associated with," Smeland said. "The greatest thrill was seeing big crowds at Aloha Stadium. It was always fun to be there. There was lots of enthusiasm."
Smeland has also had coaching stints at Colorado, Southwestern Louisiana, Nevada, Cal Poly SLO, Kent State, Utah State and Louisville.
He is in his second year on coach John L. Smith's staff at Michigan State.
The Spartans had a disappointing end to their Big Ten season two weeks ago, losing to Penn State and falling out of the bowl picture.
"I'm one of those positive guys. We beat two teams in the top 20 at the time (Minnesota and Wisconsin), but our season was similar to Hawaii's. We did awfully well at home, but on the road we had a tough time. That's something we have to solve this week."
Middle men: UH middle linebacker Watson Ho'ohuli has earned a starting spot, and the former starter in the middle, Ikaika Curnan, will likely move back to the outside, where he thrived last season, Hawaii coach June Jones said.
"Both will play," Jones said. "Ikaika's still not 100 percent, but nobody is and everybody who can walk will want to play in this one. We'll (start) the best three out there, and Watson's one of them."
Tanuvasa Moe, who returned last week after a hamstring injury kept him out of the previous five games, will also probably regain a starting position, Jones said.
Centers of attention: A similar situation has arisen at center, where starting left guard Samson Satele moved to the position two weeks ago because of injuries to Derek Fa'avi and Uriah Moenoa.
Fa'avi is out for the season, but Moenoa's knee and hamstring might be improved enough for him to play Saturday.
"Samson's pretty good at center," Jones said, when asked who would play there. "There's plusses on both sides."
Before taking over for Fa'avi at center, Moenoa began the season as the starting right guard, which he also played last year. The senior started at right tackle his first two years.
Second-year freshman Hercules Satele started at left guard the past two games, and backups Phil Kauffman and Dane Uperesa have seen meaningful playing time at left guard and right tackle.
June on Jeff: Jones was asked his thoughts on the Chicago Bears' signing of quarterback Jeff George.
An intense verbal confrontation between Jones (then the Falcons' head coach) and George on the Atlanta sideline during a 1996 game led to a four-game suspension for George.
"Jeff George is the best passer I've ever seen," Jones said. "He can contribute to any team and win."
Special deals: UH's "Pack The House" campaign features ticket discounts. These offers are available only at the Stan Sheriff Center.
» Season-ticket holders get a special price of $20 for red and yellow-level sideline seats (regular price $35), $15 for South end zone seats ($30 regular price) and $10 for North end zone (regular: $22).
» Tickets for children 18 and under are $7 in the North end zone (regular price is $17).
» UH students get a free ticket by showing their UH identification card at the Sheriff Center box office. There will also be student buses to the game. Call 956-5052 to reserve a seat.
» Fans who are not season-ticket holders get a $10 discount on the cost of a ticket by bringing a toy for "Toys For Tots" to the Sheriff Center when buying a ticket.