Final results for primary






CALENDARS
Happening around town



MOVIES
First-run film listings




PAST WEEK:





GENERAL
Phones, email, advertising



WHERE TO BUY IT
Stores and newsstands



SUBSCRIBE
Have the paper delivered



SUBSCRIBER FEEDBACK
Circulation contacts



HEADLINES BY EMAIL
Let Starbulletin.com come to you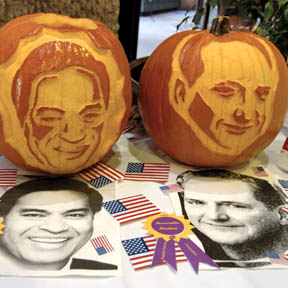 Architects Hawaii, Ltd., had their 16th Annual Pumpkin Carving Competition yesterday. Two of the pumpkins had mayoral candidates Mufi Hannemann and Duke Bainum carved into them, both of which won honorable mention.
[ MORE INSIDE ]
Starbulletin.com publishes online editions Monday through Sunday. New editions normally posted online between 2:00 and 5:00 a.m. Starbulletin.com publishes articles written by our staff and selected articles of particular interest to our readers. Entire contents of this Web site © copyright 2004 Honolulu Star-Bulletin. All rights reserved.



| | |
| --- | --- |
| Featured on: | Partner site: |
— ADVERTISEMENT —

Gore fires up Dems
»Local absentee voting is brisk
»Schofield soldier dies after bombing
»Lingle says endorsement bogus
»Makiki man cited for illegal monkey
»Lingle would turn down potential Cabinet post
»Ewa Beach home blaze deemed murder/suicide
»Judge plans ruling on man's sanity
»UH works on new guidelines for spending
»Murder suspect will fight charges
»Ex-officer appears in court in 'ice' case
»Kids exhibit at zoo starts construction
»Matson workers give $1,400 to aid kitten

HIFF: Offerings at the academy
»HIFF: Going over top in homage to B-movies
»We Asked: Barometer of Cool
»Music: The Weekly Top 10 Hit List
»The marriage debate
»'Tis the season for church fund-raisers

Hawaii vs. Boise: UH beaten blue
»Warrior Report
»Furious rally keeps Wahine unbeaten
»Wilton's Warriors on display today
»Trojans top Surfriders to reach semifinals
»Kahuku comes to pass
»Iolani runs past Damien for a win
»Kohala tops Ka'u 27-21
»Hanalani's playoff run stopped by Crusaders

S.F. union dispute disrupts 2 Waikiki hotels

State must do its best to support bottle bill
»Bush should explain explosives blunder
»Letters to the Editor



— ADVERTISEMENTS —

— ADVERTISEMENTS —