Final results for primary








CALENDARS
Happening around town



MOVIES
First-run film listings




PAST WEEK:





GENERAL
Phones, email, advertising



WHERE TO BUY IT
Stores and newsstands



SUBSCRIBE
Have the paper delivered



SUBSCRIBER FEEDBACK
Circulation contacts



HEADLINES BY EMAIL
Let Starbulletin.com come to you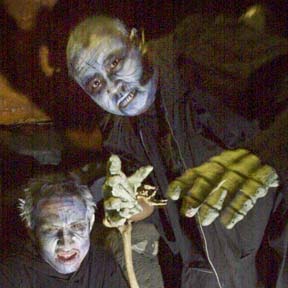 Shockhouse, the haunted house event that opens tonight at the Blaisdell Exhibition Hall, will feature a host of horrid creatures who are bent on giving thrill seekers what they want. Decked out as ghouls are Christian Beall, left, and Kallen Keo Kekua.
[ MORE INSIDE ]
Starbulletin.com publishes online editions Monday through Sunday. New editions normally posted online between 2:00 and 5:00 a.m. Starbulletin.com publishes articles written by our staff and selected articles of particular interest to our readers. Entire contents of this Web site © copyright 2004 Honolulu Star-Bulletin. All rights reserved.



| | |
| --- | --- |
| Featured on: | Partner site: |
— ADVERTISEMENT —

Coalition unveils anti-cancer strategy
»Teacher of year cites 'human aspect'
»Lingle in comic TV dogfight
»'Lost' secure on ABC schedule
»Isle soldier remembered
»Murder suspect pleads insanity
»Ethics panel rejects event complaint
»School graffiti called 'terroristic'
»Regents OK Pharmacy College
»City unveils new hybrid buses
»Miracle cat wins donation
»Grant aids construction school

Halloween: Shockhouse back for a second year
»Weekend: Feast for film fans begins
»'Hero' actress Chueng mixes pleasure into work
»'Aloha' fills generation gap
»Spinning stars
»Drama features cast of local teens
»True tale has compelling twists
»Tale warns world of cultural exploitation
»'Kamea' is local effort
»Aga-Boom! brings out inner-child
»'Miss Saigon' star Lea is back
»Journey returns after 2 years with a new leader
»Girl power rocks at benefit concert downtown
»Pet Ohana: Go on, let the dogs out

Hawaii and NFL say deal is a hit
»Poet putting together complete set of scores
»Hawaii proves best of WAC unbeatens

Pearlridge space to be split up

Candidates have right to spend their money
»Devil in the details of sewer bond plan
»Letters to the Editor



— ADVERTISEMENTS —

— ADVERTISEMENTS —