[ UH FOOTBALL ]
---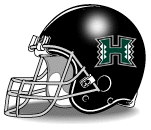 Price has Miners
on the right track
Hawaii faces a UTEP team
that has been revived by the
former Washington State coach
---
For June Jones, familiarity has bred respect when it comes to Texas-El Paso football.
Yesterday, at his weekly news conference, the Hawaii coach spoke glowingly of the Miners' revival under first-year coach Mike Price.
"They are alignment- and assignment-perfect on defense. And they are playing very hard, and with energy, which you'd expect a Mike Price team to do," said Jones, who takes his Warriors (2-2, 2-1 Western Athletic Conference) to El Paso for a pivotal game for both teams Saturday. "He's a people guy, players respond to him. He's a players' kind of coach. They are rallying up, I can see that."
Price has rallied up personally.
After taking Washington State to the Rose Bowl, he was hired by Alabama heading into the 2003 season. But Price was fired by the Crimson Tide without coaching a game following a scandal involving exotic dancers and excessive alcohol. A $20-million defamation lawsuit by Price against Sports Illustrated is still in court.
Now, Price is doing exactly what many predicted he would when UTEP hired him -- he's bringing the team back from oblivion.
UTEP (3-2, 1-1) is coming off a 24-21 road upset of Fresno State last week.
"(Price) made a big difference. Looking at the tape you can tell," said Jones, who looked into hiring Price as an assistant. "They're very well-coached. He doesn't have all the guys he wants yet, but he's got them playing the way he wants them to play."
Jones said the Miners remind him of UH in 1999, his first year as Hawaii coach.
"Very similar," he said.
One reason is Greg McMackin, the Hawaii defensive coordinator that year, worked with Price in the past.
"They were together at several places," Jones said. "Their schemes are very similar to ours."
Price's Washington State team beat Hawaii 22-14 at Aloha Stadium in 1999.
Price also spoke highly of Jones during yesterday's WAC teleconference.
"June Jones is a perfect fit for the University of Hawaii," he said. "His philosophy is sound and solid, although it's different than other people. It's nothing standard, but they do it well."
Injury update: UH sophomore starting cornerback Kenny Patton said he might be able to play this week despite a strained left hamstring that knocked him out of last Saturday's 48-26 victory over Nevada.
"I don't know how soon I'll be able to practice," Patton said. "But it's just minor stuff."
Jones said he was relieved to learn the injury was to Patton's left leg, as it was a right-hamstring pull that sidelined Patton nearly all of last season.
Some combination of Cameron Hollingsworth, Ray Bass, Turmarian Moreland and Omega Hogan will fill the void if Patton can't play.
The news isn't as good for starting middle linebacker Ikaika Curnan. He has a high sprain of his right ankle, and is expected to miss at least one game.
"Ikaika probably won't play," Jones said.
Watson Ho'ohuli and Timo Paepule will share time in his place, with weakside linebacker Tanuvasa Moe moving to the middle at times, the coach said.
Second-team defensive tackle Kahai LaCount is out with a knee sprain. As of late yesterday afternoon, it had not been determined if he would require surgery.
Owens awarded: Chad Owens was named WAC special teams player of the week yesterday after returning a punt for a touchdown for the second game in a row. He said the entire punt return unit deserved the award.
"Everyone did their job," he said. "(Chad Kapanui) went over there and made the block and there was no chance. I think every TD I've scored on a kick return (five) he was in on it. If it wasn't for Omega Hogan and Ross Dickerson doing a good job on the gunners, maybe I wouldn't have scored."
UTEP linebacker Robert Rodriguez and Rice running back Ed Bailey got the defensive and offensive awards.
---