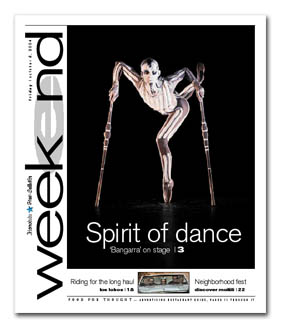 [ WEEKEND ]
---
---
Dreamtime,
in myth,
motion
---
As leader of Australia's most visible indigenous dance company and one of his nation's most celebrated indigenous artists, Stephen Page knows full well his responsibility to Australia's native peoples. The artistic director and choreographer of the Bangarra Dance Theatre, whose current touring production, "Bush," lands in Hawaii this weekend, relishes the opportunity to present an imaginative articulation of the cultures of Australia's first inhabitants to international audiences.
Bangarra Dance Theatre
Where: Hawaii Theatre

When: 8 p.m. today and tomorrow

Tickets: $22 to $38

Call: 528-0506
The company's new work is an evocative physical illustration of the Dreamtime creation myths of North East Arnhem Land in Australia's Northern Territory. "Bush," he believes, will resonate with Hawaii audiences in particular. "I think that in any country that's run from a Western supremist type of power, your challenge is to maintain indigenous justice through the beautiful expression of art," states Page. "Australia has over a thousand different dialects and languages and most of the southern languages have been forbidden and taken away, like most countries that have strong indigenous content. It's a bit like Hawaii, in a way."
One of 12 children born in Brisbane to a working-class family headed by an Aboriginal father and a mother of mixed blood (Spanish, Filipino, English, Aboriginal), Page found great purpose through his chosen medium. Following studies in dance and stints abroad, in 1991, at the age of 26, he was asked by Bangarra, then a year old, to become its artistic director and choreographer. He has since directed the company to several prestigious awards and brought Bangarra world acclaim with his direction of the opening and closing ceremonies of the 2000 Sydney Olympic Games.
---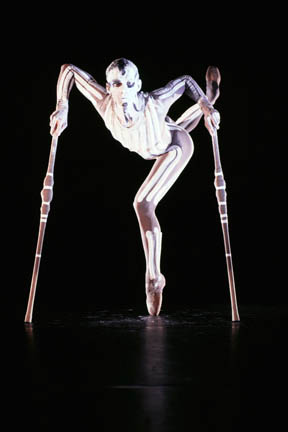 ---
Members of the all-indigenous troupe, says Page, not only perfect their technique in Western dance with Bangarra, but also visit workshops in rural communities and speak with guides who impart traditional myths and stories as well as insights into aboriginal history and culture. "Their professional development is quite intense and there's quite a bit of depth to the uniqueness of what it is to be an artist in Bangarra," he attests. "A lot of elders have been consulted and worked to maintain the company's integrity as it has evolved in a contemporary expression."
Though the company features a colorful assortment of aboriginal and Torres Strait Islander performers with varying portions of non-white blood, each member is devoted to Australia's native cultures.
"Aboriginality in Australia is very diverse," Page notes. "A lot of people say there are half-blood aboriginals, there's quarter class, there's full-bloods, and in Bangarra, we all identify as being aboriginals, so you'll get a lot of people that are fair-skinned to a lot of others who are quite dark-skinned, but the thing for us is we all commit to surrendering our identity to our indigenous culture and that's what we all philosophically believe in. The culmination of personalities is what makes the ensemble very exciting."
Though widely acclaimed and respected, it is the way he inspires like-minded individuals who share his motivation for furthering the creative aspirations of Australia's native peoples that is perhaps Page's most meritorious achievement.
"I've been fortunate to accept my own spirit-god and to know the bigger vision of the company and I've had artists come into the company with that same belief," he says. "They see it as rejuvenating and rekindling their purpose in life."
"If I get hit by a bus tomorrow, I've had a great life," Page adds with a laugh. "And I think there's enough energy and spirit in the foundation for it to continue."