[ UH FOOTBALL ]
---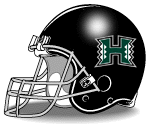 Warriors' morale
spikes after first victory
Hawaii's 44-16 win over
Tulsa last weekend ended an 0-2
skid and sent spirits soaring
---
It is a cliché. But like most of them, this one is based in truth.
What a difference a win makes.
"Definitely," Hawaii linebacker Tanuvasa Moe said. "The whole team morale, you can see it in the way people walk around school and the way they're in the locker room laughing a lot more. The last four weeks actually has been kind of terrible. We had two byes, and after both losses it's hard just to sit on it for two weeks. So it's good to finally get that win in there and everybody's hyped up and ready to get another one."
Among those feeling best about UH's 44-16 breakthrough against Tulsa last week are Moe and his fellow defenders. With losses to Florida Atlantic and at Rice, the UH defense took a beating on the field. And off it.
But after an inspired effort that resulted in five sacks and a mere 59 Tulsa rushing yards, everything is looking rosier for the formerly embattled Hawaii defenders heading into this week's home matchup against Nevada.
"Our whole defensive unit is playing together. We're making plays, picking each other up," said UH corner Kenny Patton, who had an interception last week.
"We're just playing faster."
Did the defense need to get the Rice loss out of its system?
"Definitely," Moe said. "That was a real hard loss and we felt like we weren't physical enough at all with that team. And one thing that Hawaii has always prided itself on is the physical aspect of the game, how intense you are. We really knew we had to step it up and practice the past two weeks ... . We've been hitting a lot more."
But Patton said that loss did not drag him down.
"No, I felt like we had to get better," he said. "Practice got a lot more intense. We started tackling a lot better, you know, we started focusing. That's what I like about this team. Instead of getting down on ourselves, we just kept each other up to get better."
Run blitzes persuaded Tulsa to quickly abandon its ground game, which played right into Hawaii's hands.
"We play against the pass almost every day against our own offense," Moe said.
Nevada's offense, Patton noted, with its wide-open formations and numerous passing plays, should also have a familiar feel.
Hawaii's defensive players can't wait for Saturday night.
"And now it's good," Patton said. "Because we don't have a bye week to regress and everything. We're just going to keep getting better and better."
He's back: Hawaii kicker Justin Ayat said he's felt like his old self for a while now. But it took a game in which he tied Jason Elam's school record 56-yard field goal -- and for which he was named Western Athletic Conference special teams player of the week -- for the rest of us to notice.
Ayat struggled noticeably last year -- so much so that he was eventually replaced by Nolan Miranda. And he was slowed by a groin injury early this season.
But Ayat appears to have recaptured the form that made him a freshman All-American in 2001.
"I mean, I was feeling good back at Rice," he said. "I just didn't get that many opportunities to show it."
Ayat said that "as much as 80 or 90 percent is mental" when it comes to kicking. So his groin injury this year wasn't near the challenge last season's slump was.
"It started off as not being a big deal to me," he said. "I mean, I don't really pay attention to (that stuff). I mean, I make mistakes, but I don't really dwell on them too much. But just over time more and more attention was drawn to it and probably coming back to me and messing my mind up.
"That just goes to show you, I have all the physical attributes you need to kick, but messing up with the mental game, I looked terrible out there."
Ayat already knew he was over that. But last week's performance certainly didn't hurt.
"It feels great," he said. "It's a relief. I put that behind me a while ago, but it still kind of hangs around a little until you start playing games and proving otherwise."
In or out?: Hawaii is preparing as if star Nevada running back Chance Kretschmer is going to play. And highly recruited freshman Andrew Pearman is among the scout-team players trying to simulate Kretschmer's level of ability for the Hawaii defense.
But UH coach June Jones doesn't sound so sure. "I don't know if he's playing," Jones said. "It sounds like he's not going to be."
On the official Nevada news release, Kretschmer is still listed at No. 1 on the depth chart.
Kretschmer suffered a knee injury on the first day of fall camp, and has been trying to get back to full strength ever since. He was held to just 57 yards last week at Nevada-Las Vegas.
Short yardage: After missing last week's game, UH center Derek Fa'avi was back with the first offense yesterday. "He gives you a lot of confidence," Jones said. "He looked today like he's going to be able to go." ... Despite being listed as day-to-day (shoulder stinger) Melila Purcell lined up with the first defense yesterday and took part in all drills. ... Jones on last year's Nevada game, a 24-14 Hawaii loss at Reno: "I don't even remember what happened. I'm worried about this year."
---