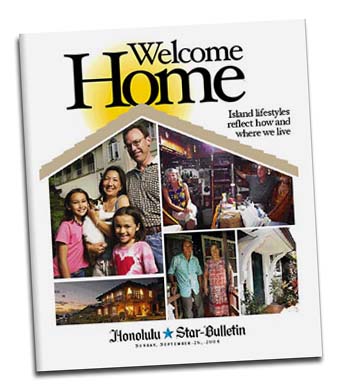 ---
The house is in an older neighborhood on Oahu. A modest, one-story affair with a carport fitted at the side, it is distinctive only by color -- lovely shades of pink.
Weathered by sun, rain and time, the structure's tones grade between salmon and blush that all match a cloth hat with turned-down brim worn by the woman working in the patch of grass out front.
This portrait of home and owner exhibits how a dwelling can reflect so much about the individuals who live inside. One-room bungalow or spectacular mansion, the habitat fits its occupants, their taste and style, their personalities, income, status and their fancies.
The lodgings might be temporary, suitable until circumstances change. Empty-nesters trade two-stories, wide lawns and mango trees for the ease of condos where their neighbors might be single people just starting out. Young couples anticipating children seek three bedrooms on a quiet cul-de-sac, a safe place to ride bikes and shoot baskets.
A house represents stability, a grounding of self, family and friends that in turn cultivates community.
In recent months, housing prices have reached record levels across the state as the desire to live in a beautiful setting lures buyers from outside the islands. Still, the lower mortgage rates have made possible the American dream for many local people as well.
On the beach or in a rain forest, tucked close in the 'burbs or miles away from neighbors, the place called home is more than shelter. It's where people go at day's end, where they've invested money and energy, where they keep all the stuff of life. It is haven and retreat.
Click here to begin.