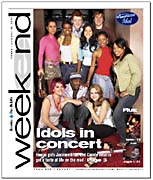 [ WEEKEND ]
---
American Idols
Islanders Jasmine Trias and Camile Velasco
top the bill as "American Idol" wraps up its
concert run at the Blaisdell Arena next week
---






'American Idols Live'

Where: Blaisdell Arena

When: 7 p.m. Tuesday through Thursday

Tickets: $48

Call: 591-2211



Even down the final home stretch of an exhaustive 50-city "American Idols Live" tour, Camile Velasco can remember, with surprising clarity, each concert along the way, beginning with the first date in Salt Lake City. "It was amazing," gushes Velasco, recalling the deafening cheers that bounded across the 20,000-seat Delta Center. "The crowd was so loud and the lights were so bright. It was like concerts you see on TV, you know?" She chuckles, marveling at the recollection. "But it was us!"
If the aspirations of Velasco, fellow Hawaii entrant Jasmine Trias and the rest of this year's "American Idol" cast were realized with their appointments to the finals of the national singing contest in February, their wildest dreams were exceeded with this summer's popular summer concert tour, which wraps up in Honolulu for three near-sold out concerts next week.
Via cell phone from a tour bus approaching St. Louis, Mo., Trias confesses she's never had more fun -- or friends -- in her life. The high-stakes TV contest may have made quick compatriots of its jittery finalists, but the absence of competition from the "American Idols Live" concert tour has allowed the cast to cultivate deeper kinships on the road.
"We were all close during the competition, but we were all watching our backs," Trias acknowledges. "But now that we're just having fun on stage and performing together, we are much closer and we opened up more with each other. I think we've bonded even better on this tour."
Despite their ages, Trias, who is 17, says she has grown close to LaToya London, the group's senior member at 25. "She's my buddy on the tour," reveals Trias. "We're always hanging out with each other and having girl talk. It's kind of funny because she's one of the older ones and I'm one of the younger ones, but it's pretty cool because we really relate to each other on some level. We just clicked."
Velasco, meanwhile, has found common ground with fellow contestant Jennifer Hudson and Idol champion Fantasia Barrino. "Fantasia and I are the closest in age to each other and we're a lot alike as far as style and musical preferences," explains Velasco, whose CD collection runs the gamut from underground hip-hop and R&B to classic rock. "Jennifer, she's a Virgo and I'm a Virgo. I think it's a Virgo thing -- we get along so well."
THOUGH THE group performs up to five times a week, Velasco and Trias say the intoxicating on-stage experience that accompanies each show negates all fatigue. "Sometimes you just have to drag yourself up there," Trias concedes. "But once you get out there, the energy level is so high that you forget about everything else."
"There's never been a day on this tour where I was like, 'I wanna go home,' " adds Velasco. "Every day is so fun and I've taken in as much as possible every day because I'm having the time of my life."
Judging by recent reviews, performing live in concert has also helped the pair become more seasoned singers. At various times during their stints on "American Idol," both Trias and Velasco were made to endure criticisms from the show's panel of judges. "I think it's not how you fall, but how you get up after you fall, that's important," relates Trias. "By performing a lot, you learn how to control your voice more, you learn how to hit those notes comfortably and if you mess up, you learn how to cover it up quicker. It's like you're forced to grow as a performer."
On the horizon, there are recording offers to mull over for both, as well as product endorsements in the Philippines for Trias, though the girls say their first wish is to enjoy life in the islands again. "I've never been away from home for so long," says Trias wistfully. "I miss Hawaii. The people, the beach, my family, my friends. I want to sleep in my own bed and go to the beach."
"I miss the people, I miss the food and I miss my family a lot," adds Velasco. "But I think I miss the food the most."
The forthright admission elicits a cackle from Velasco as well as an assenting cheer from Trias. "There's no food like the food in Hawaii," declares Velasco, who has been informed that their return trip will include an elaborate luau for the entire cast, complete with kalua pig and lomi salmon. "I can't wait to come back home."