CALENDARS
Happening around town



MOVIES
First-run film listings




PAST WEEK:





GENERAL
Phones, email, advertising



WHERE TO BUY IT
Stores and newsstands



SUBSCRIBE
Have the paper delivered



SUBSCRIBER FEEDBACK
Circulation contacts



HEADLINES BY EMAIL
Let Starbulletin.com come to you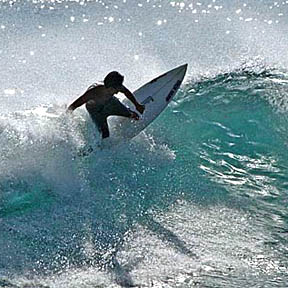 Even though surf along south shores has dropped below advisory levels, there are still fun waves to be had. Near Point Panic along Kakaako Waterfront Park yesterday, a surfer banked off the lip of a wave.
[ MORE INSIDE ]
Starbulletin.com publishes online editions Monday through Sunday. New editions normally posted online between 2:00 and 5:00 a.m. Starbulletin.com publishes articles written by our staff and selected articles of particular interest to our readers. Entire contents of this Web site © copyright 2004 Honolulu Star-Bulletin. All rights reserved.



| | |
| --- | --- |
| Featured on: | Partner site: |
— ADVERTISEMENT —

Merged bank to scale back
»Manoa pair faces extortion charges
»Deaf vet blames mix-up for arrest
»Absentee voters keep pouring in
»ACLU wants Tasers restricted
»Driver held in crash that hurt officer
»Isle expat recalls storm survival
»Charter school enrollment up
»Bush taps isle attorney for bench
»Housing agency accepts federal reforms
»Developers defend hospital plans
»Volunteer Bette Stillwell dies
»Dennis Quan Keong Dung dies
»Isle prison to ship 6 to Utah
»Airport security getting tougher

'Cinema' alive and well
»Chinese film's plot lags
»'Camera' envisions S. Africa's future
»Film shows diverse views of 9/11
»Filmmaker parlays Hitchcockian pursuit
»Activist's art spiritually authentic
»Crime-fighting robot monkeys fit cliche
»Theater eyes unique take on Greek characters
»Keiki star in Festivals
»Master of the strings
»Kids eat up retelling of tale
»Some animals need foster parents, too

Showtime for Arnott
»Owls to field a patchwork offense
»Iolani facing stiff competition
»Giants activate Williams

Sold on the islands
»Hawaiian Airlines gets new lease on life
»State health fund to stick with HMSA for 2 years

Land transfer enables home ownership
»Brigade will balloon school enrollment
»Letters to the Editor



— ADVERTISEMENTS —

— ADVERTISEMENTS —