[ DRAWN & QUARTERED ]
Graphic Arts As Literature
---
Translation works
for Milk-Chan
---
One of the rules that hard-core anime fans have stuck to for years is that nothing beats the original Japanese version of any series for pure entertainment value.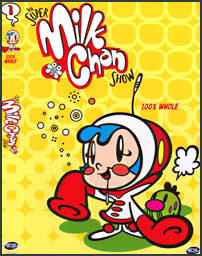 They'll point to the original "Sailor Moon" series, where characters' genders were changed and whole scenes deleted because they were inappropriate for children; "Initial D," where names and much of the soundtrack were changed; and "One Piece," where a character's ever-present cigarette suddenly turned into an ever-present lollipop, also to make the series more kid-friendly.
For those fans, the following sentence will sound downright blasphemous: ADV's recent release of "The Super Milk-Chan Show" -- a combined release of two Japanese series, spread across three volumes -- is much better watched in its edited, dubbed English form than it is in the original Japanese.
Before anyone decides to take the title of this column as a suggestion of what to do with this reviewer because of that statement, an explanation is in order.
Comedies often rely on cultural references to drive their humor, and "Super Milk-Chan" delivered them in buckets in Japan. But once the series made it across the Pacific, the references were obscured to the point that only hard-core Japanophiles would understand most of the jokes. For example, in one episode, counterfeit money is distinguished from real money by the faces printed on the bills. The original Japanese joke is that the bills feature Kin-san and Gin-san, twin sisters who gained fame in Japan for both living past 100 years old.
While anyone who watched the "Sushi! Donburi! Ramen!" New Year's specials that aired on KIKU years ago might remember them, it's pretty safe to say that most U.S. anime fans wouldn't.
ADV's solution was to produce two English dubs: one that remained faithful to the Japanese material and a second that kept the general plot intact but replaced all the jokes with American references, otherwise known as the "100 percent whole" version. In the example noted above, "Kin-san and Gin-san" became "Mary-Kate and Ashley Olsen." Voilą! Instantly accessible comedy.
In both versions, the characters remain the same: Milk-Chan is a 5-year-old superhero who is often called into action by the President of Everything to save the world. Whether she actually springs into action, of course, depends on if she's doing something more important at the time.
Since pretty much everything she does -- from eating stinky snacks to dodging repeated attempts by her effeminate landlord to collect overdue rent -- takes priority, the day often goes unsaved. It also doesn't help that the president is absent-minded and easily distracted.
Milk-Chan's frequent targets of abuse -- sorry, that should be sidekicks -- are Tetsuko, a robot servant who's always being picked on by the director of the company that made her; Hanage, an alcoholic worm who could be the brains of the operation if not for the fact that he can only utter squeaks and grunts; and a robotic dog that likes to pee on whatever's around it and has a catch phrase that's unprintable in a family publication.
What makes the series worth watching in its revised form, though, are the live-action behind-the-scenes vignettes, in which the voice actors play out what is purportedly a (seriously whacked-out) day in the life of the ADV studio complex in Houston. It offers a glimpse at what the people behind the voices look like and is entertaining in its own right.