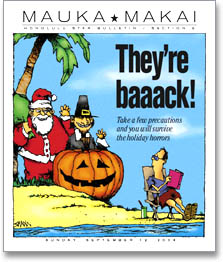 [ MAUKA

MAKAI ]
---
---
Keep it simple;
you'll cut the
stress
Less is more when it comes to
the true spirit of holiday
happiness
---
One hundred four days until Christmas. Seems like a long time away, but it's not. While it's not yet time to panic, it is time to think about how this year's holiday season can be sensible, simple and very special.
Orchestrating all the activities of the season can be overwhelming. There's shopping, cooking, going to the post office, taking the family picture, wrapping gifts, parties to attend, parties to give, family to visit and entertain, decorating, finding costumes, cleaning the house -- the list goes on.
Frightening, isn't it, to think of all that needs to be done besides working full time, chauffeuring kids and taking care of oneself? Often, we become slaves to the holidays instead of making them special.
Perhaps it's time to be sensible: Cut back on shopping, gift-giving, parties and all the other activities of the holiday season. It might not seem like the spirited thing to do, but it will keep the season merrier.
Take pencil to paper and start planning now. What activities are really important? Will there be a pumpkin carving and costume contest for Halloween? Who's organizing the Thanksgiving potluck? Shall we try a new recipe for latkes? Who should receive gifts? And Christmas cards? When shall I order mochi for the New Year?
First, remember that the holidays -- Halloween, Thanksgiving, Hanukkah, Christmas and the New Year celebration -- are a treasure trove of cultural and family traditions that deserve to be observed and honored. Perhaps there's something special you do alone each year; perhaps a tradition shared only by your nuclear family. It might be the Thanksgiving potluck, a recipe prepared only for Hanukkah or a Christmas gift-giving game that has been a part of the family for generations. Whatever it might be, these special threads provide continuity from one year to the next, and these experiences create warm memories to treasure.
Don't have a special tradition for any part of the holiday season? Create one. It might be a family dinner on a certain night with one special dish. It could be a visit to a relative or friend. It could be a day of pampering that time does not allow during the rest of the year.
Time is precious. We never seem to have enough of it, yet it is the gift of time that is most luxurious. Plan for time to dine with those close to you, time to create a home-cooked meal, time to shop or time to spend with a friend. Set time aside for the honoring of traditions and for activities that will make the holidays precious.
---
---
Entertaining
Rule No. 1: Entertain because you want to, not because you have to. Who says you have to host the whole family for Thanksgiving? Perhaps no one else does it because they are never asked; perhaps you've always been the orchestrator and everyone assumes you will continue in that role. Take turns; spread the joy (and work) of hosting around.
And who says the party has to be during the holidays? There are nine other months of the year. Spread the entertaining throughout the year with family and friends who are dear. It's much less stressful and much more fun when you don't have a million other things to worry about.
Entertaining doesn't have to be fancy-schmancy stuff. The purpose is to get people together to have a good time. Food plays a role, for sure, but do what you do best, even if it's the family's favorite meat loaf, a great chicken hekka or the best roast duck from Chinatown. Feature a great dish and let the sides be sideliners. Comfort food is always appreciated, especially if you've made it yourself. Make one truly spectacular dish that your guests will remember.
Potlucks are an island tradition that allow everyone to feel as though they are as much a party giver as the host and hostess. Plan a potluck affair: Assign courses or dishes so you end up with a balanced spread of food. Remember to include Aunty Emma's salad or Uncle Eddie's ribs: Favorite dishes are welcome and build traditions.
Of course, you can go out, although the hustle and bustle of a restaurant is not the same as the coziness of home. Choose a place that will allow for conversation and a chance to catch up with friends and family. Plan now; make reservations early.
Gracious entertaining is about a host/hostess being relaxed and welcoming. Planning and organizing are the key, and keeping the affair simple should be part of the process. Plan on enjoying yourself and you will.
---
---
Gifts
Perhaps it's time to rethink gift-giving. We never want to be the recipient without having given; obligations are always repaid. But lifting the pressure to always reciprocate will ease the stress of the holidays and the stress on your pocketbook. Is it really necessary to buy a gift for every member of a family when a single family gift might suffice? Might co-workers appreciate a coffee-break cake or lunchtime munchie more than little individual gifts that end up in the bottom of the desk drawer?
Consider entertaining as a gift: Wrap up the promise of a special brunch or dinner after the holidays when everyone has more time. Consider a floral arrangement or flowering plants that will last beyond the season. Consider a charitable gift in the name of your recipient, a gift that will no doubt go far.
Cut out the frivolous little-something gifts that end up in the charity box or trash. You know what these are: the cutesy mugs, silly notepads, refrigerator magnets and tchotchkes that seem appropriate but never fulfill their value. Are these items things you would like to receive? And could your time devoted to shopping and wrapping be better spent?
Ditto for the food gifts. Cookies, candies and sweet treats are great, but all seem to come at once. While some might last beyond the season, sweet treats overwhelm at this time of year. Consider fresh fruits, nuts or other food gifts of a healthier note this year. Gift baskets of fresh produce or even a gift certificate for food shopping will no doubt please.
At the office put a limit on gifts, or collect whatever everyone would have spent on gifts to make a donation to charity. Or have everyone chip in for an office lunch or arrange a gathering after work to celebrate the season outside the office. Do start making reservations now if you're planning an office party.
Planning to make gifts this year? A great idea, a tradition unto itself. But it takes time, too. Think about gifts that can be made ahead: chutneys, jams, flavored vinegars, fruitcakes. Cookies can be made ahead and frozen, baked or unbaked. Quick breads store well in the freezer, too. Enlist help, make it a family project or turn it into a gift-making event that might include some of the recipients.
Greeting cards are a form of gift, too. Do you really need to send 200 of them? Not likely, especially if they're imprinted, computer-addressed cards without a trace of personalization. Think of other ways to send holiday greetings -- letters to faraway friends, or perhaps just a phone call to someone across town.
Enjoying the holidays can be as simple as saying no to another gift to be bought, a party invitation or night out. It's all about savoring a few special activities and holding onto traditions that will make for special memories.
Make less count for more this year.