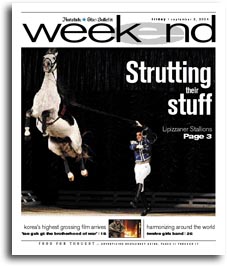 [ WEEKEND ]
---
---
Reining show
---
You'd never think what's basically a horse show would be the third longest running, behind the Ringling Bros. and Barnum & Bailey Circus, and the Harlem Globetrotters.
The 'World Famous' Lipizzaner Stallions
Where: Blaisdell Arena

When: 7:30 p.m. today, 2:30 and 7:30 p.m. tomorrow, and 2:30 and 6 p.m. Sunday. Also 7:30 p.m. Sept. 9 and 10, 2:30 and 7:30 p.m. Sept. 11, and 2:30 p.m. Sept. 12.

Tickets: $19.50, $24.50 and $35, with a $2 discount for children 12 and under and seniors 60 and over

Info: 591-2211 or ticketmaster.com
But the Lipizzaner Stallions are currently on their 34th-anniversary tour, and return to Honolulu for 11 performances over two weeks at the Blaisdell Arena that began yesterday evening.
The mighty and elegant white equines made their previous appearance here close to seven years ago, and while the humans of the show like master of ceremonies Troy Tinker will enjoy several days of vacation downtime here, those 13 horses still have to be taken care of.
"What the audience sees of the riders in performance is only 10 percent of their total jobs," said Tinker by cell phone from Los Angeles Tuesday before flying out here. "The rest of the time they must regularly feed, water and walk the horses. Some riders have one or two particular horses to take care of, although that doesn't mean they'll be riding those same horses in the show. Any well-trained dressage rider should be able to ride any dressage horse."
"Dressage" is the French word that epitomizes the harmony between the rider and his or her mount. The horses are trained and guided through a set of maneuvers -- not "tricks," mind you -- without the perceptible use of the rider's hands and legs, and use of the reins.
Based on the style of the centuries-old Spanish Riding School of Vienna, the basic program of the Lipizzaner Stallions includes two-, three- and four-man exercises, a demonstration of the classical training of equestrian art, a presentation of intricate maneuvers originally used in battle centuries ago to protect the riders, and the quadrille finale, a coordinated "ballet" of stallions and riders.
Looking at photos of the horses in action, one comes away with an impression that the stallions are just as majestic in stature as in skills. "That's one of the biggest misconceptions about them," Tinker said. "That's probably because when Napoleon had his portrait sitting on one, it wasn't to scale!
"Since they were used in battle, the stallions are not incredibly big, around 14 to 15 hands. The breed, however, is stocky and broad, with shorter legs. If they were real tall and lanky, they wouldn't able to do balancing moves they go through."
---
---
WITH THE mainly North American tour wrapping up its 11 months on the road on Nov. 28, Tinker -- who has been off-and-on with the show for 14 years, and full-time for the last two -- has an off-stage friendship with some of the animals.
"While I have little interaction with them on stage, behind the scenes is different. Each horse has his own personality, and one likes to get sugar cube treats, and another horse, whenever he sees me, positions himself such for his favorite back rub."
Of the 13 total horses that travel, Tinker said that "some only know one maneuver, while others are more adept." In case of an emergency, there are 10 to 12 stallions of the 49 in-training back at the show's headquarters in Oviedo, Fla., to pick from.
But everything is done to keep the stallions in tip-top health while on the road. "We have preventive medicine measures -- they get regular rubdowns and chiropractic care. After all, these are professional athletes, and have to stay healthy. But since they have so much personality as well, we also consider them as friends and part of the family."
And because of the respect and care the stallions are given, they aren't treated like pets who do cute tricks.
"Circus animals are expected to do tricks, things that are not part of their natural behavior, like bears riding bicycles. With our horses, they move the way they do naturally, and it's the challenge of the trainers to get them to do it on cue. It's important to work within the confines of each horse's personality. If they perform with no feeling, that's no good. The audience must see the sheer, unbridled joy of the horses."
---
---
THERE ARE six significant bloodlines in today's Lipizzaner breed, dating back to 1765. The stallions, from their origins 2,000 years ago, have always been associated with nobility and the military aristocracy, trained for battle. They're a hardy breed, with 30 to 35 years the average life span.
Because of their European origins, Tinker said that, although the Lipizzaner stallions "get a great reaction in the U.S., it's bigger in Europe, because dressage and horses are more of their culture."
And while Tinker said "a lot of our riders are Olympic caliber, ... at minimum, they have to be third-level dressage riders, akin to a brown belt in judo, a high-to-middle rider, which gives them an opportunity to improve their skills working on this show. They also have to be good people, because we travel a lot, so it becomes a little family -- sometimes dysfunctional! -- that can get along with each other."
Even though the show is very traditional in nature, Tinker said they try to "freshen up the choreography every year -- we even have a solo horse that dances to big band music."
The professional actor by trade said his role of master of ceremonies "has been wonderful for me. For people like me, it's usually feast or famine, and although this is something I originally thought I'd get to do, I'm grateful for it.
"I think of myself less of a narrator and more of a goodwill ambassador."
---