CALENDARS
Happening around town



MOVIES
First-run film listings




PAST WEEK:





GENERAL
Phones, email, advertising



WHERE TO BUY IT
Stores and newsstands



SUBSCRIBE
Have the paper delivered



SUBSCRIBER FEEDBACK
Circulation contacts



HEADLINES BY EMAIL
Let Starbulletin.com come to you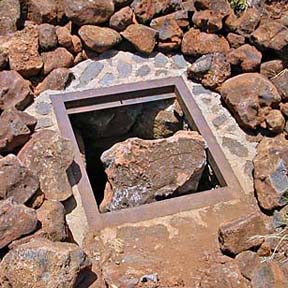 Kanupa Cave in Kohala on the Big Island showed signs of disturbance Saturday during a visit by the Star-Bulletin. Native Hawaiian artifacts found on the black market came from this cave, which was once concealed by large boulders to protect it from grave robbers but now lies open and exposed.
[ MORE INSIDE ]
---
Starbulletin.com publishes online editions Monday through Sunday. New editions normally posted online between 2:00 and 5:00 a.m. Starbulletin.com publishes articles written by our staff and selected articles of particular interest to our readers. Entire contents of this Web site © copyright 2004 Honolulu Star-Bulletin. All rights reserved.



| | |
| --- | --- |
| Featured on: | Partner site: |
— ADVERTISEMENT —

Correa named police chief
»Place of unrest
»Rules slow foreign tourists' entry
»City bans pocket bikes at parks
»Alcohol-related road fatalities rise
»Mom gets probation for son's death
»Inouye condemns Swift Boat ads
»Pilot lauded for gunshot response
»Telescopes' relocation sought
»Family reunited with cat lost on Maui
»Candidates address Windward concerns
»Man indicted in camp hate-crime attack
»Kahumoku assault case dropped
»No-contest plea in crash deaths
»Adult vaccinations focus of event
»Akaka to get ankle surgery
»UH schizophrenia studies win grants
»Meals on Wheels turns 25
»Guilty plea in embezzlement case

Japan graphic works showcased
»'Excellence' on display
»'Lost' offers thrills, good acting

Brewster is starter at running back
»Soccer Wahine set sights on NCAAs
»Kailua coach glad to be back on field
»Interleague's 1st week has title rematch
»Ault wants cleaner Nevada program

U.S. East arrivals up 16%
»Pacific Wings drops American Samoa plan
»State OKs new health insurer

World now knows Clay is 'for real'
»Letters to the Editor



— ADVERTISEMENTS —

— ADVERTISEMENTS —