---

Don Ho, with 40 years in the
bright spotlight, is called upon
by Warner Bros. to sing the lead
song for a film starring cartoon
canine Scooby-Doo
---
He's personified Hawaii to the world for 40 years now, sharing the stage with guests ranging from Jack Benny to riot grrl band L7. He's played a slumlord in the film "Joe's Apartment" that's becoming a cult classic, and recently contributed his take on Peter Gabriel's "Shock the Monkey" to an album titled "When Pigs Fly."
So why shouldn't Hollywood see Don Ho as the natural choice to sing the lead song for a movie starring the ever-lovable cartoon canine Scooby-Doo?
"(The) Warner Bros. people brought it to me," Ho said last Wednesday as he was chilling in the Mountain Apple Company recording studios after a session. He was snacking on some vegetables from a healthy spread and an energy drink as we talked about the song he'd just finished, "That's How the Islands Say Aloha."
"I don't know where it's gonna be in the movie (but) it's the lead song. That's about all I know about it," he said. "This one is kinda fun because Kapono Beamer, Tony Conjugacion and Noel Okimoto are part of the (recording). At the end, we just wanted to jam and I told 'em just make believe we're sitting on the beach early in the morning and waiting for the surf to come in, and lay the music back a bit."
The opportunity to work with Ho was a dream come true for Suzi Civita, vice president of music for Warner Bros. Pictures who flew out to supervise the recording session, and for the song's composer Thomas Chase Jones who, as it turns out, is not only a longtime fan of Hawaiian music, but also collects and plays ukuleles.
---
---
"I've been writing for a long time," Jones said, "and I'm lucky enough to have worked with Warner Bros. on enough projects that are high-profile that they trust me to write the music. But this project was really amazing for me because (Ho) is like Frank Sinatra (or) Dean Martin in that category to me.
"Warner Bros. had a project for 'Scooby Doo and the Wiki Tiki Monsters in Hawaii,' and Suzi knows that I play the ukulele ... and they liked my qualifications. I started writing the songs, and then she suggested getting some people 'like Don Ho' (to record them). I didn't know how I'd be accepted, coming to the islands, and he tested me pretty hard."
"I was joking with him," said Ho, "and he didn't bat an eye. I knew we were going to have a good time."
Chase prepared for his sessions with Ho by listening "to every single one of his songs ... all of his stuff." By the time the studio work started, Chase "knew his voice really well. I knew every note, what was a sweet note, where he could hit it."
Ho pretended to give Chase a hard time about the key of the song being too high for him to sing comfortably.
" (Arranger) Sonny Burke used to do the same thing at Reprise Records -- he'd make the damn keys way the hell up there so that he forced me to sing high."
Chase found working with Ho an eye-opening experience for reasons other than meeting one of his icons.
"It has been just marvelous to be here and learn about the Hawaiian history and traditions, the instruments, and (the other musicians). They have so much respect for him that they want to work really hard and they brought everything they could bring to the song -- percussion, chanting. I learned a lot."
More importantly, Ho says he's happy with the way the song came out.
"When you do these things for the gang in Hollywood, there's more than just the song involved. There's what the pictures look like in the movie, and the story and all that. Somehow they make everything fit. Thomas was smart enough to come here to get authenticity with the kids and us and whatnot. They already knew about me, but they didn't know how good these other guys were. They made the whole song something dynamite."
---
---
BACK TO TOP
|
---
Fans love Don Ho
---
Dressed in a bright Hawaiian shirt, raspberry-tinted glasses and his trademark white slacks and loafers, Don Ho creeps into a white rattan throne behind his electric organ and begins to sing "Tiny Bubbles."
The crowd at the Waikiki Beachcomber Hotel enthusiastically sings along.
"I hate that song," he tells them, mocking his signature tune. He'll sing it again at the end of the show because "people my age can't remember if we did it or not."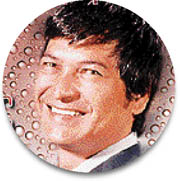 The legendary crooner, who turned 74 on Aug. 13, keeps tourists and locals laughing, singing and cheering three nights a week.
Ho's soothing and seductive baritone voice, treasury of stories and warm island personality, have been entertaining generations of fans for four decades.
Few artists are more associated with one place than Ho, a Waikiki icon.
"Hawaii is my partner," said Ho.
And Ho has no plans of stepping down from the stage anytime soon.
"I'll be here for another 30 years," he tells his audience. "I'm going to look like hell, but you'll look like hell too. ... We'll look like hell together."
SCHMOOZING with fans keeps Ho's spirit young. Keeping with a tradition he started during the height of his popularity in the 1960s and '70s, he meets with every fan for pictures and autographs.
For Ho, it's not like he's actually working.
"I retired 30 years ago. I just come over and have fun," Ho said. "And it's not like I have to work seven days a week anymore. Like in the old days, I worked 24-7 because my fans would stay up to 3 in the morning. Now, lucky if they stay up until 10 o'clock."
Stars such as Lucille Ball, Sammy Davis Jr. and Frank Sinatra attended Ho's shows. These days, Ho's pop star daughter, Hoku Ho, is helping to introduce her father to a younger generation of stars and fans. Maxim magazine named the elder Ho one of "50 Coolest Guys Ever," and younger musicians from rock bands like Green Day, the Foo Fighters and No Doubt, have come to Waikiki to watch Ho perform.
Concert promoter and local music veteran Tom Moffatt says Ho has a place in American music history, but it's difficult to pinpoint where it is.
"In a way, he's Hawaii's contribution to American music," Moffatt said, putting him on a par with Dean Martin and Jimmy Buffet as cool, relaxed entertainers. He's also a "very good musician, very conscientious," he said.
While the Don Juan looks that made him a star on stage and television may have diminished, Ho hasn't lost his smile, charisma, tan or his love for the islands.
HIS WORLDWIDE base of loyal fans keep returning to see his show -- now with their children, grandchildren and even great-grandchildren. And the women still swoon over The Don.
Nina Armstrong, 67, of Orange, Calif., who sat in the front row for a recent show, has seen Ho perform about 20 times since the 1970s. She gushed about a smooch she got from Ho about 30 years ago. "Years ago, he was always kissing somebody," she said.
Her son, Ray Armstrong, of Sumner, Wash., brought his three teenage daughters to see a living legend.
"My kids will see them as a piece of history of the Hawaiian Islands," he said. "It won't necessarily be their style of music, but he's part of the flavor of Hawaii. When you think of Hawaii, you think of Don Ho."
During his nearly two-hour show, Ho reminisces about everything from the old charm of Hawaii and the attack on Pearl Harbor to marijuana and how many children he's fathered.
Ho was a high school football star and Air Force pilot before appearing on countless television shows, including "The Don Ho Show" on ABC from 1976-77. One of Ho's most memorable TV appearances was a 1972 cameo on an episode of "The Brady Bunch."
Ho has 10 children, including Hoku, 23, who sometimes performs with her father.
"When my daughter sings with me, I'm really proud," Ho said. "People can tell on my face and my smile. I cannot hide it. It just automatically lights up. I really love my children. The minute they walk on stage and sing with me, the audience knows it's a different me, and I try to be cool, but you can't hide some stuff."


Click for online
calendars and events.