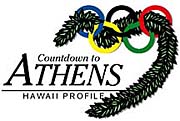 Stanley finds
volleyball in time
for Athens Games
The outside hitter is nearly
unstoppable when he serves
---
This is the 11th in a series on people with local ties taking part in the Olympic Games in Greece. Tomorrow's story will be on Herman Frazier.
---
Clay Stanley wasn't always destined for the U.S. Olympic volleyball team.
Despite being blessed with physical gifts and volleyball genes, the 6-foot-9 Stanley preferred other sports growing up.






THE STANLEY FILE

Sport: Volleyball
Competition dates: Aug. 15-29 (odd-numbered days)
Birthdate: Jan. 20, 1978
Birthplace: Honolulu
Residence: Honolulu
College: University of Hawaii
Fun Fact: Stanley was born into a family of Hall of Famers. His father, Jon, was a 1968 Olympian and was inducted into the Volleyball Hall of Fame. His mother, Sandra Haine, is in the Canadian Hall of Fame and played professionally in the IVA for the Denver Comets. Stanley and his father are the first father and son to play Olympic volleyball for the U.S.
Did you know? Stanley did not play volleyball in high school. Kaiser High did not have a boys team when he was there. Stanley owns the UH record for kills in a match (50), set against UCLA in 1999. Stanley's girlfriend is 2001 Western Athletic Conference Pitcher of the Year Desiree Duran.





He played basketball, occupied the goal in water polo and skateboarded. Stanley was around volleyball because his Hall of Fame parents, Jon Stanley and Sandra Haine, played, but it wasn't his sport.
Stanley was a latecomer like his father (Jon Stanley played college basketball at Brigham Young). The younger Stanley took up volleyball after having fun at a Junior Olympics tournament when he was 17.
"I don't think he started playing for the fun of it," said Jon, a volleyball Olympian in 1968. "He has a real competitive nature. He wanted to compete. He had choices at that point.
"He could have gone on in basketball, but for some reason, he chose volleyball. It surprised me. It didn't matter to me. ... He just said, 'I want to do this.' "
Clay Stanley was blessed with irresistible qualities every volleyball coach covets. The Kaiser alum has height, a near-40-inch vertical, volleyball genes and a passion for winning. It was game experience and focus he lacked during a three-year career with Hawaii. Stanley set several individual records in three seasons (he redshirted in 1998 to focus on school) but wasn't a consistent performer every match.
Stanley found that consistency after foregoing his senior season to play professionally. It was the first of many steps that started him on the path toward the Olympics. He joined the national team in 2001 and has had various stints with the team while continuing his professional career.
"When he left UH, he was still pretty green," Jon said. "He hadn't really proven himself with the national team. ... He's getting better at doing things and not just using his physical abilities.
"He's always been a trial-and-error guy. He didn't ever like to take much advice. He likes to go out and try, and he'd figure it out. That's what he's doing and different parts of his game are emerging."
The opposite for the USA men's volleyball team is expected to be a major force in these games. Stanley led the U.S. to the gold at the NORCECA Olympic Qualifying Tournament in January. He was named the best server as the U.S. punched its ticket to Athens. The year before at the 2003 NORCECA Zone Championships, Stanley was unstoppable and named MVP.
USA national team coach Doug Beal told Jon Stanley that U.S. victories in the Olympics depend on Clay's ability to score 20 to 30 points a night from his hitting, blocking and serving. Stanley's sizable shoulders carry the weight of a U.S. team desperate to improve from an 0-5 performance in Sydney. But it is a burden Stanley can bear.
"He is a threat to score a point every time he serves," Beal told NBColympics.com. "Men tend to serve in the low 60 mph range. We've clocked Clay in the low 80 mph range. Very few guys under the speed gun have done that and he can keep it in bounds in a range of places."
The Stanleys are the first father-and-son combination to compete in the Olympics. That is where the similarities end.
"Clay's game is to get up and hit it as hard as you can as high as you can," Jon said. "Even though he hits right at somebody, they can't dig it. He hits kind of a flat ball that knocks you over.
"I was good at a lot of stuff he's not. I was good at backrow passing, blocking. We're just two completely different players. My hitting was a lot of finesse. I didn't have the power, so I went for the height. ... I gave him the height. He got his strength, big hands, big feet from his mother's side. His uncle was a hockey professional."
Stanley will have a sizable contingent from Hawaii cheering him on. Eleven family and friends are sharing the three-room apartment he lived in while competing professionally in Greece last season.
---