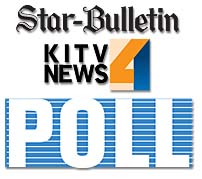 ---
Dobelle is viewed
as outdoing UH regents
---
Nearly half of Hawaii's residents say that ousted University of Hawaii President Evan Dobelle came out ahead in his dispute with the regents, a new Star-Bulletin/KITV-4 News poll found.
And more than 42 percent say that the fallout over Dobelle's termination will have a long-term negative effect on the university.
A statewide telephone survey of 693 registered voters conducted between July 29 and Aug. 3 by SMS Research found that Dobelle is winning the public relations battle with the regents as 48.8 percent of the poll's respondents said they believed that Dobelle got the upper hand.
Just 10 percent of the poll's respondents said that the regents got the better end of the deal.
Dobelle was initially fired for cause by the board on June 15 in a unanimous vote. But the two sides reached a mediated out-of-court settlement July 29 after Dobelle threatened to sue for wrongful termination.
In the deal, Dobelle will receive $1.05 million in severance, while UH agreed to rescind the "fired for cause" label. Dobelle, meanwhile, will resign from his post and drop the potential lawsuit against the school.
Under his original contract, Dobelle stood to receive up to $2.26 million in severance had he been fired for reasons other than cause.
Dobelle's attorney, Rick Fried, and the regents have declined comment on the poll.
A large block of Hawaii residents have not made up their minds on the issue.
More than 41 percent said they did not know who came out ahead in the firing dispute, while 22 percent said they didn't know if the dispute between Dobelle and the regents will have a long-term impact.
---
---