Schofield soldier buried
in Kansas
---
DERBY, Kan. » Army Cpl. Joseph F. Herndon II was still in grade school when he began showing a talent for leadership, his friends said yesterday at the funeral of the sixth Schofield Barracks soldier to be killed in Iraq.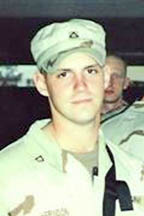 The service was held in Derby High School's Panther Stadium, where many wore football jerseys in honor of Herndon's role as captain of the football team. He graduated in 2001 and was the third Derby resident to be killed in the Iraq war.
Herndon, 21, was shot and killed July 29 while on patrol in Hawija, east of Kirkuk. He served with Alpha Company of the 1st Battalion, 27th Infantry, 25th Infantry Division, based at Schofield.
Twice wounded since arriving in Iraq in January, Herndon had received two Purple Hearts and was posthumously promoted from the rank of specialist. Fellow soldiers have said that the first time Herndon was wounded, in April, he had to be forced onto a truck to get medical treatment because he did not want to leave his unit.
Such dedication was a hallmark of Herndon's life, said those who spoke at yesterday's service. They said he became the man of his home at age 9 when his father, Kenneth Frank Herndon Jr., died.
"His heart and soul can be seen in anything that he set out for," said Doug Ambeau, Herndon's brother-in-law. "I have no doubt he is happy and his father is beside him."
Loren Flaherty, a close friend, said Herndon was a natural leader who made friends easily.
"You rarely meet someone who can teach you about yourself, but Joe was one of those guys," Flaherty said. "Remembering all of the good times with Joe is overwhelming."
Many described Herndon's wife, Melaine, as his closest friend of all.
"He adored Melaine, and his life revolved around her," said the Rev. Rick Wheeler, pastor of Derby's First Christian Church.
An all-around athlete, Herndon also participated in wrestling in middle school and track in high school.
"If you were Joe's teammate, you knew there was someone there you could count on," Wheeler said. "Joe excelled as a soldier just like he excelled in everything else."
At a private Schofield prayer service on Monday, Herndon's comrades described him as a model of loyalty. He had insisted on returning to Iraq even after being wounded a second time, in Iraq, they said.
Herndon, a Hutchinson native, was buried with military honors at Lakeview Cemetery in Wichita.
Besides his wife and brother-in-law, survivors include Herndon's mother and stepfather, Virginia and Gerald Evans; sister Cynthia Ambeau; stepsisters Chesiree Kregg and Chelsea Evans; and grandparents Everett and Betty Barber and Kenneth Sr. and Betty Herndon.
---