---
2 monk seal pups on Kauai doing well
LIHUE » Two monk seal pups born this week on Kauai appear to be healthy, National Oceanic and Atmospheric Association officials said yesterday.
One was born at Poipu Beach, the most popular beach on the island and the site of two monk seal births in the previous two years. NOAA officials said the mother was not the same seal that pupped there previously, but is believed to have given birth last year near Kilauea.
The other pup was born at a nearby South Shore location.
Volunteer seal watchers are guarding both pups. They say the most immediate danger is from loose dogs, and asked South Shore residents to keep their dogs on leashes.
Expected rain cancels Sunset on the Beach
Waikiki's Sunset on the Beach on Kuhio Beach has been canceled for this weekend due to forecasted rain.
National Weather Service forecasters said heavy showers are expected through tomorrow morning.
Sunset on the Beach, with entertainment, food and a movie, will be held at the Maile Beach Park in Waianae next weekend.
For more information, call 523-4385.
Passenger allegedly hits flight attendant
U.S. Customs and Border Protection agents detained a 64-year-old man yesterday after he allegedly hit a flight attendant while aboard an Omni Air International flight from Japan to Honolulu, according to a criminal complaint filed in federal court.
Tomoshiro Kawai was apparently intoxicated when he hit the woman, the complaint said. He was aboard Omni Flight 470, which originated in Sendai, Japan.
In her statement to the FBI, the flight attendant said Kawai struck her on the right shoulder when she attempted to take a bottle of Chivas Regal from him. The plane's captain was notified, and Kawai was detained upon his arrival at Honolulu Airport.
[ TAKING NOTICE ]
---
3 Maui police officers make rank of sergeant
The following Maui Police Department officers were promoted to the rank of sergeant, effective June 16:
Wailuku patrol officer Leif H. Adachi, 31, has been a police officer for 11 years. Last assigned as a field training officer in District I-Wailuku Patrol, Adachi will be assigned to the Kihei Patrol District.
Lahaina patrol officer Paul Bailey, 36, has been a police officer for 10 years. He served six years in District I-Wailuku Patrol before transferring to District IV-Lahaina Patrol. He was a field training officer and a member of the Clandestine Lab Team.
Wailuku patrol officer Gregg Okamoto, 32, has been a police officer for seven years. His past assignments included Molokai Patrol District, Lahaina Patrol District and Maui High School-SRO. He is a member of the Special Response Team.
» Ronald H. Heck, a professor and department chairman in the College of Education, has been appointed to the Dai Ho Chun Endowed Chair at the University of Hawaii at Manoa. His project will be to build a pilot data warehouse for Hawaii's P-20 initiative, focusing on the transition from high school to post-secondary education.
» Rear Adm. Charles D. Wurster, Cmdr. Coast Guard 14th District, has presented public service awards to Capt. Sony Rivera and Robert Lowe, of the fishing vessel Kekahi. They assisted an overturned catamaran, the Paragon I, rescuing 10 passengers, while battling 35-knot winds and 12-foot seas on March 8 two miles south of Manele Bay, Lanai.
Two passengers on board the catamaran, David Scherbrooke and Kevin Wisterhauser, of Minnesota, also assisted and received commendations.
» Clinton Bodley, of Kailua, has been selected to participate in the National Student Leadership Conference for outstanding high school students.
» Raeanne Pascua, a fifth-grader from Pohake Elementary School, won the State Tar Wars Poster Contest, part of a nationwide campaign to promote nonsmoking. She received a free trip for two to Washington, D.C. Marissa Bertulfo, of Alvah Scott Elementary, won second place; Fabrienne Joy Rosal, of Kahului Elementary, third place.
The contest, sponsored by the Hawaii Academy of Family Physicians, was made possible in part by a grant from the Hawaii Community Foundation, Dave & Buster's, Papa John's Pizza and Jamba Juice.
---
Police, Fire, Courts





By Star-Bulletin staff



WINDWARD OAHU
Homeless couple sought on warrants
Police are looking for a homeless couple wanted on Family Court warrants.
John and Jamie Kaio might be living out of a blue Chevy Astro van in the Waimanalo Beach area, according to police. John Kaio is wanted for questioning in possible abuse of their 2-year-old daughter, police said.
"We're concerned about the safety of the baby," Detective Letha DeCaires said.
John Kaio, 40, is believed to be dangerous and could be carrying a firearm, police said. He has two domestic violence warrants, a criminal contempt and traffic warrants. He also has 10 misdemeanor convictions, three of them for assault.
Jamie Kaio, 27, was convicted in 2002 for third-degree assault of a 51-year-old woman. She is five months pregnant, police said.
John Kaio, also known as Joe Kaeo, is 5 feet 7 inches tall, 215 pounds, heavy set, with black hair, brown eyes, a mustache and goatee.
Jamie Kaio is 5 feet 3 inches tall, 165 pounds, with brown hair, brown eyes and a tan complexion.
Their van is described as a blue 1988 Chevy Astro van with Hawaii license plate BB 018. Anyone with information is asked to call CrimeStoppers at 955-8300 or *CRIME on a cell phone.
HONOLULU
Woman and witness chase burglary suspect
A Waialae woman and a witness chased a 19-year-old burglary suspect Thursday before he was captured by police.
Police said the woman returned home about 3 p.m. and spotted a man walking out of her house. She and a witness chased the man as someone else called police.
Police found him nearby and arrested him under suspicion of first-degree burglary.
CENTRAL OAHU
Schofield man charged with sex abuse of teen
A 40-year-old man who lives on Schofield Barracks was charged with sexual abuse of a minor, according to a criminal complaint filed yesterday in U.S. District Court.
According to court documents, Bennie Jerome Edwards allegedly had consensual sex with a 14-year-old girl at a park bathroom on Schofield Barracks. The assault allegedly occurred on July 19 but was not reported until July 28, according to the affidavit.
The affidavit said that Edwards admitted on July 29 to having sex with the girl and knew she was 14.
NEIGHBOR ISLANDS
Big Isle police search for prison escapee
Big Island police are asking the public's help in finding prison escapee Joshua Abraham James Reed, who was serving time for a sex offense and is described as dangerous.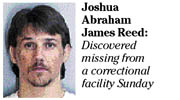 Reed, 29, was discovered missing from the Kulani Correctional Facility at 6 a.m. Sunday, police said.
Reed is about 5 feet 9 inches tall, 165 pounds and has green eyes and dirty-blond hair.
Anyone with information on Reed can call Detective Richard Sherlock at 961-2379 or the police non-emergency number at 935-3311.
Anonymous calls can be made to CrimeStoppers at 961-8300 in Hilo or 329-8181 in Kona. All CrimeStoppers information is kept confidential.

---

Honolulu Police Department Crimestoppers