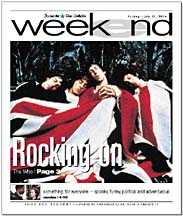 [ WEEKEND ]
---
The Who
keeps rocking
---






The Who

Where: Blaisdell Arena

When: 7:30 p.m. Tuesday

Tickets: $65 and $95

Info: 591-2211 or ticketmaster.com






It's been reported that teen star Hilary Duff is doing The Who's "My Generation" as an encore on her summer tour.
And, horror of horrors, she's even taken the liberty of changing the crucial lyric "Hope I die before I get old" to "Hope I DON'T die before I get old."
Geez, these coddled kids today -- what wimps!
The Who is in its 40th year of existence this year, and when the band plays that fiery youth anthem to its fans worldwide while on tour, you know that original lyric is sung with the passion and rebellion it originally riled up waaay back in 1965.
"My Generation" is the original punk anthem, with singer Roger Daltrey's stuttering delivery as the Mod lad angrily lashing back at the staid British establishment.
The original lineup of Daltrey, Pete Townshend, John Entwistle and Keith Moon also did a fair bit of fighting and destruction themselves back then, both within and without. Back in 1968, the band behaved most atrociously while on tour down under as part of an Australasian tour that included a stop in Honolulu. After negative press reports of concerts in Brisbane, Sydney and Melbourne, The Who gave them The Whatfor -- in spades.
The Loony (and, God bless his soul, still brilliant drummer, even in death) Moon drove a rental car through a Brisbane motel's entrance -- and later threw a burning mattress into an Adelaide motel parking lot. This on top of trashed rooms from all-night bacchanals and trolley chariot races down hallways. There were even shouted expletives while in concert at the audience due to a malfunctioning revolving stage that left some looking at the band's backsides (blame the massive sound equipment).
All this plus more, while strengthening the bond between band members, left such a rotten impression that the Australian government never wanted The Who to darken its shores again, and Townshend vowed never to return.
Until this year. All has been forgiven as this past Wednesday and Thursday, the band played a couple of shows in Sydney.
And The Who will be back in Hawaii for two shows, one at the Blaisdell Arena on Tuesday and the A&B Amphitheatre at the Maui Arts & Cultural Center the following day. (The band moves on to San Francisco and Los Angeles afterwards.)
THE WHO, alas, are only the original by half -- Moon died in September 1978 due to an overdose of tranquilizers he was taking to help him get off the booze and Entwistle, an equally innovative musician on the bass, died in June 2002 from a heart attack in a Las Vegas hotel room, in a rock 'n' roll scenario complete with cocaine use and the company of a showgirl. But Daltrey and Townshend continue to soldier on.
The duo have been touring with the backing of longtime in-concert bandmates John "Rabbit" Bundrick on keyboards and Townshend's younger brother Simon on guitar and backing vocals. The band is rounded out by fine British session bassist Pino Palladino and drummer Zak Starkey, the son of a certain Ringo Starr.
It's these men that were involved in one of the two new tracks off The Who's latest greatest hits compilation, "Then and Now." "Old Red Wine," expressly written by Townshend in memory to Entwistle, and "Real Good Looking Boy" are Daltrey and Townshend's first new studio recordings as The Who since 1982, with a new album to follow sometime in the future.
Both songs have been featured on this tour's setlists, and while we can expect the band's big hits to be performed with as much gusto as the 60ish Daltrey and Townshend can muster, such as the aforementioned "My Generation," and "Who Are You" and "Won't Get Fooled Again," the following have been mixed into The Who's concerts of late, listed from the earliest to the latest:
>> Starting off as the High Numbers, the band changed into The Who, and its very first single in 1965 under its new monicker was the Kinks-influenced "I Can't Explain." (As an interesting sidenote, Yvonne Elliman, early on in her post-"Jesus Christ Superstar" solo career, covered this song, with Townshend guesting on guitar.) Also, from that same year, the band's follow-up single "Anyway, Anyhow, Anywhere."
>> A year later, "Substitute," truly one of the best Who songs out of a strong grouping, a tuneful commentary on what is real and what is illusion that's just dripping with irony.
>> Songs from '69's watershed release of the rock opera "Tommy" have been saved for the encore, which include "Amazing Journey/Sparks," the hit smash "Pinball Wizard" and the rousing closer "See Me Feel Me / Listening to You."
>> From my all-time favorite Who album, 1971's "Who's Next," besides the still-relevant "Won't Get Fooled Again," the two other big tracks from the album, and two of Townshend's best written songs, "Baba O'Riley" and "Behind Blue Eyes."
>> From my second all-time favorite Who album, the ambitious and semi-autobiographical "Quadrophenia" from '73, come "5:15" and "Love Reign O'er Me."
And here's hoping that, with no opening act, the band will grace us with some other favorites. Like how about "I Can See for Miles," The Who's breakout hit in the U.S. from 1967? The following year's "Magic Bus?" Their version of Mose Allison's "Young Man Blues?" Or, more appropriately, "Long Live Rock?"
In any event, The Who's return to Honolulu after 36 years will already be event enough.


Click for online
calendars and events.