CALENDARS
Happening around town



MOVIES
First-run film listings




PAST WEEK:





GENERAL
Phones, email, advertising



WHERE TO BUY IT
Stores and newsstands



SUBSCRIBE
Have the paper delivered



SUBSCRIBER FEEDBACK
Circulation contacts



HEADLINES BY EMAIL
Let Starbulletin.com come to you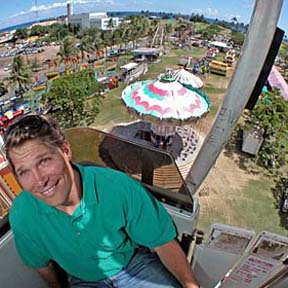 Scott Fernandez, president of E.K. Fernandez Shows, got a Ferris wheel's view of Kakaako Waterfront Park yesterday. The Kakaako Carnival and Food Festival opens tonight from 6 p.m. to midnight, from noon to midnight tomorrow and from noon to 10 p.m. Sunday.
[ MORE INSIDE ]
---
Starbulletin.com publishes online editions Monday through Sunday. New editions normally posted online between 2:00 and 5:00 a.m. Starbulletin.com publishes articles written by our staff and selected articles of particular interest to our readers. Entire contents of this Web site © copyright 2004 Honolulu Star-Bulletin. All rights reserved.



| | |
| --- | --- |
| Featured on: | Partner site: |
Regents OK West Oahu plan
»UH weighs raising aquarium fees
»Fire disrupts southern Lihue
»Developers may help build UH dorms
»Dobelle gets 3 more weeks
»Isle fugitive nabbed in Idaho
»UH film school gets NBC grant
»Hannemann ad voice-over criticized
»Candidates talk city finances
»Wal-Mart foes request public hearing
»City official pleads not guilty
»Kailua sewer work behind schedule
»Nigerian 'Net scam takes new form
»Local workers hired for Stryker work
»Guilty verdict for cockfighting

Weekend: Heaven sent
»Anniversary celebration at Hula's
»Comic May returns to isles
»On the fence for 50 years
»Equal rights at the turntable
»Family-safe thrills in isle-based 'Lost'
»Reggae time
»Pet Ohana: Summer heat

Frazier's budget approved
»Siofele hits heights despite tragedy

Resort sale renews growth discussion
»Hawaiian Air reorg list shortened
»Waikiki gun club files Chapter 11
»EEOC sues Ko Olina timeshare resort

Go ahead with UH dorm expansion
»Marriage amendment was political theater
»Letters to the Editor