---
[ HAWAII'S SCHOOLS ]
---
About this page
Each week, Hawaii's teenage reporters and photographers tell us about their high school. This week's school is Hawaiian Mission Academy.

Next week: Lahainaluna
---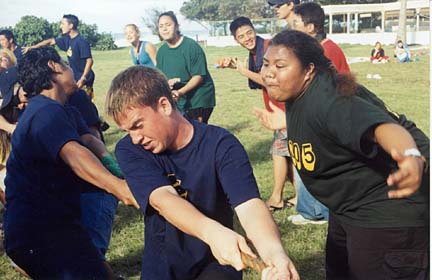 RON NOVY / HAWAIIAN MISSION ACADEMY
Seniors Lynden Wells, left, and Bobby Bom strain to pull their class to victory as sophomore Princess Palafu cheers them on at last year's camp.
---
Trips cultivate
student-teacher bonds
Camp Erdman and boat outings are just
two of the activities held through the year
By the numbers
Programs help students make the grade
---
By Tiara Tinai
Hawaiian Mission Academy

Camp Erdman, held at the YMCA Camp on the North Shore, is just around the corner. Preparations for the three-day, schoolwide camp begin at the start of the school year.

As Feb. 12 approaches, classes meet more often, discussing plans, creating banners and designing class T-shirts on their own time.

To most students, Camp Erdman is the highlight of the year.

"Getting ready for Camp Erdman is fun," senior Romeo Dela Rosa said. "As we get closer to the event, it just gets more intense."

Faculty and students relax and get to know one another on a different level: friend to friend, rather than teacher to student.

"I didn't realize that our teachers still had an enthusiastic spirit," junior Annie Santos said. "I got to see my teachers in a whole new light, and I learned a lot from and about them at Erdman last year."

Camp Erdman is a physical, mental, emotional and spiritual experience. Through sharing cabins, morning and evening worship services, relay races, swimming, diving, football, soccer, volleyball, trivia games, the Erdman Talent Show and campfire, each student is able to get involved with the class and the school.

Other special events during the school year enhance the bonding experience. Biology classes take an annual three-day boat trip with hands-on marine biology lessons, which include a wet lab, squid dissection, fish prints and videos.

"It's an educational trip to explore the marine world in an outdoor setting while allowing the students to bond and have fun," science teacher Daniel Muhic said.

Another annual bonding trip is the choir's trip to one of the neighbor islands. On its four-day trip, the choir gives concerts in churches, as well as in public places.

"It was really fun going to the different churches to sing," said sophomore Stephanee Dorsey. "The trip gave me a chance to grow closer to God as well as to my friends."

And during spring break, Spanish teacher Eve Gilkeson and Vice Principal Jerrell Gilkeson will take students on a two-week European tour of England, France and Spain. Students will visit attractions such as Buckingham Palace in London, the Eiffel Tower in Paris and the Basilica of the Royal Monastery El Escorial in Madrid. Students are eligible for college credits in English or art for the educational tour.

HMA provides opportunities for students to bond through many other school activities during the school year. In a nurturing Christian atmosphere, students cultivate friendships that last a lifetime.
---
BACK TO TOP


|







By the numbers

Address: 1438 Pensacola St., Honolulu, HI 96822
Phone number: 536-2207
Principal: Josué Rosado
Mission statement: Educating the hand, the head and the heart.
Vision: Making a difference for time and eternity in service for humankind and God.
Roots: Started in 1892 as a school for affluent Chinese merchants' sons.
Students: 140
Faculty and staff: 18
Newspaper: Ka 'Elele
Editor: Tiara Tinai
Faculty adviser: Jane Cheeseman



Click for online
calendars and events.
| | | PRINTER-FRIENDLY VERSION
E-mail to Features Editor
---
© 2003 Honolulu Star-Bulletin -- https://archives.starbulletin.com
---
-Advertisement-