---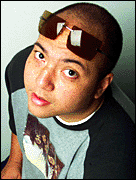 'Net Junkie

Shawn "Speedy" Lopes
---
Be a bin Laden
butt-kicker in
cyberspace

---

Here we are, just two days from the anniversary of 9/11 and still nothing new on the whereabouts of Osama bin Laden. What Americans would love is to find a way to strike back at terrorism and blow bin Laden and his bearded minions to Kingdom Come. Or at least give 'em a critical beat-down.

Well, a serious okole rearrangement is just a mouse click away. I've discovered a new guilty pleasure through the virtual violence of "Bad Dudes Vs. Bin Laden" at www.newgrounds.com/portal/view.php?id=31539. You become a buffed-out badass against a karate-chopping bin Laden on the mean streets of an unnamed Mideast city. Simply left-click your mouse and watch your guy deliver face kicks, leg sweeps and devastating crotch punches to the terrorist mastermind. Within seconds, you should be basking in the glory of a decidedly one-sided butt-whooping.

For something a bit more challenging, try "War on Terrorism" at www.newgrounds.com/portal/view.php?id=40095. Should you accept your mission, you'll be placed in the middle of a furious terrorist camp firefight with only a small cache of arms to repel the seemingly endless platoons of advancing warriors.

But by far the most hilarious interactive site can be found at realmcguyver.tripod.com/711.htm. You launch a one-man siege on bin Laden's liquor store, which serves as al-Qaida's secret base of operations. Select either "minimal mess" or "major carnage" and, with firearm in hand, take aim at the bearded scamp as he screams "I kill you!" and "Get out of my store!" while ducking behind the counter. In your best Clint Eastwood impression, whisper "you're messin' with the wrong people, bin Laden" and start plugging away. Go ahead, binnie -- make my day.





---

'Net Junkie drops every Monday.
Contact Shawn "Speedy" Lopes at slopes@starbulletin.com.
E-mail to Features Editor
---
© 2002 Honolulu Star-Bulletin -- https://archives.starbulletin.com
---