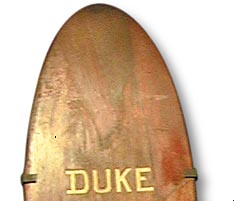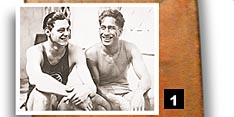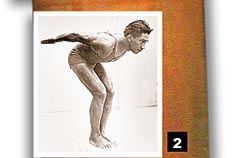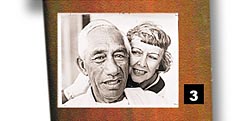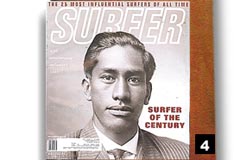 1. With Johnny Weissmuller at the 1924 Paris Games. Weissmuller bettered Kahanamoku's world records there.
2. Readies for a race in an undated photo.
3. With wife Nadine on June 15, 1962. The 71-year-old Kahanamoku had surgery to remove a cerebral clot on May 21, 1962.
4. A 1999 cover of Surfer magazine.
5. Kahanamoku's board at Bishop Museum's Waikiki exhibit.
Lifetime of highlights
Aug. 24, 1890: Born in downtown Honolulu to Duke and Julia Kahanamoku.

1911: Breaks three world records in freestyle swimming in Honolulu Harbor.

1912: Wins gold medal and sets world record in 100-meter freestyle and a silver medal in 4x200-meter freestyle relay at the Stockholm Olympics.

1913: Introduces surfing to U.S. eastern seaboard.

1914-1915: Introduces surfing to Australia and New Zealand.

1915-1932: Helps popularize swimming and surfing in California.

1917: Rides a huge wave on his 16-foot surfboard for more than a mile off Waikiki Beach.

1920: Wins gold medals in 100-meter freestyle and 4x200-meter freestyle relay in the Antwerp Olympics. Member of U.S. water polo team that places fourth.

1922-1930: Appears in 30 movies while living in Los Angeles.

1924: Wins silver medal in 100-meter freestyle in the Paris Olympics.

June 14, 1925: Rescues eight people from drowning following a boating accident near Newport Beach, Calif.

1932: Wins bronze medal as member of U.S. water polo team in the Los Angeles Olympics.

1934: Elected sheriff of City and County of Honolulu. Re-elected 12 times, serving until 1960.

Aug. 2, 1940: Marries Nadine Alexander.

1960: Officially appointed as Hawaii's Ambassador of Aloha.

1965: Becomes first person inducted into both the Swimming Hall of Fame and Surfing Hall of Fame.

Jan. 22, 1968: Dies at age 78. Ashes scattered off Waikiki in a "beach boy" funeral ceremony witnessed by thousands on Jan. 27.

1984: Inducted into U.S. Olympic Hall of Fame.

Aug. 24, 1990: Statue dedicated at Waikiki Beach on the 100th anniversary of his birth.

July 17, 1997: Nadine Kahanamoku dies at age 97 without seeing her dream of a stamp honoring her husband.

1999: Named Surfer of the Century by Surfer magazine.

Source: Duke Kahanamoku stamp committee, Star-Bulletin archives and Surftown.net