---
Isle auto sales
revved up in quarter

Consumers bought more imports
as domestic sales fell

---

Star-Bulletin staff

Low interest rates spurred consumers to buy 14,069 new cars and trucks during the second quarter, a 9.2 percent jump from a year ago, according to statistics compiled for the Hawaii Automobile Dealers' Association.

Consumers largely went for imported vehicles, which saw an 18.3 percent increase over the second quarter of 2001, while domestic car sales fell 7 percent in the quarter.

Consumers bought 9,474 imported automobiles in the quarter, up from 8,008 a year ago. Domestic sales fell to 4,615 from 4,960. Imports now account for 67.2 percent of the Hawaii market.

Retail sales for the first six months were also higher, according to the statistics.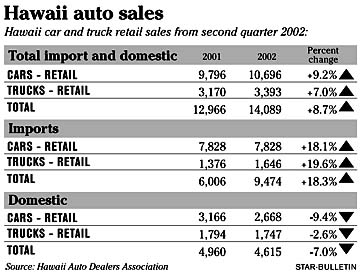 "We're very pleased to see retail sales up 4.1 percent, which are beyond any expectation of what we thought the retail market would be like," said Eric Miyasaki, chief executive of Nissan Motor Corp. in Hawaii. "We had projected a flat market."

Nissan compiles the figures from state registration records, which lag sales slightly, he said.

Dealer sales to rental companies did not fare as well this past quarter as the economy copes with the rocky tourism market. Sales of new vehicles dropped 10.1 percent in the quarter to 10,418 cars and trucks.

Auto sales may have also benefited from the surge in home refinancing, as homeowners use lower interest rates to free up money for a new car, Miyasaki said.

"One thing that is saving us is that interest rates are at an all-time low, combined with the fact that there is a lot of mortgage refinancing," he said.

Residents who put off buying cars during the lagging economy of the late 1990s now are able to, he said.

Sedans and sport-utility vehicles are strong sellers, but retooled and new sports-car models are generating high interest, Miyasaki said. "They are kind of re-invigorating the automobile driving spirit."
E-mail to Business Editor
---
© 2002 Honolulu Star-Bulletin -- https://archives.starbulletin.com
---