CLICK TO SUPPORT OUR SPONSORS

---

---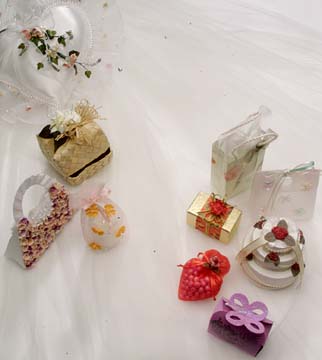 DEAN SENSUI / DSENSUI@STARBULLETIN.COM
The neighborhood craft store is a bride's best friend, offering miniature bags and boxes and all the trimmings needed to create memorable favors.
---



Simple touches go a long way
in relieving brides-to-be of
the stress of the occasion

---

THIRD OF FOUR PARTS

By Nancy Arcayna
narcayna@starbulletin.com

Every bride wants her wedding to be remembered by guests long after the "I do's" have been said, the music has ended and the bouquet has been tossed.

| | |
| --- | --- |
| | As the summer wedding season begins, we present a four-day series on planning the details |

Favors may be one of the smaller details but bring one of the most personal touches to a celebration. Simple materials can add an elegant touch to almost any table.

The little trinkets serve as a sweet reminder of your wedding day, and the thoughtful tokens help to make each guest feel as special as the newlyweds. Even so, the trend is to keep favors simple, even when opting for the extra task of having them homemade.

Toward this end, Flora Dec craft instructor Lisa Kaneshiro said, "Bags are really easy."

These come ready-made and require just a pull of a drawstring to finish the job.

Trimmings, including ribbons and flowers, may be glued onto the bags for a personal touch and to add color or to match a wedding theme.

Decorative pouches of potpourri are affordable and popular choices. Heart-shape bags are available and may be filled with small candies, potpourri or bath beads.

Die-cut bags are also easy to work with, Kaneshiro said. "It's simple to use a hot-glue gun to attach flowers, and rubber stamping is really easy on these bags," said Kaneshiro.

She suggests using quick-drying Brilliance stamp ink, which comes in a variety of sorbet colors. The bags may also come with metallic finishes.

"Sorbet colors are very popular. The trend can be seen in clothing as well as decor. Apple green can be found in about every store window in some form," she said, adding that pastels are always fashionable, too.

Candles are another stylish and versatile option. Straight votives covered with vellum paper can be easily transformed into stylish table decorations or favors. "The paper should be slightly taller than the votive. Cut around the top with decorative scissors, and wrap the paper around the votive. End by attaching the paper with double-stick tape," said Kaneshiro. When the candles are lit, they give off a soft, dreamy light.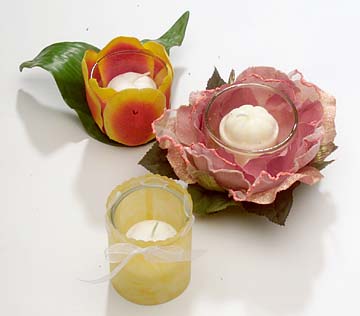 DEAN SENSUI / DSENSUI@STARBULLETIN.COM
Candle holders and votives can do double duty as table centerpieces and wedding favors.
---
Candleholders can also be adorned with silk flowers. Kaneshiro suggests cutting a silk flower apart and gluing the petals to the votive, using a hot-glue gun. "Start with the smallest petals, and work your way out to the leaves," she said. Another idea would be to make gel candles in champagne glasses.

A single votive candle can also be packed into an organza pouch matching your theme color. Tie the favor with a delicate satin ribbon for an elegant finishing touch.

Asian themes also abound. "Take a sheet of washi or yuzen paper, and wrap it around (a box) like a Spam musubi," Kaneshiro instructs. "Use double tape to secure the paper on the bottom of the box. Add gold cord and make a bow.

"Favors are adaptable. You can change the colors and accessories to meet the needs of the event. Many of them can be made in an assembly line fashion, and most favors can be created by simply cutting, gluing or taping."

Other trends include personalizing favors by using photographs, the couple's names and wedding dates. Couples today are seeking out more practical ways to personalize their wedding. Here are a few options:

>> Personalized CD: Couples can share their romantic views through a meaningful collection of songs they burn off their computers. Personalized labels or covers can feature a picture of the couple.

Moonlit Productions offers duplication services with fees that vary depending on the complexity of the project. Call Cedric at 848-9805.

Creations by You also offers CD envelopes and wrapping. Call 536-5255.

>> Mini jelly jars: Fill small glass jars with homemade jam, potpourri or bath salts for a favor that won't go to waste. Ribbons, flowers and accessories add a personal touch. A label with a photo of the bride and groom or a recipe for a happy marriage may also be attached.

>> Chinese takeout box: Fill one of these sturdy boxes with your favorite after-dinner treat, tie it with a colorful ribbon and voilà, a gift that's easy to carry out. Finish with chopsticks and personalized notes.

>> Candy bar wrappers: Wrap your favorite chocolate bars with personalized labels. Make your own on a personal computer, or order them from various Web sites.

Sweet Aloha Chocolates pepares custom-made candy bars at a cost of $1.60 per bar plus a $15 design fee to have images of bells, the bride and groom's names or other words embossed in the chocolate. Call 841-0991.

>> Heart-shape cookie cutters: Place little aluminum heart-shape cookie cutters into clear cellophane bags or organza pouches. Add ribbons, tags and accessories. A recipe for a happy marriage created by the bride and groom or a thank-you note could be attached.





Click for online
calendars and events.
E-mail to Features Editor
---
---

© 2002 Honolulu Star-Bulletin
https://archives.starbulletin.com