CLICK TO SUPPORT OUR SPONSORS

---

---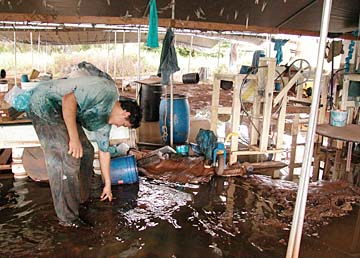 CRAIG T. KOJIMA / CKOJIMA@STARBULLETIN.COM
At Haleiwa Road in Waialua, Chris Oxendine cleaned up yesterday after water from the overflowing Paukauila Stream ran through his T-shirt tie-dying workshop, leaving the site in shambles.
---
Isles dry out


State officials will begin assessing
the Oahu flood damage

---

By Rosemarie Bernardo
rbernardo@starbulletin.com

State Department of Agriculture officials will start visiting flooded farms on Oahu today to assess crops damaged by Monday's heavy downpour.

Officials from the Agricultural Loan Division plan to go to Haleiwa, Waialua and Waiahole to collect information about the flood damages, according to spokeswoman Janelle Saneishi. An assessment is expected by Monday, she said.

A flood watch for Oahu was canceled at 8:30 last night, said lead forecaster Jeff Powell of the National Weather Service Forecast Office of Honolulu, while a flood watch was in effect for Kauai until 4 a.m. today.

Powell said the weather should gradually improve this week, but rain is expected to return to Oahu and Kauai during the weekend.

About 5:04 p.m., Powell also observed several funnel clouds off Barbers Point that dissipated within 10 minutes, he said.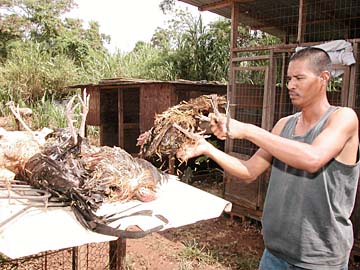 CRAIG T. KOJIMA / CKOJIMA@STARBULLETIN.COM
Anthony Nery of Otake Camp piled dead chickens atop a chicken coop yesterday after they drowned when water from overflowing Kaukonahua Stream toppled the cage.
---
Meanwhile, area residents continue to mop up the sludge in their homes and driveways from Monday's deluge that dumped more than 7 inches in Kahaluu, Heeia and other Windward and North Shore areas.

Mattresses, cabinets and electronic equipment were destroyed after 3 feet of water seeped into Anthony and Jennifer Nery's home at Otake Camp in Waialua. Damage to their home totaled about $2,000, Jennifer Nery said.

"We're kinda tired of this," said Anthony Nery of Kaupe Road. "We don't wanna go through another one."

The Nerys also lost 15 chickens after the chicken coop toppled over from the flooding.

Pupukea resident Mike Brandt salvaged some of his personal items stored under a friend's home at Otake Camp. Items ruined were journals, cassette tapes and books.

"It's something I can never tap into again," Brandt said.

Tim Cox, who lives right next to Kaukonahua Stream, said cesspools backed up after 3 feet of water covered the low-lying areas of Otake Camp. Cox's washer and dryer were ruined, as well as personal items stored below his home.

Cox noted the danger, especially for children, of raw sewage that spilled over their yards and murky water that continued to rush down the stream.

On Haleiwa Road, Thomas and Debra Vial spent their day sweeping the silt from their driveway.

Debra Vial said the floor of her four-door sedan was covered with sludge. Thomas' tools stored under their home were swept away.

Meanwhile, on the Big Island, the only permanent damage was to a spot where a back road leads to Wood Valley in the Kau District, Civil Defense said.

Wood Valley resident Marya Schwabe said the part of the road that dips down into a small gully always washes out in heavy rain. Residents then use other routes into the valley. There was no indication when the washed-out spot would be fixed.

The only other site of major concern was a place in Kau on the Hawaii Belt Road called Kawa Flats, where standing water blocked the road for 22 hours Sunday and Monday. Water there has subsided, and there was no damage.

---

Star-Bulletin reporter Rod Thompson contributed to this report.




BACK TO TOP

---

|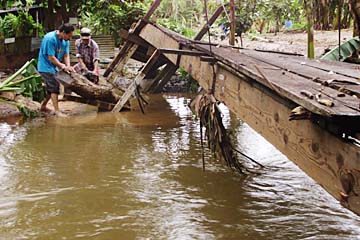 KEN IGE / KIGE@STARBULLETIN.COM
Folks at Ben Alezo and Manuel Moniz's farm, above, started recovering yesterday from the flooding Monday night and Tuesday morning that severely damaged the foot bridge to the Waiahole farm.
---
Floods blamed on
blocked waterways

---

By Crystal Kua
ckua@starbulletin.com

Felix Pacyau's family has been living since the 1930s on a piece of oceanfront property next to Waiahole Beach Park, surrounded by streams and waterways trying to make their way to the ocean.

For three to four hours Monday night in the pouring rain, Pacyau, 62, and his 30-year-old nephew sat atop his propane gas tank trying to prevent it from floating away as knee-high flood waters rushed through the yard and out to sea.

"The force was mean, yeah, tremendous," Pacyau said.

While the area is prone to flooding, Pacyau and his neighbors say they have never seen this kind of flooding, which caused the evacuation of some area residents and covered Kamehameha Highway, blocking traffic for several hours

"The worst I can remember," Pacyau said.

"Extraordinary," said Tony Batalona, 45, who lives across the highway from Pacyau.

The two blamed the heavy rain and what looked like years of overgrown brush and trees on the banks of area streams for blocking and diverting water flow and flooding this Windward Oahu farming community.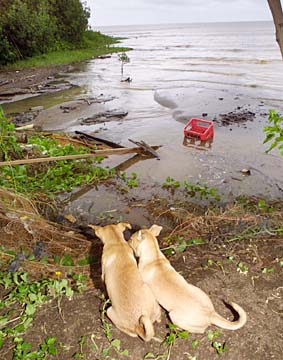 KEN IGE / KIGE@STARBULLETIN.COM
Two puppies of the Pacyau family looked at the mud flats and debris-strewn Waiahole shoreline, which had been covered by sand and grass before the floods.
---
If an entanglement of hau trees covering a nearby stream bank were not there, "the water go right out," Pacyau said,

"All the years go by and nobody clean," said Batalona, who lost vegetable starters in his garden and about a dozen chicks and hens in the flood.

Batalona's 76-year-old mother, Betty had to be evacuated to a relative's house.

Residents said they suspect it is the state's responsibility to maintain and clean the overgrown brush in area waterways, but they are not sure who is supposed to be doing it. And they hope someone acts before the next big rain comes.

"I hope the state guys do something about this," Batalona said. "I hope some of the officials come and do some cleaning up."

But a state Department of Land and Natural Resources spokeswoman said that pinpointing who is responsible may not be easy and can be determined only after looking at area maps.

"When it comes to streams and waterways in Hawaii, jurisdiction is a mix of city, state and private," Deborah Ward said. "It could be city's, it could be ours, it could be another state agency's."

City spokeswoman Carol Costa did not return a call for comment.

Near Punaluu Beach Park, Department of Transportation crews with bulldozers and other heavy machinery were waiting for a private contractor to arrive to remove brush, trees and other rubbish under a bridge.

Transportation engineering technician Scott Naleimaile said he spent yesterday and Monday assessing the integrity of state bridges over streams.

"We're cleaning all the culverts and ditches," Naleimaile said.

Naleimaile said the Highways Division cleans the side of state highways but anything farther inland along the waterway is the responsibility of either private landowners or the city.

Naleimaile said a lot of water came down in the Waiahole and Waikane areas and that was the main reason for the floods.

"That was too much water, and it funnels into the valleys," he said.

BACK TO TOP

---

|


Rain leads to risky drive
into Windward Oahu

---

By Paul Arnett
parnett@starbulletin.com

For those who work in town and live on the northeastern part of Oahu, getting home was risky business Monday night.

At 10:15 p.m., the sergeant on duty at the Kahuku Police Station said Kamehameha Highway was still closed at Waikane Bridge due to flooding. The only other route to Kaaawa and other towns on that stretch of highway between Kahuku and Kualoa Ranch was the 60-mile route via Haleiwa.

"But anyone coming this way had better hurry," the sergeant warned. "It's starting to rain again, and the bridge in Punaluu might have to be closed again."

The long journey via H-1 and H-2 was dry enough. Even Haleiwa was relatively quiet around 11 p.m. But the closer vehicles got to Kahuku, the wetter the roads. Ponding along Kamehameha Highway from Sunset Beach to Kahuku resulted in hazardous conditions for the few drivers making the trek.

Once in Laie, the rain came down much harder. On a normal day, it's a nine-mile, 20-minute drive from there to Kaaawa. On Monday night, it was a 45-minute crawl through conditions reminiscent of a hurricane. No one dared travel more than 20 mph, and it turned into a crawl between Hauula and Kahana Bay.

At one point in Punaluu, police put up a roadblock where officers in yellow raincoats advised motorists.

"Where are you heading?" they asked. Motorists who replied "Kaaawa" were allowed through but were told to drive slowly. Officers told of several places where the water was coming off the mountain and over the roadway.

At one point at Kahana Bay, an area that has been under construction for several weeks, there was little pavement left. The water rose to about a foot, rushing toward the sea.

Several motorists drove on the wrong side of the highway to avoid the ponding and exchanged stories after safely reaching the 7-Eleven in Kaaawa.

By 11 p.m., Kamehameha Highway was reopened at Waikane Bridge, but rain fell in that area of Oahu throughout the night and early morning.
E-mail to City Desk
---
---


© 2002 Honolulu Star-Bulletin
https://archives.starbulletin.com