CLICK TO SUPPORT OUR SPONSORS

---

---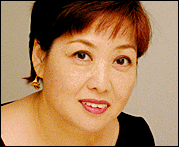 Local Color


BY SUZANNE TSWEI
---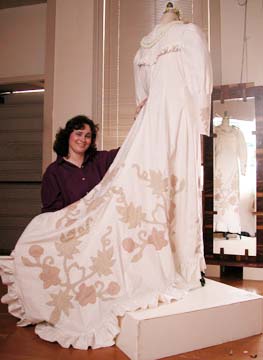 CRAIG T. KOJIMA / CKOJIMA@STARBULLETIN.COM
M.J. Matsushita expressed her support of her mother's second marriage by making this wedding gown.
---
May-December romance
inspires a dress with finesse

M.J. Matsushita's quilted dress was born out of two love stories. One, an unexpected May-December romance; the other, a lasting bond between mother and daughter that survives through all of life's unexpected curves.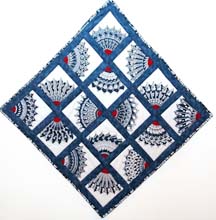 Judy Achison's pattern is called "Stan's Fans."
---
Matsushita's 76-year-old widowed mother, Dee McNabb, went on a tour of China with a friend about two years ago, met a young Chinese man and fell in love. After the trip they corresponded for a year, and McNabb returned to China last year to marry him, much to the apprehension of family members who know little about her new husband.

"She's my mom. Of course, I am worried about her. She's on the Big Island and I am in Honolulu. I am always worried about her. Isn't that what daughters are supposed to do?

"But she's as stubborn as I am. I know that; I am her daughter -- we are very much alike that way. She's decided this is what she wants to do, so I want to show my support for her to get married for the second time," Matsushita says.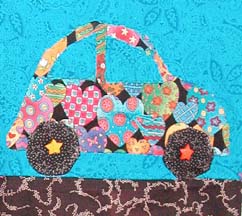 Starr Matsushita went whimsical with her "Jumping Bugs" quilt.
---
The couple had a small ceremony in China but plans to have a bigger event on the Big Island when the groom arrives sometime this year.

Her mother's wish is for "an all-out" wedding and party. Her senior citizen hula halau has been busy practicing for the festivities.

"She's my mother, and I want her to be happy," Matsushita says. "I want her to feel special on her wedding day. So, I decided to make her a quilted wedding dress because I want her to feel like she's the most beautiful person in the world when she walks down the aisle."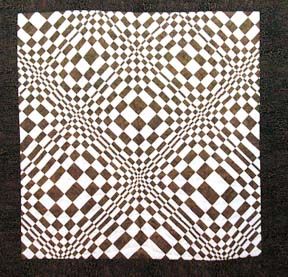 "It Makes Me Dizzy, What About You?" by Susan McKenna.
---
Matsushita researched designs and settled on a holoku and a woodrose appliqué pattern. She picked an off-white-and-tan color scheme and went to work. (She had a dressmaker sew the dress but did the appliqué herself.)

Matsushita also prepared a matching aloha shirt for her new stepfather. The fabric is cut, but she's waiting until he arrives before she begins the sewing.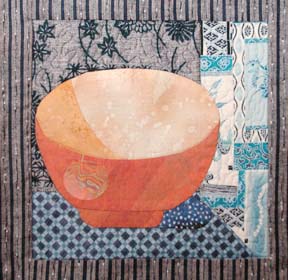 "Rice Bowls," above, was stitched by Elaine Bowles.
---
The wedding dress, requiring nine yards of fabric and featuring a full train, is finished and on display at the Hawaii Quilt Guild 2002 exhibit at the Academy Art Center at Linekona. The show, which opened Friday, continues through Mother's Day. Admission is free.

The annual quilt exhibition, one of the largest in the state, offers a colorful array of elaborate designs and skilled needlework, including a group of miniature quilts.

The quilters range from seniors to children. Matsushita's daughters, Starr, 12, and Raven, 10, have quilts on exhibit.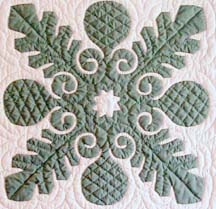 A closeup of the Hawaiian quilt design that is the centerpiece of Kari Os Eskeland's "Partly Hawaiian" quilt.
---
This year's theme is "reflections." Several quilts honor those who perished in the Sept. 11 catastrophe, while others tell personal stories.

Jo Malmstrom-Okita's pink-and-red quilt of hearts was created for a cousin whose grandbaby is awaiting a heart transplant.

Patricia Lei Murray was commissioned to create a quilt in honor of island theater icon and teacher Ron Bright. The quilt, a surprise Christmas present commissioned by Bright's wife of 40 years, is made out of T-shirts featuring his theatrical productions.

In between, there are light-hearted quilts. Margaret Baker's "Fat Cat" features an overweight orange tabby looking depressed while weighing itself. A bubble above the cat spells "gloom."




Hawaii Quilt Guild Show 2002

Place: Academy Art Center At Linekona, 1111 Victoria St.
Time: 10 a.m. to 4:30 p.m. Tuesdays to Saturdays, 1 to 5 p.m. Sundays, through May 12
Admission: Free
Call: 532-8741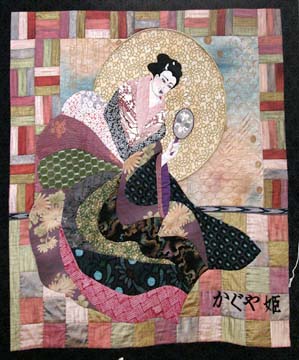 Elaine Bowles' "Moon Princess" quilt .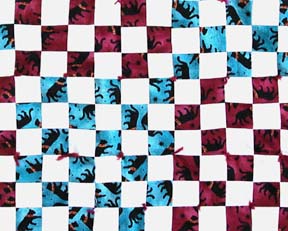 "Kitty Squares," by Raven Matsushita, features fabric of cute feline figures.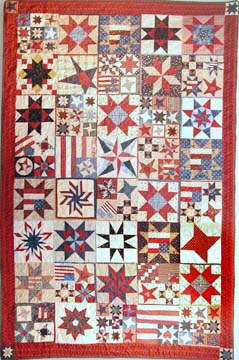 This patriotic work is one of several quilts that pay tribute to victims of the Sept. 11 tragedy in the Art Academy at Linekona exhibition that continues through May 12.
---




---




---

Suzanne Tswei's art column runs Sundays in Today.
You can write her at the Star-Bulletin,
500 Ala Moana, Suite 7-210, Honolulu, HI, 96813
or email stswei@starbulletin.com
E-mail to Features Editor
---
---
© 2002 Honolulu Star-Bulletin
https://archives.starbulletin.com