CLICK TO SUPPORT OUR SPONSORS

---

---
PORTFOLIO

Windows into the past

When I wasn't surfing in the '60s,
I was happily taking pictures of surfing

---

Mark Coleman
mcoleman@starbulletin.com

Surfing has been a big part of my life since I first learned how in the early '60s on the ankle-snappers at First Reef off Portlock Road. I was 11 years old.

A couple of years later, I bought my first camera -- a Pentax 35 mm SLR, with a 200 mm telescopic lens -- and started taking pictures of surfing. My skills were limited and I didn't even develop the film rolls myself; I took them to Anderson's Camera on Kapiolani Boulevard to have them processed. But still I managed to come up with a few decent photos, including the one below, published in Surfer magazine in 1965 when I was just 13 years old. A year or so later, Surfer published another Portlock Point photo of mine.

These days I still surf and still take pictures of surfing, but those first photos of mine, in black-and-white, are a window into both my own and Hawaii's past, and will always be among my favorites.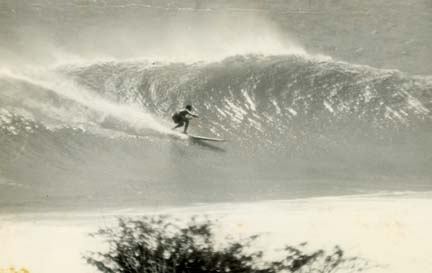 Portlock Point was where I liked taking pictures the most, especially before Henry J. Kaiser built so many homes there, eliminating all the best vantage points.
---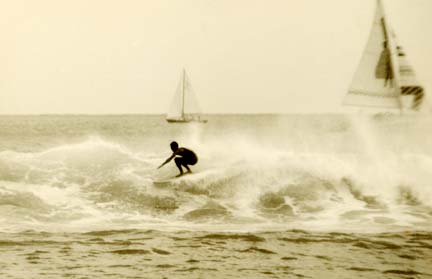 I also took photos elsewhere, such as the one above of a surfer during a 1965 contest at Queen's in Waikiki. Note the King Kamehameha design on the sail of the catamaran in the background.
---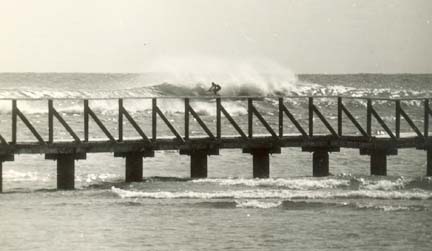 My favorite surf spot in the mid-1960s was Second Reef, off Portlock Road. My friends and I would walk out to the end of the swimming pier with our surfboards, jump in and paddle out. Years later, the pier was torn down as a safety hazard. Above, a surfer angled right at Seconds on a bright, windy day, circa 1966, with the pier in the foreground.
---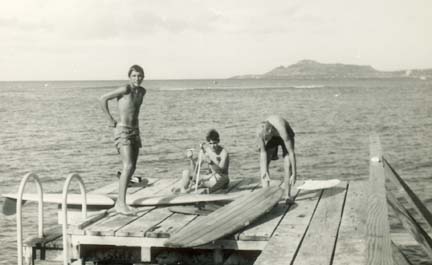 From left, Mark Boeder, Bob Grant and Erik Smith joined me on the pier after a surf session. Note my 8-foot-6 balsa wood Jacobs surfboard, with the three redwood stringers, koa wood nose and foam skeg, that Erik had been using. I wish I still had that board. Bob is seen fooling around with my camera tripod. My white, hand-held light meter is visible on the pier railing.
---
Artists and photographers are invited to submit portfolios of their work. Send photocopied samples to Portfolio, Honolulu Star-Bulletin, 7 Waterfront Plaza, Suite 210, Honolulu, Hawaii 96813; or e-mail jpeg images to features@starbulletin.com





Click for online
calendars and events.
E-mail to Features Editor
---
---

© 2002 Honolulu Star-Bulletin
https://archives.starbulletin.com