CLICK TO SUPPORT OUR SPONSORS

---

---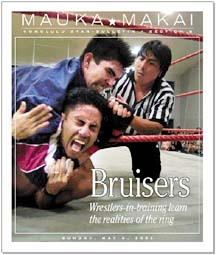 [ MAUKA-MAKAI ]

---



Wrestling for success


The Island X-treme Wrestling
Federation attracts athletes with
a high tolerance for pain and poverty

---


Shawn 'Speedy' Lopes
slopes@starbulletin.com

Nestled between a pair of mango trees and accessorized by plastic patio chairs, the IXWF's Kahala training center -- a 16-by-16-foot practice ring in Joseph Tramontano's back yard -- provides a fascinating neighborhood spectacle.

"Sometimes guys will stop and stare," he says, "but we just ask 'em what they're looking at, and they'll usually go away."

Nobody wants to mess with these guys. At one of the more recent IXWF shows, three wrestlers went to the emergency room, according to Tramontano, the affable, straight-shooting owner of Island X-treme Wrestling Federation, a relatively new pro wrestling crew that stages events at various sites around Oahu.

"One guy got seven stitches, the other guy had a concussion and another one broke his leg," he says.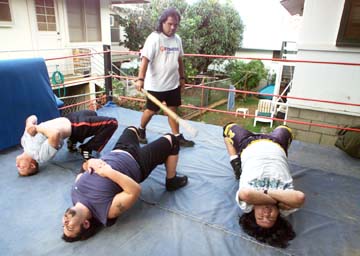 DEAN SENSUI / DSENSUI@STARBULLETIN.COM
Wrestling school is grueling. From left, Rich Megee, Cholo and Nemesis perform neck bridges as Johnny All-Black supervises.
---
It's a rough living, but Tramontano, who once trained in the back yard of former World Wrestling Federation superstar Afa of the Wild Samoans and alongside such wrestling notables as Rikishi, Yokozuna and Virgil, still entertains dreams of making it to the next level -- this time as a wrestling promoter.

It certainly helps that the IXWF is sanctioned by the National Wrestling Alliance, whose reputation and influence reaches back at least 50 years. Before the WWF turned "sports entertainment" into the global phenomenon it is today, pro wrestling was a largely regional affair. Wrestling promotions around the country, including those overseen by the NWA, were broken down by geography.

The NWA never strayed from its territorial format and, as a result, fell far behind the WWF in terms of worldwide popularity. Yet by virtue of its history and longevity, it is still held in high regard by many in the business.

Several years ago, Dave Heart, current commissioner of the NWA's Hawaii region, petitioned for the Hawaii territory, which, in addition to the Hawaiian Islands, includes various parts of the Pacific. The IXWF was created, and it now boasts close to 30 wrestlers. There's the IXWF heavyweight champion, Johnny Allblack, a ring vet trained by the great High Chief Peter Maivia, grandfather of WWF superstar The Rock; junior heavyweight champion (under 230 pounds) The Jett; and hardcore (anything-goes street rules) champion Klassic Kerry Royal. Each endured an exhaustive training program before being allowed into the ring.




IXWF/NWA presents 'Armageddon'

The contenders: Johnny Allblack vs. Final Solution, Wolfen vs. Bruiser, Royal vs. Cholo, Sickdog vs. Kaimana, and more

Where: Kaneohe Marine Corps Base E Club
When: 7 p.m. Wednesday
Admission: $5
Call: 254-7660
Future dates: June 1 and July 6 at KMCB E CLUB, and during August's Bay Fest at KMCB. For more information, call 372-8222.




FOR A $100 fee, prospective grapplers are granted a tryout with the IXWF. "We'd start you out with 1,000 squats in 15 minutes," Tramontano reveals. "Then we'd run you through a few paces, show you how to run the ropes and fall with minimum pain. A lot of drills entail running and falling."

Survive that, he says, and the IXWF will work out a training schedule and a payment plan that runs $80 a month. Upon reaching the full $1,500 training fee, wrestlers are allowed lifetime access to training facilities.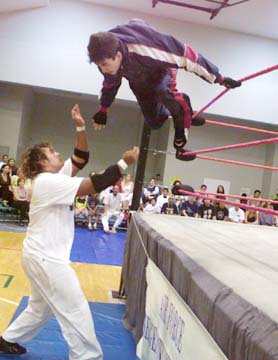 DEAN SENSUI / DSENSUI@STARBULLETIN.COM
Action takes place outside of the ring as well as inside. Mr. Fitness takes a dive off the ropes to go after The Jett.
---
Applicants also will be expected to join the IXWF's ring crew, which at every match sets up and breaks down the promotion's state-of-the-art flexbeam ring (the same type used by the WWF, boasts Tramontano), sells tickets and assists with various pre-show duties. "That way, they get to learn the business the way I learned: from the ground up," he explains. "You appreciate it more in the end."

By Tramontano's estimates, it takes between six months and a year to be ring-ready in the IXWF, although the time can vary greatly from person to person. Most applicants, however, never last a full training schedule.

"We get people from martial arts backgrounds who like the whole physical side of it," he reveals. "The other group we get come in because they see it on TV. A lot of those people don't make it because they're not used to the physical abuse on their bodies, unlike those with at least high school and college wrestling backgrounds. They get in there and realize the mat is not as soft as it looks on TV."

Tramontano recalls the admirable efforts of a writer from a local university newspaper who, in the course of an in-depth report, suffered a grueling tryout with Tramontano's wrestling school. "We saw that kid one time and one time only," he says, with a good-natured cackle. "I'd say over 80 percent don't last over two weeks."
DEAN SENSUI / DSENSUI@STARBULLETIN.COM
Metal Maniac, center, uses an illegal move with a strap to whip Ho No back and forth across the ring.
---
WHILE UPSTART WRESTLING organizations find it tough keeping a fresh and consistent roster, turning a decent profit is an even greater challenge. "We are still in the red," Tramontano says. "A lot of times, (the wrestlers) don't even get paid because we just barely make enough money to pay for our expenses."

Why, then, do so many endure certain bodily harm for a payday of -- according to Tramontano -- "nothing to 25 bucks"?

"There's that one-in-10,000 to one-in-a-million chance that they're gonna be one of the ones that make it," he said. Acceptance into a major national promotion has always been a long shot for most wrestlers, and with the WWF's recent buyout of World Championship Wrestling and Extreme Championship Wrestling -- its two biggest rival promotions -- the odds of making it to the next level are extremely slim. For most IXWF wrestlers, however, it's a goal worth pursuing.

Some are even chasing the dreams of others, as is the case of the beefy Tiki, a real-life black belt in tae kwon do who has turned to wrestling. If anyone in the IXWF can match the imposing physique of a fearsome WWF wrestler, it is this likable behemoth whose biceps, when applying a headlock, can balloon to the size of a small child's head.

"Married 12 years, family man, one son, 4 years old," is the soft reply when asked to describe himself outside the ring. "That's what got me interested in wrestling: knowing that my son liked to watch wrestling so much."

The good news for Tiki and his fellow showmen is that the IXWF will continue to benefit from its NWA ties, which can help local wrestlers gain national exposure through "talent trades" in which regional NWA entities exchange wrestlers for brief spells. The IXWF also promotes its own talent through the NWA's national rankings, which take into account all NWA affiliates around the country.
In addition, the IXWF's Friday night TV showings on 'Olelo channel 52 have expanded to Akaku Maui Community Television, which reaches households on Maui, Molokai and Lanai, and the promotion continues to receive tryout requests through its Web site at www.ixwf.com.

Things are looking up, says Tramontano. "There's a lot of good things about Hawaii that people take for granted. You can come here with a dream and actually try it. Maybe you won't get it, but you can try it."

---

For more information about the wrestling school, call 783-7809. Applicants must be 18 or older, in good physical and mental health. The IXWF Web site requests "no superstar attitudes please."





Click for online
calendars and events.
E-mail to Features Editor
---
---

© 2002 Honolulu Star-Bulletin
https://archives.starbulletin.com