CLICK TO SUPPORT OUR SPONSORS

---

---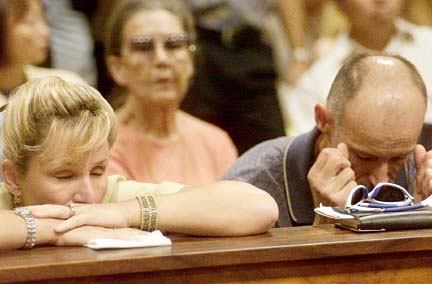 FL MORRIS / FMORRIS@STARBULLETIN.COM
Ambrose family neighbor Kerry Engle, left, and Dana Ambrose's father, Rod, showed signs of stress yesterday after making statements about Dana prior to the sentencing of Clyde Arakawa. At top, Arakawa listened as he was sentenced by Judge Karen Ahn.
---
Arakawa
sentenced
to 20 years


The 50-year-old retired cop
gets the maximum term

---

By Leila Fujimori and Nelson Daranciang
lfujimori@starbulletin.com ndaranciang@starbulletin.com

Former police officer Clyde Arakawa became the second man in Hawaii to receive a 20-year manslaughter sentence for killing someone while driving drunk.

Yesterday, Judge Karen Ahn sentenced Arakawa, 50, to the maximum 20 years in prison with credit for time served for causing the death of 19-year-old Dana Ambrose.

After the sentencing, Ambrose's father, Rod Ambrose, said: "This is not a happy day. It's not a victory. There are no winners here. Dana's not coming back."

Arakawa was convicted by a jury of nine women and three men on Feb. 19 in the Oct. 7, 2000, accident at Pali Highway and School Street in which his Ford Thunderbird broadsided Ambrose's Honda Civic, killing her almost instantly after he went on what prosecutors called a seven-hour drinking binge.

Before the sentencing, Arakawa told the judge that in contrast to the pride he felt when retiring from the Police Department, he now feels shame.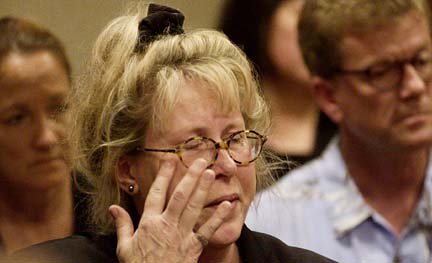 FL MORRIS / FMORRIS@STARBULLETIN.COM
Dana Ambrose's mother, Susan, wiped away tears yesterday as she listened to her husband's statement about her daughter.
---
"I respectfully offer my prayers and heartfelt sympathy to the Ambrose family," Arakawa said. "I am very sorry for what has happened."

He addressed criticism that he showed no remorse by saying, "I was raised in a traditional way where a man doesn't show his feelings."

Arakawa hugged his mother before he was led away in shackles yesterday.

After the session, his father, Hideo Arakawa, said he did not expect the sentence, but would not comment further.

Also after sentencing, Clyde Arakawa's attorney, Michael Ostendorp, said his client will appeal the decision. "He's still innocent when it comes to the physical evidence," he said.

He will ask that Arakawa be housed somewhere other than at Halawa Correctional Facility since some prisoners there are "looking forward to seeing" the former police officer.

Before sentencing, Ambrose's parents, Rod and Susan Ambrose, told the judge how much their daughter meant to them.

"Everyone sooner or later is touched by a DUI fatality," Rod Ambrose said.

He told of how his daughter had called the day of the accident saying, "You're going to be so stoked, Dad," and relayed that she was getting a University of Hawaii art scholarship. "She was my baby girl."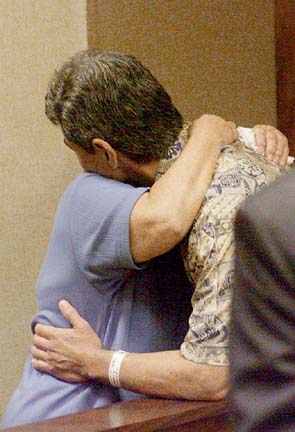 FL MORRIS / FMORRIS@STARBULLETIN.COM
Clyde Arakawa hugged his mother, Aiko, before being led out of the courtroom after the sentencing.
---
He said "losing a parent is bad ... but losing a child is unthinkable. ... The pain never really stops."

Susan Ambrose said Arakawa's remorselessness and conduct were unbecoming of a human being, and asked the judge to impose the maximum sentence on Arakawa for "killing my daughter."

Boyfriend William Asprey said he did not expect to sway anyone's opinion, but said, "I planned to spend my life with Dana, and I miss her every day."

The judge had received letters in support of Arakawa as well as those asking for the maximum sentence.

City Prosecutor Peter Carlisle told the judge, "We ask that you do what is right for our home, for Hawaii and for the people of Hawaii and sentence Clyde Arakawa to 20 years in prison."

Carlisle, who tried the case, later told reporters the sentence was significant.

"From here on out, the bar has been raised for people who have prior alcohol-related convictions," he said.

The Hawaii Paroling Authority will determine how much time Arakawa serves before being eligible for parole.

Honolulu Police Chief Lee Donohue responded to the sentencing by saying: "It's a tragedy all the way around. There are no winners. My heart goes out to everyone who's been hurt by this tragedy."

The case drew public attention after Arakawa had been caught on TV news footage freely roaming the accident scene, being comforted by fellow police officers, and had a union lawyer called to the scene.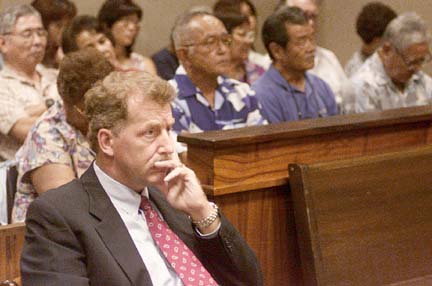 FL MORRIS / FMORRIS@STARBULLETIN.COM
Prosecutor Peter Carlisle looked on yesterday as a video on Dana Ambrose's life was shown in the courtroom. Carlisle sought the maximum 20-year prison sentence for Clyde Arakawa.
---
A few days after the accident, Donohue had acknowledged Arakawa had been extended "courtesies" but that it had no bearing on the results of the investigation.

In 1996 a change in the law increased the term for manslaughter to 20 years from 10 years.

"It created a huge impact on the way we try cases," Carlisle said, noting that there was little reason to pursue manslaughter since the sentence for negligent homicide was identical.

"Bucky Lake got away too easy," Carlisle said. Although prosecutors tried to charge him for murder, the Hawaii Supreme Court ruled against it. Lake was convicted of manslaughter for killing five people in a two-car accident near Makapuu in 1988. He was sentenced to 10 years in prison and paroled in 1996.

In 1997, James Steinseifer was the first to receive 20 years for manslaughter in a drunken-driving case for killing two sisters and their 1-year-old niece in Kapolei.

Carol McNamee of Mothers Against Drunk Driving said such highly publicized cases involving impaired driving create more awareness.

"There's a very good chance that in the following year you'll see a decline in the fatalities," she said.

Ambrose's family will continue to pursue a wrongful-death lawsuit against Arakawa.

Ryan Akamine, Arakawa's lawyer in the civil suit, said the family has rejected offers to settle the case for the insurance policy limits and that Arakawa has exhausted his personal assets with the criminal trial.

The Ambroses' lawyer, Rick Fried, said their offers are "not even close to what the case is worth."

But the case is not just about the money, Fried said. Should the guilty verdict be overturned on appeal, the civil suit will ensure Arakawa is found responsible for his actions, he said.

"It's sort of like O.J. Simpson, who got out of the criminal verdict but was found responsible in the civil trial," Fried said.
E-mail to City Desk
---
---


© 2002 Honolulu Star-Bulletin
https://archives.starbulletin.com