CLICK TO SUPPORT OUR SPONSORS

---

---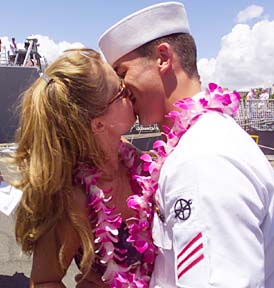 DEAN SENSUI / DSENSUI@STARBULLETIN.COM
Crystal Jobe gave husband Bryan the traditional "first kiss," that follows a deployment at sea. Jobe was among the first to disembark from the USS Russell yesterday.
---
Destroyer returns
to Pearl after
months of war


The USS Russell was the first
Pearl Harbor warship deployed
after the 9/11 attacks

---

By Gregg K. Kakesako
gkakesako@starbulletin.com

The first Pearl Harbor warship deployed after the Sept. 11 attacks returned home yesterday after six months supporting the war against terrorism.

While the crew of 330 sailors were away, 12 babies were born. Petty Officer Terence Phillips, one of the first off the Russell, got to see 4-month-old Aaliyah for the first time.

Overwhelmed by all the media attention, Phillips did not quite know what to say, but noted that he wished he had been here when Aaliyah was born.

"I got a beautiful child," he told reporters.
Upon prompting by reporters, he said she looked like his wife of 18 months, Chisa.

Crystal Jobe won the raffle among wives of Russell crew members and got the traditional "first kiss" with her husband, Fireman Bryan Jobe, as soon as the gangplank was placed on the stern of the destroyer.

She ran along the pier into her husband's arms with photographers and television cameramen trailing.

Bryan Jobe also was overcome by all the media attention but managed to smile through it all, saying it was great to be home.

Navy officials said the six-month deployment resulted in at least one wedding proposal and an offer to renew wedding vows.

Amy Smith stood on the dock holding a large poster that featured a large photo of her and her husband, Petty Officer Steve Smith, and the words: "Yes. I will do it again."

She explained that halfway through the deployment, her husband sent her a message: "I miss you very much. I wish I was there with you. Would you marry me again?"

"This is my answer," added Amy Smith, noting that the first time Steve proposed was four years ago in Virginia, just after he finished a deployment on the USS Ramage.

Lt. Cmdr. Bob Hein, Russell's executive officer, acknowledged that the warship did not know what to expect when it left Pearl Harbor on Oct. 25.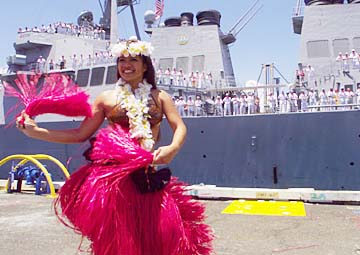 DEAN SENSUI / DSENSUI@STARBULLETIN.COM
Donnelle Alos from Germaine's Luau danced at the arrival of the USS Russell in Pearl Harbor yesterday after it returned from a six-month deployment.
---
"We didn't know what was going to happen," Hein said, "but we were ready for anything and everything."

On Nov. 27, Petty Officer 2nd class Randy Glenn Whitaker, 44, was reported missing from the Russell 850 miles southwest of India. The search for Whitaker was suspended about two days later.

While patrolling the Indian Ocean north of Diego Garcia the next month, the 505-foot Arleigh Burke-class destroyer rescued four crewmen of a B-1B bomber that crashed. On Dec. 12, 15 minutes after takeoff on what the crew of the B-1 bomber thought would be its last mission, the plane ran into trouble. Multiple systems failed on the $280 million aircraft, so pilot Capt. William Steele decided to turn around and attempt an emergency landing.

However, 60 miles from the airfield, Steele had to declare an emergency, and the crew of four became the first B-1 crew to eject over water in wartime.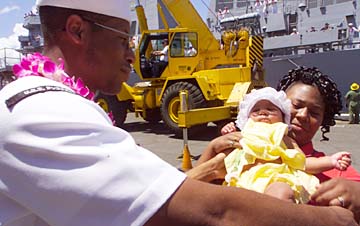 DEAN SENSUI / DSENSUI@STARBULLETIN.COM
Petty Officer Terence Phillips was greeted by wife Chisa and their 4-month-old daughter, Aaliyah, who was born while Phillips was at sea.
---
The Russell was 50 miles away when it got the search-and-rescue order.

"It was the dead of night," Hein recalled. "Unfortunately, where the bomber went down was in shallow water," filled with treacherous coral reefs and shoals, sharks and explosives.

"So we had to launch our small boats over the horizon, and we couldn't see where they were going."

Hein said the sight of Russell's rescue boats was a welcome sight for the downed crew, all of whom were in good condition.

Summing up the six months at sea, Hein said, "We did God's work and we made Hawaii proud."
E-mail to City Desk
---
---


© 2002 Honolulu Star-Bulletin
https://archives.starbulletin.com