CLICK TO SUPPORT OUR SPONSORS

---

---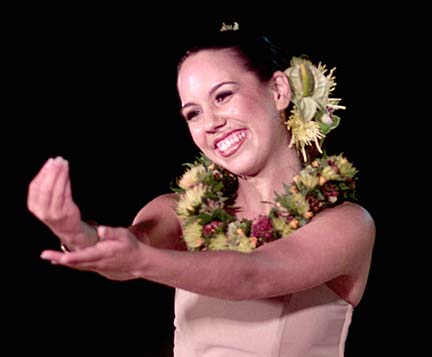 DENNIS ODA / DODA@ STARBULLETIN.COM
Malia Ann Petersen of Hula Halau O Kamuela won the title of Miss Aloha Hula 2002 over 11 other dancers in last night's competition at the Edith Kanaka'ole Tennis Stadium in Hilo. The 39th Annual Merrie Monarch Festival continues tonight with halau performing in the auana portion of the competition.
---
Malia Petersen
is Miss Aloha
Hula 2002


The Hula Halau 'O Kamuela dancer
wins at Merrie Monarch fest

---

By Scott Vogel
svogel@starbulletin.com

HILO >> Thanks to a mesmerizing pair of performances that captured everything from the frigid slopes of Maunakea to the beauty of Queen Emma in their sweep, Malia Ann Kawailanamalie Petersen, who originally took up hula to keep "from being hyper," was crowned Miss Aloha Hula 2002 last night at the 39th annual Merrie Monarch Festival in Hilo.

Petersen, a former Miss Keiki Hula, is a member of Waimanalo/Kalihi's Hula Halau 'O Kamuela and a student of kumu hula Paleka Leina'ala Mattos and Kunewa Mook. Petersen also took the Hawaiian Language award.

Earlier in the evening, as the competition raced to its conclusion, a few themes began to gradually emerge.

This being Hilo, rain in all its myriad forms -- sprinkling rain, dancing rain, pouring rain -- made its way into the steps and gestures of many of the 12 talented women vying for this year's title.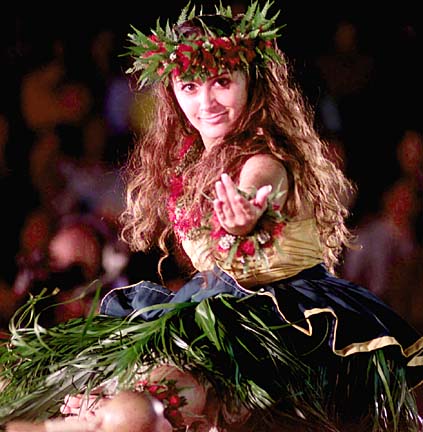 DENNIS ODA / DODA@ STARBULLETIN.COM
Kasie Puahala Kaleohano from Halau Ka Ua Kani Lehua of Hilo, Hawaii, finished second in last night's Miss Aloha Hula competition.
---
But a 13th woman seemed determined to make her presence felt on this night, Queen Emma, whose 19th century travels to Kauai were celebrated in the mele of several contestants, including Dawn 'Anelalani Lleces, Malia Ko'i'ulaokawaolehua Bird and Petersen.

The crowd at Edith Kanaka'ole Stadium, initially offering only appreciative applause, appeared to come alive upon the entrance of the third contestant of the evening, Waianae's Lei'ohelo'ulaokalaniopele K. K. Hewett, who emerged wearing a bright orange skirt that brought an audible response from the audience. From then on, a hula heaven of sorts was entered, one showcasing the talents of nine dancers representing halau from Oahu, two from California and just one from Hilo.

Kasie Puahala Kaleohano, the hometown girl, brought the kahiko portion of the Miss Aloha Hula competition to a dazzling and dramatic finish, depicting Pele's destruction of the shark-god, Ka'iwi.

---

Merrie Monarch Festival
E-mail to City Desk
---
---


© 2002 Honolulu Star-Bulletin
https://archives.starbulletin.com