CLICK TO SUPPORT OUR SPONSORS

---

---
[ SUNDAY TRAVEL ]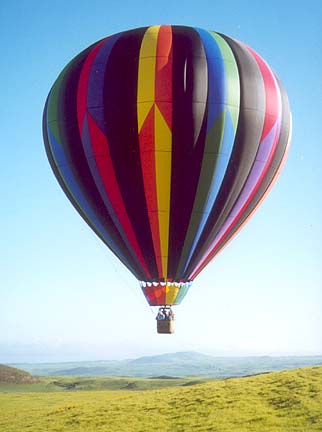 PHOTO COURTESY OF PARADISE BALLOONS

---
This ride takes you
somewhere over
the rainbows


Hot-air ballooning provides riders
with a unique perspective of Hawaii

---

By Cheryl Chee Tsutsumi
Special to the Star-Bulletin

This, I imagine, is how angels fly -- so slowly, so gracefully, without making a sound or stirring the air. Instead of wings, however, I'm being miraculously lifted heavenward by a 90-foot-high ripstop nylon bag containing 175,000 cubic feet of air.

From my perch in an open, waist-high wicker basket 1,500 feet above the earth, I marvel at the spectacle before me: the Big Island's Kona-Kohala coastline fringed by the brilliant blue of the Pacific; the rich green of Parker Ranch pastureland; and magnificent Hualalai, Mauna Loa and Mauna Kea, the latter's summit wreathed in snow this crisp winter morning.

From time to time, the pilot gently turns the craft, providing different perspectives of the breathtaking panorama. It's so still that, incredibly, I can hear the bellow of a bull from a mile away.

Hot-air ballooning is an enthralling, ethereal experience; it's like drifting in a dream.

Paul Costa, the marketing director of Paradise Balloons, which launched the Paniolo Paluna Maluna Parker Ranch (Cowboy Ballooning Over Parker Ranch) tours in January, knows the feeling well. He has been ballooning hundreds of times.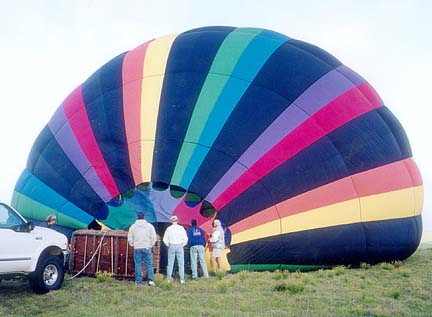 CHERYL CHEE TSUTSUMI / SPECIAL TO THE STAR-BULLETIN
Passengers watch the balloon be inflated before embarking. The basket holds 8 to10 people.
---
"It's so serene when you're up there," he says. "You also tend to feel very small when you're looking at Mother Earth, which is so large and beautiful around you. When you are in a balloon, you're in a calm, peaceful state. This is not a roller coaster ride; this is not an adrenaline adventure."

The only place to go ballooning in Hawaii to date is a verdant 45,000-acre slice of Parker Ranch on the lee side of Mauna Kea. Although all of Paradise Balloons' tours fly over a portion of that area, each ride is unique, depending on wind velocity and load factors. As Tim Cooksey, the company's operations manager and a seasoned aeronaut, explains, "Some flights cover more territory when there is a breeze. The balloon will be able to go in different directions due to different winds at different altitudes."

The tours take off from a pristine expanse of land off Saddle Road previously inaccessible to the public. Here, at the 4,000- to 4,800-foot elevation, there is a kipuka (oasis) of quiet, where winds blow softly year-round at 5 to 7 mph, ideal conditions for ballooning.

Hot-air balloons glide with the wind, much as kayaks glide with water currents. Because they move with air currents, not against them, there's no resistance, which is the usual cause of motion sickness. Acrophobia, a fear of heights, also is not a concern because in a balloon there is no point of reference, such as the side of a building or the edge of a cliff, between you and the ground.

The theory behind hot-air ballooning is simple: When the air in a balloon is heated, it expands and rises as it becomes lighter than the air around it, thus pushing the balloon up, up and away. A balloon will rise as long as the air inside it is hotter, and therefore lighter, than the air outside it.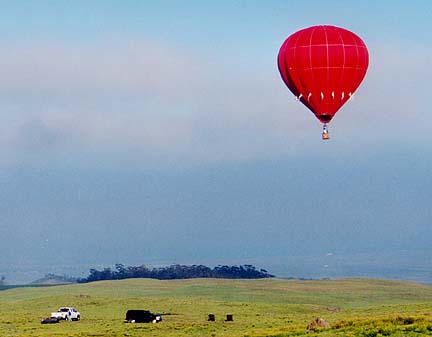 PHOTO COURTESY OF PARADISE BALLOONS

---
Vertical lift of a hot-air balloon is controlled by a pilot using a hand-operated propane burner. Squirting propane into the burner creates flames that warm the air inside the balloon and cause it to rise. Turning off the heat allows for a period of level flight followed by a slow descent as the entrapped air cools. Experienced pilots know precisely when to apply heat to ensure the launch, landing and flight of the balloon are smooth.

Wind currents determine the balloon's speed and direction. The pilot keeps maneuvering the balloon up and down, seeking the best currents to ride.

Hot-air ballooning dates back to 1780s France, when paper manufacturers Joseph and Etienne Montgolfier noticed bits of burning paper and ash moving up a chimney. Initially, the brothers thought the lifting power came from smoke, and they began dabbling with small, hollow paper balls that were open at the bottom for smoke to enter.

They then constructed large bags from cloth lined with paper, which rose without fail when placed over a smoking fire. On Sept. 19, 1783, after several unmanned test flights, the Montgolfiers set aloft a balloon carrying the first passengers -- a duck, a rooster and a sheep. The balloon landed safely after an eight-minute flight before a crowd of amazed spectators, including King Louis XVI and his court.

More than two centuries later, ballooning remains an awe-inspiring experience. All the previous notions you've had about flying will change as you float like a feather to a wondrous place high in the Hawaiian sky where rainbows are born and clouds play.

---

Cheryl Chee Tsutsumi is a Honolulu-based free-lance writer.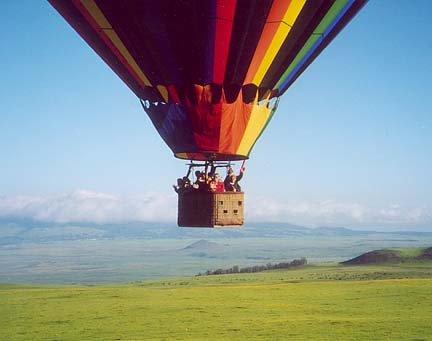 PHOTO COURTESY OF PARADISE BALLOONS

---



Balloon rides
over the Big Island

What: Paluna Maluna Parker Ranch (Cowboy Ballooning Over Parker Ranch)

Where: P.O. Box 1702, Kamuela, HI 96743

Phone: 808-887-6455 on the Big Island or toll-free 866-887-6455 from the other islands and the mainland. Reservation lines are open from 7 a.m. to 6 p.m. daily.

Tours: One morning hot-air balloon tour is offered daily. Reservations are required. Meeting time is approximately 15 minutes before sunrise at Paradise Balloons' office and greeting area on the grounds of Puopelu and Mana, Parker Ranch's historic homes, in Waimea on the Big Island. The tour takes about four hours, including post-flight champagne and continental breakfast.

Cost: $240 per person, $190 for kamaaina and $190 for children 5 to 12. No children under age 5 may participate. Pickup is available for an additional fee of $40 per person, with a minimum of four persons at any one hotel.

Attire: It's recommended that you layer your clothing. Dress in casual outdoor sportswear such as a T-shirt, jeans and jacket; comfortable sports shoes (no open-toed shoes or sandals); and a cap or hat.

E-mail: info@paradiseballoons.com

Web site: www.paradiseballoons.com



E-mail to City Desk
---
---
© 2001 Honolulu Star-Bulletin
https://archives.starbulletin.com