CLICK TO SUPPORT OUR SPONSORS

---

---
[UH BASKETBALL]
---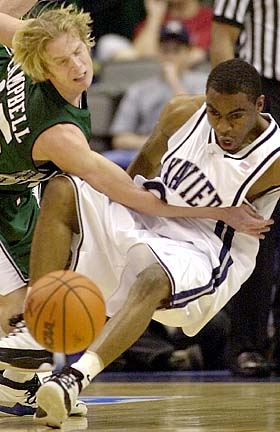 ASSOCIATED PRESS
Hawaii's Mark Campbell and Xavier's Lionel Chalmers scrambled for the ball in the first half of today's game in Dallas.
---
'Bows stumble


Hawaii falls to Xavier, 70-58, and
bows out of the NCAA tournament

---

By Cindy Luis
cluis@starbulletin.com

DALLAS >> They had gone where no Hawaii team had gone before.

>> A school-record number of wins;

>> Back-to-back conference championships;

>> Four players on the single-season 3-point Top 10 list.

Today, the 25th-ranked Rainbows couldn't push it any farther. Hawaii (27-6) suffered the same fate as the school's three other NCAA Tournament teams -- a loss in the first round by double digits.

Sophomore guard Romain Sato scored 18 points and No. 22 Xavier hit 12 of 14 free throws in the final 79 seconds to oust Hawaii, 70-58, in the first round of the West Regional.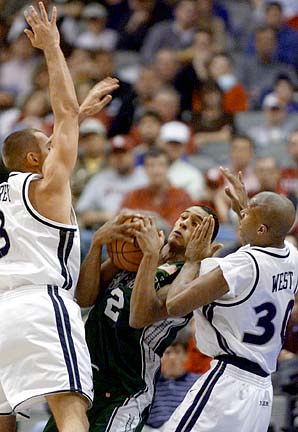 ASSOCIATED PRESS
Hawaii's Phil Martin fights to control the ball between Xavier's Kevin Frey (3) and David West (30) in the first half.
---
The Musketeers used a 13-1 to open the second half as the Rainbows missed their first 11 shots. Phil Martin's bankshot with 11:34 left was Hawaii's first basket of the second half, pulling UH to 46-43.

Xavier used a 12-5 run to break out to a 58-48 lead; Hawaii closed to five twice, the last at 61-56 on Predrag Savovic's fourth 3-pointer with 57.6 left, but could get no closer.

Savovic finished with 26 points, 13 in both halves. Martin added 11.

Hawaii led by as many as 12 points in the first half, at 40-28, with 3:03 left on Carl English's 3-pointer. The Rainbows couldn't buy a bucket in the final three minutes, with several good looks rimming out.

The Musketeers capitalized on two late Hawaii turnovers; Sato scored five of his 15 first-half points in the final 36 seconds, including a 3-pointer at the buzzer that closed the gap to 40-33.

---



E-mail to City Desk
---
---


© 2002 Honolulu Star-Bulletin
https://archives.starbulletin.com