CLICK TO SUPPORT OUR SPONSORS

---

---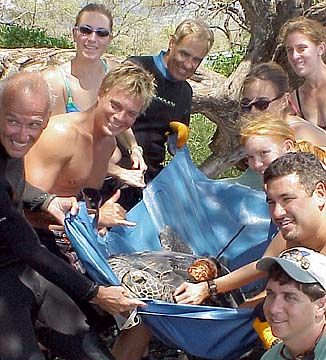 COURTESY OF THE MAUI OCEAN CENTER
A team of turtle experts and volunteers from the National Marine Fisheries Service, Hawaii Wildlife Fund, Sea Life Park, NOAA, Island Marine Institute and Maui Ocean Center curatorial staff gathered Wednesday to release six green sea turtles into the ocean.
---
Turtles released
into sea off Maui

The 6 green sea turtles were raised
under a Sea Life Park program

---

Star-Bulletin staff

Maui Ocean Center officials released six green sea turtles into the ocean this week after caring for them for the past four years.

The male and five female turtles were released Wednesday afternoon off of South Maui and were part of Sea Life Park's Green Sea Turtle Educational Loan Program.

The program involves sea turtles being hatched at Sea Life Park and then sent to approved facilities across the state as part of an education program.

After a few years the turtles are returned to the wild. Hawaii Wildlife Fund and Maui Ocean Center volunteers will be tracking the turtles for the next few days to monitor their transition to the wild.

Sea Life Park officials on hand for the turtle release ceremony said the turtles appeared to be "robust and happy" upon their return to the ocean. Five species of sea turtles can be found in Hawaii; of these, three are considered native: the green, hawksbill and leatherback.

All sea turtles are protected under the U.S. Endangered Species Act of 1973. Anyone interested in more information about Maui Ocean Center programs can visit their Web site at www.mauioceancenter.com or call 808-270-7000.
E-mail to City Desk
---
---


© 2002 Honolulu Star-Bulletin
https://archives.starbulletin.com