CLICK TO SUPPORT OUR SPONSORS

---

---
Sunday, February 10, 2002
[ SUNDAY TRAVEL ]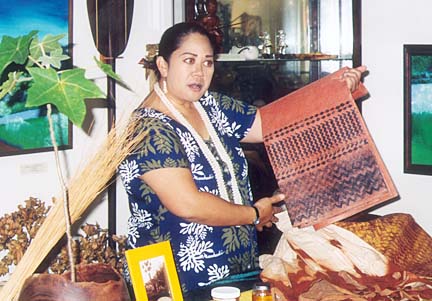 CHERYL CHEE TSUTSUMI / SPECIAL TO THE STAR-BULLETIN
Kehaulani Kekua discusses how the Hawaiians made dyes to draw patterns on their tapa.
---
Tourists flock to
Kauai center for
true Hawaiiana


Visitors want more than Mai Tais
and suntans, director finds

---

By Cheryl Chee Tsutsumi
Special to the Star-Bulletin

New York resident Frank Winchester got his first taste of aloha four years ago, when he happened upon the Kauai Heritage Center of Hawaiian Culture & The Arts. As the center's general manager, Kehaulani Kekua tells it, Winchester had brought his mother to Kauai to celebrate her 68th birthday. "She had lost her husband and so the trip to Kauai was for healing of the heart as well," Kekua says. "(Winchester) stumbled across us in desperate need of a special lei for his mother. We were on the verge of closing and had nothing on hand, but noting his dilemma, I asked him to give us 30 minutes to make him something."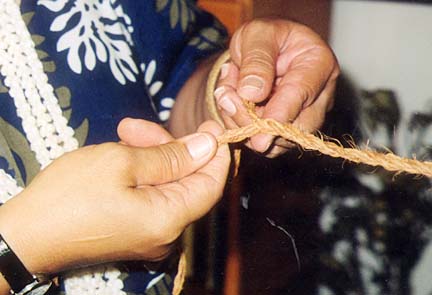 CHERYL CHEE TSUTSUMI / SPECIAL TO THE STAR-BULLETIN
Kehaulani Kekua weaves a length of cordage. Ancient Hawaiians used coconut and hau fibers this way to make cordage.
---
When Winchester returned, Kekua presented him with a gorgeous head wreath of fresh flowers and ferns. "He was overjoyed and so grateful," she recalls. "We insisted on offering him the lei as a gift to honor his mother and their time on Kauai. Refusing to take his money, I asked him to 'pay us back' by bringing his mother back to the center to meet us. Perhaps she would enjoy sitting in on one of our lei-making workshops."

The following day, Winchester and his mother returned and learned the entire process of lei making, from the gathering and preparation of materials to fashioning, giving and receiving lei. Says Kekua, still warmed by the memory, "It was a highlight for them. They now come every year."

That, in a nutshell, describes the power, purpose and promise of the Kauai Heritage Center. Founded at Kauai Village in 1998, the 1,200-square-foot facility has become a valuable resource on all things Hawaiian. "Our mission," notes Kekua, "is to enlighten and educate so that we nurture a greater sense of appreciation and respect for the Hawaiian culture."

Kekua was initially hired by Kauai Village to coordinate its special events and weekly cultural activities program. Wanting to strengthen its Hawaiian presence, the shopping complex's project director, Wade Lord, asked Kekua what she thought about establishing a museum on the premises. "I advised against a museum," Kekua says. "The island already has a wonderful museum, Kauai Museum in Lihue, and I didn't feel that Kauai Village could or should compete with it."

Instead, she suggested opening a cultural education center where people could learn about Hawaii through hands-on activities. "While I'm a huge fan of museums, the one thing I don't like is the 'look but don't touch' policy," Kekua says. "I wanted to create an experience that would provide for personal interaction between visitors, items, and the artisans and practitioners. Most of all, it was important to me that we deliver quality, authentic learning experiences."

The center's offerings include classes in Hawaiian language, hula, lei and cordage making, the lunar calendar and chanting. Video presentations focus on such diverse subjects as legends, traditional arts and crafts, and the overthrow of the Hawaiian monarchy.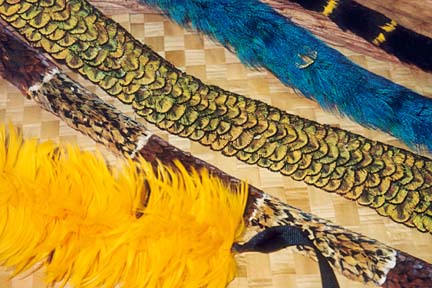 CHERYL CHEE TSUTSUMI / SPECIAL TO THE STAR-BULLETIN
Feather hatbands show off bright colors and intricate designs.
---
Exhibits showcase museum-quality collections of tapa; Hawaiian quilts; stone adzes and poi pounders; wooden calabashes; hand-carved fishing tools; shell and feather lei; hula implements and instruments; and woven baskets, hats, fans and mats. The majority of artifacts are treasured heirlooms that have been in Kekua's family for generations.

Excursions to significant sites are planned periodically. One trip focused on caves, gardens, heiau and ancient taro terraces in Haena, on the north shore of Kauai.

Another took participants to the cool, lush uplands of Kokee, on the west side, where they hiked in the Alakai Swamp and learned about the sacred plants of hula. A third expedition visited six heiau and other historical places in Wailua, on the east coast.

"Everyone is given the chance to look beyond the surface of Hawaiian culture that is often made up of entertainment and amusement gimmicks," says Kekua. "For us, entertainment is not the goal. We work really hard to correct false and inaccurate interpretations and representations of Hawaiian practices, art forms and so on. Perpetuating the integrity of the Hawaiian culture is important to us."

Prior to joining Kauai Village, Kekua worked at resorts on Kauai for more than 17 years. Throughout her career in tourism, she spent a lot of time pitching ideas to management in the hopes of seeing Hawaiian culture takes its rightful place in enhancing the visitor experience. She found that came occasionally, usually when VIPs were expected or when it was necessary to make a good impression so that a contract for a convention group could be secured.




Kauai Heritage Center of Hawaiian Culture & the Arts

Address: Kauai Village, 4-831 Kuhio Hwy., Suite 308, Kapaa, HI 96746

Hours: 10 a.m. to 6 p.m. Mondays to Fridays, and 10 a.m. to 4 p.m. Saturdays

Cost: Donations are accepted for some classes; the cost for others ranges between $15 and $20. Children 5 and up are welcome, but those age 5 to 10 must be supervised by an adult. Beginning in March, the center will offer a "Keiki Adventures in Hawaiian Culture" program from 10 a.m. to 2 p.m. on Saturdays. The $30 fee includes refreshments and activities such as arts and crafts, games, storytelling and cultural videos. Parents need to provide lunch for keiki enrolled for the full four hours. The cost is $20 for those who attend only part of the session.

Call: 821-2070

Web site: www.kauaiheritagecenter.org




"But for the most part," Kekua contends, "the executives were satisfied with the Hukilau hula lessons or sending people off on helicopter rides and boat tours. Guests were generally very interested in the history and culture of Hawaii, yet those who had firsthand interaction with them, such as the hotel employees, were limited in their knowledge."

At the Kauai Heritage Center, visitors can delve as deep as they want into the "real" Hawaii. If fishing is the topic of the day, for example, they can examine fish hooks carved of bone and squid lures made of cowrie shells. They can learn why Hawaiians have different names for fish, depending on their size and stage of growth. They can hear legends about famous fishermen of old, and watch a kupuna (elder) weave a throw net while he shares his own experiences in the waters of Kauai.

"My greatest reward is knowing that what we're doing is helping to perpetuate true Hawaiian culture -- not the pseudo versions that have festered throughout Hawaii," Kekua says. "I am so grateful that I have found a way to work on projects that are connected to the preservation of the Hawaiian culture. It feeds the soul."

---

Cheryl Chee Tsutsumi is a free-lance writer based in Honolulu.
E-mail to City Desk
---
---
© 2001 Honolulu Star-Bulletin
https://archives.starbulletin.com