CLICK TO SUPPORT OUR SPONSORS

---

---
Sunday, December 9, 2001
[ SUNDAY TRAVEL ]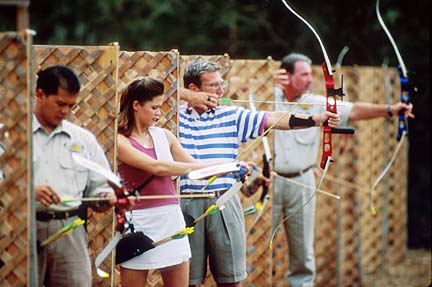 LANA'I PINE ARCHERY
There's a lot of skill involved in stringing a bow and letting your arrows fly, that is, if you want it to hit the bull's-eye.
---
Hone your archery
skills while on Lanai


Lana'i Pine Archery has a
12-station range where you can
shoot to your heart's content

---

By Cheryl Chee Tsutsumi
Special to the Star-Bulletin

Bow in hand, a dozen arrows in the quiver, I'm ready to take my very first shot, at archery. The target is pinned some 20 yards away on a thick bale of straw -- five colored concentric circles going from white at the outside to black, blue, red and finally at dead center, yellow, the coveted bull's-eye.

"For this first round, I'd be happy if you just hit the straw," says our instructor, Alberta De Jetley, as though she were reading my mind.

She then reviews the tips she's shared with us: "Stand straight, and keep your feet about a shoulder's width apart. One finger goes above the notch on the string; two go below. Point the bow and arrow down, and push-pull at the same time. Push the bow out with your left hand as you pull the string back with your right hand.




LANAI FOR LESS

Through Feb. 28, 2002 (excluding blackout dates from Dec. 26 through Jan. 4), kamaaina can enjoy a stay at the Lodge at Koele or the Manele Bay Hotel for $179 per night, double occupancy, including a $25 daily dining credit, discounts on selected activities and a Hana Hou certificate good for a return visit from Jan. 5 through Dec. 15, 2002, at the same reduced rate. Call 800-321-4666.

Savvy travelers can couple this deal with Island Air's Internet Special, a $52 one-way fare now available only online at www.alohaairlines.com. Island Air flies between Lanai and Honolulu, Kahului and Kona; check the Web site for specific schedule information.




"Use the corner of your mouth as an anchor point, and be sure your right hand is beside your face. Sight down the arrow toward the target; the tip of the arrow should be aimed slightly above the bull's-eye. Release quickly, within three or four seconds. The longer you wait, the more wobbly you'll get. Holding your breath as you release the arrow will steady the bow."

There are a lot of things to remember for what I thought would be a simple sport. My first arrows go awry. Most soar over the target. A few cling to the edges of the bale of straw. One hits the bale next to the one I'm aiming at. Discouraged, I retrieve my errant arrows for another go.

Archery dates to near the dawn of human history. Etched on cave walls in Spain are bow-hunters' pictures believed to be at least 6,000 years old. In Egypt, statues, tomb carvings and hieroglyphics depict soldiers engaged in bow-and-arrow battles 4,000 years before Christ was born. History books are replete with tales of accomplished archers, including the fearsome Vikings, the mounted warriors of Genghis Khan, the Indians who once ruled America's vast plains and, of course, the legendary Robin Hood.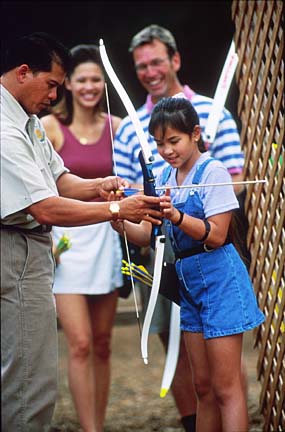 LANA'I PINE ARCHERY
An archery lesson is one of the sources of family fun on the Pineapple Island.
---
Modern-day archers can hone their skills at Lana'i Pine Archery, a half-acre facility at the Lana'i Pine Sporting Clays complex on the island's north side. The 12-station range is set in a dramatic landscape of deep gulches, groves of Australian pines and wide expanses of pampas grass and lantana brush. Depending on experience, participants aim at targets positioned five to 30 yards away.

"Archery is easy to learn with a lesson and some practice," says Dennis Rapp, manager of Lana'i Pine Sporting Clays. "Keen eyesight, steady hands and strength to hold and pull back the bow all come into play in archery. It's a great sport for families because it's enjoyable and challenging for all age groups."

"The goal isn't complicated," he said. "Hit the bull's-eye with the arrow, and it's amazing how quickly you can get hooked trying to get better at it. I remember a guy who spent five hours straight at our range; he must've shot 300 arrows during his visit with us!"

Lana'i Pine Archery has no minimum age requirements.




Lana'i Pine Archery

Address: P.O. Box 630310, Lanai City, HI 96763

Hours: 9:15 a.m. to 2:30 p.m. daily. Complimentary transportation to the range is provided from the Lodge at Koele.

Cost: Introductory lesson is $45, including equipment. Advanced class is $50 per hour. Range use for experienced archers is $35 per hour with equipment, $25 if you use your own equipment.

Call: (808)-559-4600

Web site: www.islandoflanai.com




"We have 15-pound youth bows, and as long as kids can pull them back and handle them safely, we will allow them to shoot," says Rapp.

The instructor selects an appropriate bow based on the size of the participant; you don't want to use one that's too long or too heavy. Another factor to consider is the bow's draw weight -- the amount of effort, measured in pounds -- needed to pull an arrow back to its fullest extent.

Currently, if you take an introductory lesson at Lana'i Pine Archery, you automatically qualify to enter the Golden Pineapple Contest. Each student gets five chances to hit a real pineapple at a set distance of 10 yards for children, 20 yards for adults. Winners take home a little crystal pineapple worth $30.

"One lady recently brought her two sons to the range for archery lessons," recalls Rapp. "One of the boys hit the pineapple on the first shot and won. The other kid didn't. His mom brought him back three times to try and win. Finally, on the third trip, using the next-to-the-last arrow, he won a crystal pineapple, too. You should've seen the big smile on his face!"

As with all sports, practice makes perfect.

"The more arrows you shoot, the easier it gets for you to hit the target," says Rapp. "When you finally see your arrow hit the center, wow! That's a real high!"

After 45 minutes, I've come close; I've hit every colored circle but the yellow.

"Pretend it's your last boyfriend," suggests my companion as I nock an arrow, take aim and release. It flies from the bow with the speed of a bullet and pierces the target with a loud thwack.

Bull's-eye!
E-mail to City Desk
---
---
© 2001 Honolulu Star-Bulletin
https://archives.starbulletin.com