CLICK TO SUPPORT OUR SPONSORS

---

---
Thursday, December 6, 2001


[ STUFFS ]
---
Movies from books

---


"Harry Potter and the Sorcerer's Stone" will be the subject when the Manoa Public Library hosts its first "Books into Film Discussion Group" at 6:30 p.m. today.

Those who have read J.K. Rowling's award-winning, best-selling novel and seen the movie are invited to share their reactions to the film, discuss the changes in transforming the book to a movie, and suggest what they wish had been done differently.

The program is designed for sixth-graders to adults.

A second program at 6:30 p.m. Jan. 10 will discuss the soon-to-be released "The Lord of the Rings: The Fellowship of the Ring," based on J.R.R. Tolkien's classic trilogy.

The library is at 2716 Woodlawn Dr. Call 988-0459.

---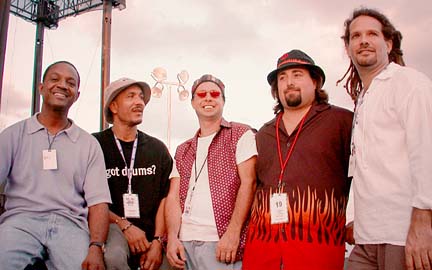 UNIVERSAL RECORDS
The BBS Allstars bring their pop-reggae sounds to the W Hotel tonight, kicking off a three-night series of concerts to benefit the Red Cross and Aloha United Way.
---
Pop-reggae benefit

The U.S.-based pop-reggae group BBS Allstars starts a trio of Sept. 11 benefit concerts at the W Hotel, 10 p.m. nightly today through Saturday.

The group features Robbie Morningstar, Patrick Roger, Julian St. Rose, Devin Marsh and Patrick Tenyue, who hail from such diverse bands as UB40, Norinori and the original KC and the Sunshine Band.

Morningstar said the reason for the trip is to "reach out to our brothers and sisters in Hawaii and show our love" at a time when the tourism industry has been hit by cutbacks.

The event will feature a silent auction to benefit both the Red Cross and Aloha United Way. The auction will be sponsored by the W hotel, Hawaiian Airlines, Neiman Marcus and many other retailers.

Seating is limited, so $20 tickets will be available on a first-come, first-served basis on the day of the shows, beginning at 8:30 p.m. No advance tickets will be offered unless purchased as part of a hotel/dinner package. Call 922-1700.

Acting workshop

Paul Weber of Metro Goldwyn Mayer television casting will present a cold reading intensive program for professional actors from 10 a.m. to 1 p.m. or 2 to 5 p.m. Saturday.

Weber cast the MGM/Showtime series "The Outer Limits" as well as films including "Poltergeist: The Legacy," "Stargate" and "Total Recall." He recently produced "Triggerman," which premiered recently at the Toronto Film Festival.

The class will include a short lecture, followed by a question-and-answer session, after which each actor will be given a scene to prepare. The scene will be critiqued, then reworked.

The class is $75 and takes place at the Kathy Muller Talent and Modeling Agency at 619 Kapahulu Ave. It is limited to 20 actors. Call Tony Natoli at 735-0707 or Joji Yoshida at 584-9376 to register.






Click for online
calendars and events.





---





Send WatDat? questions, stories
or any other story ideas or comments to:
Features, Honolulu Star-Bulletin, P.O. Box 3080,
Honolulu, HI 96802 or send a fax to 523-8509
or E-mail to features@starbulletin.com.
Please include your phone number.
E-mail to Features Editor
---
---
© 2001 Honolulu Star-Bulletin
https://archives.starbulletin.com