CLICK TO SUPPORT OUR SPONSORS

---

---
Sunday, November 25, 2001
[ MAUKA-MAKAI ]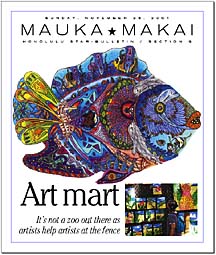 ---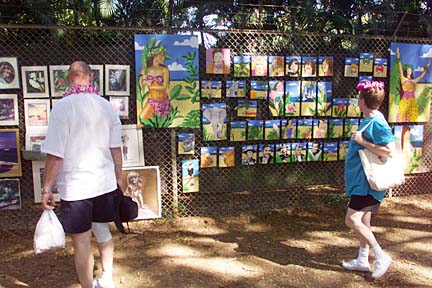 KEN SAKAMOTO / KSAKAMOTO@STARBULLETIN.COM
Weekend visitors to the Honolulu Zoo and other folks strolling
down Monsarrat Avenue can browse the makeshift art gallery
along the zoo's fence.
---
Chain-link gallery

---

By Suzanne Tswei
stswei@starbulletin.com

Robert Kelsey has been a jack-of-all-trades. He's been a newspaperman, a talk show host, a disc jockey and a bookstore and art gallery owner, among other things. But what he likes best is being an artist, which is his current full-time occupation.

That may have something to do with where he shows his art: on the chain-link fence at the Honolulu Zoo. A few days a week, Kelsey brings his art -- photographs of tropical flowers, petroglyphs painted on coconut fiber, and seascapes -- and hangs it under the shade of giant banyan trees along Monsarrat Avenue.

"You can't beat the surroundings," Kelsey said. "It's like a big outdoor gallery without walls. The artists get together and talk and help each other. Even when the sales are slow, we can keep each other company."

KEN SAKAMOTO / KSAKAMOTO@STARBULLETIN.COM
Lively art by Lone Wolf.
---
The open gallery is known informally as the Honolulu Zoo Fence Art Mart, although its official name is the Saturday Art Mart, which reflects its origin in the mid-1950s. Back then, a group of artists proposed to the city to be allowed the use of the zoo fence to display and sell their art.

The tradition lives on, although community groups have complained about the commercial activities. The artists number a few dozen, a decrease from the art mart's heyday in earlier decades. Some treat art as a hobby, while others depend on it as a livelihood.

"There are literally hundreds of artists who got their start here," Kelsey said. "As the place evolved, the art has changed over the years, depending on the artists who are here."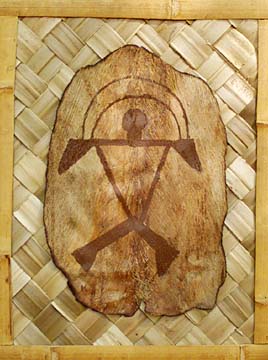 KEN SAKAMOTO / KSAKAMOTO@STARBULLETIN.COM
Robert Kelsey's "Maui Demi God" is a petroglyph
painting on coconut fiber.
---
Kelsey first showed his paintings on the fence briefly in 1960. He moved to Maui to publish free bimonthly newspapers and pursue other careers before retiring to Honolulu. He returned to the zoo fence in May, a move that has brought him nothing but fun and a little extra income, he said.

"We have our share of disagreements and problems," he said. "Whenever you get a group of people together, you are going to have disagreements. But we are basically a happy group. Everybody helps everybody."




Honolulu Zoo Fence Art Mart

Place: Along the zoo fence on Monsarrat Avenue

Time: 9 a.m. to noon Tuesdays, 9 a.m. to 4:30 p.m. Saturdays and Sundays

Call: 946-7282




Some artists will arrive before dawn to help stake out parking spaces. When business is slow, the artists share techniques and supply information and give each other pointers on salesmanship.

"I learn something new every time I come out here," said Heather Anders, a recent addition to the fence. "The other artists kind of take you under their wings and show you the ropes."

Anders was a hairstylist in Indiana and moved to Hawaii for a life change. She said she realized she was meant to be an artist (which was a childhood wish) while staring at the ocean. She is known for her detailed and vibrantly colored pen-and-ink drawings of marine animals.

Painter Herman Lau is an old-timer who has been selling his paintings at the fence since 1990. His paintings of flowers and landscapes were his therapy after his early medical retirement due to toxic substances and cigarette smoking in the workplace.

"I really enjoy painting, and then I found out I can sell it," Lau said. "It makes me happy that other people like my art. I can paint for hours and hours."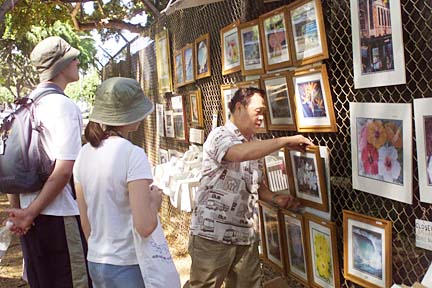 KEN SAKAMOTO / KSAKAMOTO@STARBULLETIN.COM
"Consummate salesman" Herman Lau has been showing
his work outside the zoo for more than 10 years.
---
Lau, described as a consummate salesman as well, comes prepared each time with cardboard boxes for shipping. The boxes are an "extra" he provides to his customers, often tourists who need packaging material to take the paintings home.

Local residents also have helped the outdoor gallery prosper as it has gained a reputation as a source for inexpensive art. The art mart is open Tuesday for half a day and all day on weekends. Tuesday is the quiet time, while weekends can be crowded with shoppers.

The art mart hours are listed as beginning from 9 a.m., but many artists are there from 7 a.m. Most of the artists display their art on the weekend, and a smaller number shows up for Tuesday.

The artists are allowed to sell only two-dimensional work, such as paintings and drawings. Only original artworks are permitted, but prints are also allowed. There is a wide range of art, although realistic landscapes, seascapes and flowers tend to be the favored subjects.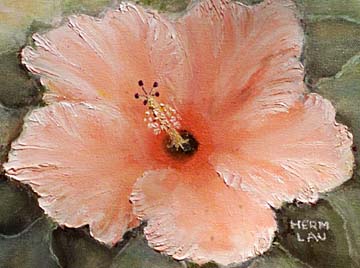 KEN SAKAMOTO / KSAKAMOTO@STARBULLETIN.COM
One of Lau's paintings.
---
On the low end, the prices range from a few dollars for cards to about $10 for a print. Original paintings can cost up to several hundred dollars, but the artists say most of their sales are in the $20-to-$45 range.

Some artists display their prices and some do not, but most are open to bargaining. An artist who calls himself "Lone Wolf" is even open to installment plans.

This week, when a couple wandered by and fell in love with a painting of a parrot, Lone Wolf let them take the painting home with only a $10 down payment. The painting costs $30, but he told the couple to "catch me next time."





Click for online
calendars and events.
E-mail to Features Editor
---
---
© 2001 Honolulu Star-Bulletin
https://archives.starbulletin.com