CLICK TO SUPPORT OUR SPONSORS

---

---
Sunday, November 18, 2001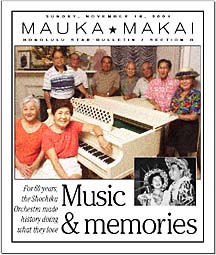 [ MAUKA-MAKAI ]

---




Music kept Japanese in
paradise connected

---

by gary chun
gchun@starbulletin.com

Gathered at an old friend's spacious home in Nuuanu on a recent afternoon are nine people who many years ago entertained and delighted a group of Okinawan folks who were trying to find their way in a new, adopted homeland, but who still craved a bit of the music and native language they left behind, if only to keep their common bond alive for as long as they could.

Some of the nine musicians haven't seen each other in 50 years but over simple beverages and pupu, they do some overdue catching-up, and, inevitably, a photo album appears, filled with the musty, black-and-white memories of days when they were younger and filled with ideals of doing something right, not only for their parents and grandparents but for themselves as well.

Welcome to "Paradisu Honoruru" and the reminiscences of former members of the longstanding Shochiku Orchestra.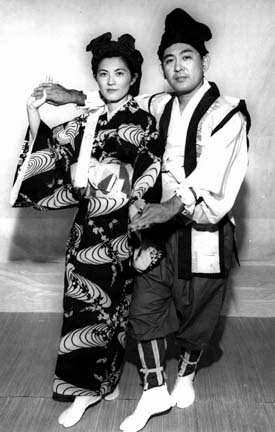 COURTESY BILL ROSE
The leaders of the orchestra never forgot their cultural roots.
Here, Hatsue Takushi and Masaji Uyehara don Okinawan
costumes to perform a traditional dance.
---
For 60 years, give or take a year, the semi-professional orchestra -- at different times 15 to 30 members strong -- staged full-fledged "all singing!" and "all dancing!" revues with comedic and dramatic skits in school halls, auditoriums and teahouses around the state, up until 1985, creating a rich part of local history that wasn't documented fully until a Hilo-born sansei took it upon himself to correct that oversight.

Bill Rose would rather let former orchestra members Masaji Uyehara and Ted Nakata, and the others who are still around, get the credit for all they created, but Rose also deserves kudos for his labor of love.

Rose collected, compiled and anthologized last year's successful "Club Nisei" CD project that documented the youthful Japanese-Hawaiian showband's recordings made during the late '40s through the early '50s. Now Rose has done the same with the recent release of 20 recordings the Shochiku Orchestra originally made for the Tropic record label. Both the Club Nisei and Shochiku Orchestra bands distinguished themselves with solid arrangements and fine instrumentalists and singers.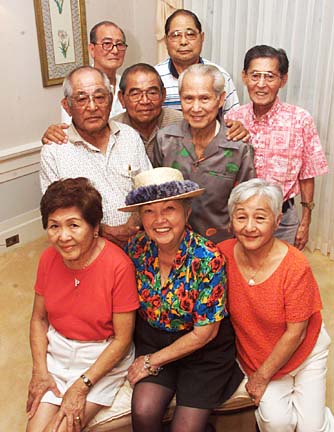 PRIVATE COLLECTION OF DORIS TAKETA KIMURA
Former members of the Shochiku Orchestra are, from back row:
George Mansho, left, and Patrick Arakaki; middle row from left:
Masaji Uyehara, Ted Nakata, Naoyuki Takaoka and Thomas Hijiki;
and front row from left: Chiyomi Furukawa, Chiyoko Ida Aoyagi
and Doris Taketa Kimura.
---
Uyehara, a personable man still playing the role of manager, was the one responsible for rounding up the reunion group, and jokingly says, "I told Bill before to hurry up and get this CD out before we all die!"

The album's title, "Paradise Honolulu," is the standard English equivalent of the CD's lead track, originally recorded around 1950.

"It's one of the rare times the band would use a ukulele," Rose said, "and the song's composer, Raymond Hattori, was a Japanese national who came to Hawaii in the '30s and graduated from the music academy at Punahou School. He later went back to Japan to became a composer with the Columbia Recording Studio."

After that, Rose said, he taught local composers of Japanese ancestry how to add a bit of Hawaiiana to their music.

Chiyomi Furukawa started performing with Club Nisei and later joined the Shochiku Orchestra in her early 20s. She had started singing as a teenager and was the winner of the first all-state amateur singing contest back in 1937. She studied in Japan for a year-and-a-half before returning to Hawaii just before the Pearl Harbor attack. In fact, she shows a yellowed newspaper review dated Dec. 6, 1941, of her triumphant return performance at the Yamatoza Theatre (where Aala Park is now), after leaving on the last liner out of Japan before the Dec. 7 attack.

"The reviewer called me 'the luckiest of all local amateur singers,' " she said.

While Furukawa looks back at her orchestra years with fondness, her enthusiasm today is reserved for bowling, rather than singing.

"To be honest, I have no real feeling listening to these old songs," she said, "although my son first heard my singing at a friend's 50th anniversary party and told me, 'Mom, you're not bad after all!'"

Her two performances on the Orchestra anthology are on the classic folk tune "Tsubaki Saku Shima (Isle of Blooming Camelia)" and, in a duet with Hiroshi Kumagai, a fine band arrangement of a still-popular bon odori song, "Kagoshima Ohara Bushi."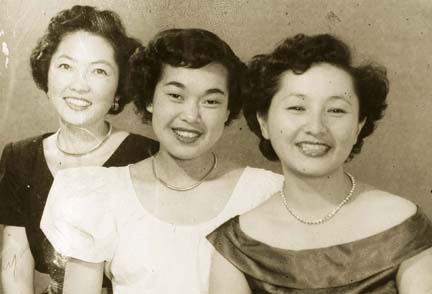 PRIVATE COLLECTION OF DORIS TAKETA KIMURA
Chiyoko Ida, Grace Amemiya and Doris Taketa during the
orchestra's heyday.
---
Another popular orchestra singer was Ted Nakata, who crooned under the stage name of Ted Shimabukuro. He was a member during the post-war era, having served in the Army Medical Corps before returning to Hawaii. His smooth vocals are best heard on the CD's "Asu No Kadode (A New Day)," a light, Latin-influenced number, and a langorous Hawaiian-influenced love song composed by Hattori, "Koyoi Mo Oka De (Another Evening on the Hill)."

Nakata's sister, Alma, also sang, but only with Club Nisei. In fact, it was in talking with the two siblings during the Club Nisei project that Rose first heard about the orchestra's recordings.

"Talk would always come around to the Shochiku Orchestra," Rose said. "Guys like Ted and Masaji are modest about the music they helped make, but they were really part of the top band of their day."

Rose located the band's original recordings with the help of the widow of Harry Yoshioka (not only the founder of the Kaimuki landmark music store that bears his name, Harry's, but an original Orchestra member as well, along with his brothers Takeo and Masao). "I found a bunch of original Tropic Records 78s and metal masters from the early '50s in the basement of their home and pulled together nearly 50 songs."

That was winnowed down to the 20 released on the CD.

"Masaji and Francis (Zanami) provide the thread of continuity since the band's beginning," said Rose, who recounted their meeting in 1932 as members of the Okinawan Men's Club band.

Zanami, the band's talented leader and arranger/composer, died due to kidney failure at the young age of 34, so as Uyehara attended to business matters, he said, "Harry Yoshioka, with Masao Idemoto, became co-leaders of the band. In fact, Harry was only 5 years old at the time the orchestra first started!"

"It's great that Masaji and Ted's friendship has endured after all these years," Rose said. "They were innovators in their day; the first Asian-Americans ever to own their own record business in the Tropic record label, not only recording their own music, but later in the '50s, Hawaiian music from people like the Kalima brothers and Johnny Almeida."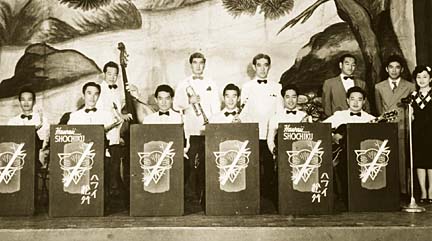 PRIVATE COLLECTION OF DORIS TAKETA KIMURA
A 1949 photograph of the orchestra, back row from left: Turp
Nakayama, George Mansho, Francis Zanami, Bing Kawasaki, Ted
Shimabukuro and Doris Taketa; and front row from left: Masao
Idemoto, Masao Yoshioka, Kazuo Matsuda, Jimmy Takahashi,
Masaji Uyehara and Richard Nakashima.
---
Throughout the years of the orchestra's existence, wherever Uyehara lived on the island's east side, he would have a rehearsal space available for weekly get-togethers, even during the rare opportunities when the orchestra didn't have an upcoming gig either here or on a neighbor island.

"All of Japan's top singers at that time would come to my house," the now semi-retired Uyehara said proudly, "and rehearse with the band, because we would always back them up on their appearances here."

For Uyehara, the orchestra was more of a hobby, than a vocation. "We toured for 35 years, both around here and interisland. With help of financing of the Okinawan community, we never lost money. I remember playing Baldwin High School on Maui; Kohala, Kona, Hilo on the Big Island; and we would pack McKinley High School Auditorium. And our core audience would be the plantation guys," he said.

"I was lucky that we had a good bunch of guys, no real trouble at all. And, remember, this was before TV, so we'd go all out, like we had one revue number with as many as 50 dancing girls, with a singer out front."

One band alumnus who couldn't make it for the day's gathering was Grace Amemiya Sakai, who currently lives with her family in Menifee in Southern California, between Los Angeles and San Diego.

"I was with them for three-four years," she said by phone, "and I certainly enjoyed my time with them, somewhere from the late-40s to 1950."

She has a duet with Nobuo Nishimoto on the title track and with Chiyoko Ida on the charmingly jazzy "Honoruru No Lei Uri Musume (Honolulu Lei Selling Girl)."

"While I was singing with a band in Wahiawa, I got a call from Masaji to come join Shochiku. I had always sung Japanese songs right from the beginning, mainly because my father didn't allow me to sing anything else but! I always considered myself a country girl, and singing in Honolulu and touring Maui, Kauai and the Big Island was always a big thing for me.

"I went to Japan in 1951 for what was meant to be music-related work, but, instead, I found my future husband there and dropped everything, including the music. In fact, just three years ago, I started taking karaoke singing lessons in nearby Moreno Valley, and that's when I really learned to sing, still doing the Japanese songs.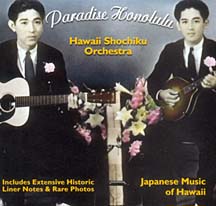 "I remember that time as the highlight of my own life. It was an enjoyable time; I made good friends with Chiyoko and Doris, and you couldn't ask for a better father figure in Masaji."

Doris Taketa Kimura, who graciously opened up her home for the day's gathering, also expressed her appreciation of the mutual friendship she shared with her fellow female band members. She said, "Audiences really appreciated what we did; we were always rewarded with extensions, a couple of days or maybe even close to a week. We enjoyed it so because we loved the stage."

And even though Thomas Hijiki now gets an assist in breathing from a portable oxygen tank, his enthusiasm for those years is energizing. "Overall, it was a lot of fun; we enjoyed both the playing and the response of the audience. It was the easiest thing to do, coming together to perform."

Naoyuki Takaoka, who won an amateur singing contest at the Toyo Theatre in 1945, is represented on the CD with a stirring, patriotic vocal on Francis Zanami's "AJA Koshin Kyoku (AJA March)."

"I learned to sing from Japanese records and radio programs," he said, to which Rose chimes in by saying that he is "naturally talented."

Takaoka said, "There was always the desire and love to sing, money never entered into it."

Before occuping the orchestra's drum chair, Patrick Arakaki had his own band at Farrington High School in 1949, the Skylark Dance Band.

"I served in the Army for two years during the Korean War," he said, "and came back in '51 and played in the Shochiku Orchestra up to 1958. Musically, I still do a bit of karaoke singing, although they're more American songs than Japanese."

And, with the passage of time, it's inevitable that, as Hawaii has become a more cosmopolitan city, what was once shared as a smaller community based on common culture and ethnicity, would fade into a pleasant memory. But, in listening to these recordings, these nine people have every reason to be proud of recording a bit of island history.





Click for online
calendars and events.
E-mail to Features Editor
---
---
© 2001 Honolulu Star-Bulletin
https://archives.starbulletin.com