CLICK TO SUPPORT OUR SPONSORS

---

---
Monday, November 12, 2001
Land Board urges stricter
fishing rules for Pupukea

---

By Diana Leone
dleone@starbulletin.com

Everyone gets another chance tomorrow to speak in favor of or against stricter rules for fishing and diving at Shark's Cove, Three Tables and Waimea Bay on the North Shore.

The public hearing regarding proposed changes for the Pupukea Marine Life Conservation District begins at 6 p.m. at Sunset Beach Elementary School, 59-360 Kamehameha Hwy.

A task force with representatives from diving, fishing, neighborhood, conservation and Hawaiian groups studied the issues for nine months in 1999 and 2000 and concluded that the area cannot be all things to all people. Based on the task force's recommendations and its own research, the Department of Land & Natural Resources has come up with proposed changes.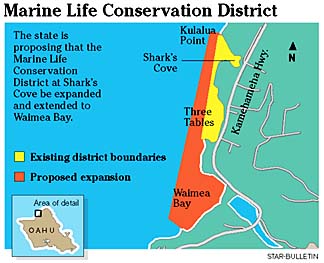 Here is what it proposes:

>> Expand the existing Pupukea Marine Life Conservation District (which includes Shark's Cove and Three Tables) 100 yards seaward, and add Waimea Bay to it.

>> Ban all fishing in the Shark's Cove and Three Tables areas. Restrict fishing in Waimea Bay to pole-and-line.

>> Ban spear guns and spears everywhere in the conservation district -- even if someone is "just passing through" to areas beyond.

>> Put a cap on how many commercial dive shops can have clients diving at Shark's Cove at any given time. A suggested reservation system would allow a maximum of six dive shops to have as many as 10 divers each in the cove at any one time.

Recreational fisherman and North Shore resident Tommy Navarro does not think he and fellow recreational fishermen are a problem.

But Deep Ecology North Shore dive shop owner Ken Nichols has said he will gladly take fewer clients diving if it will help the ecology of the area.

DLNR aquatic biologist Alton Miyasaka said stopping fishing in the district should actually improve fishing nearby.
E-mail to City Desk
---
---
© 2001 Honolulu Star-Bulletin
https://archives.starbulletin.com