CLICK TO SUPPORT OUR SPONSORS

---

---
Sunday, November 11, 2001



Veterans Day 2001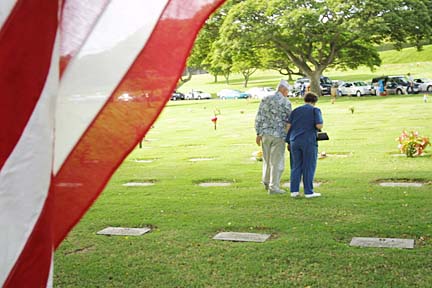 RICHARD WALKER / RWALKER@STARBULLETIN.COM
Jerry Barnett and his wife, Lucy, from West Des Moines, Iowa,
viewed the grave site of a 34th Infantry Division soldier yesterday
at the National Memorial Cemetery of the Pacific at Punchbowl.
Barnett, a member of the Veterans of Foreign Wars Post 9662,
was attached to that division while serving in WWII.
---
People urged to
remember civilian toll


Many say the Sept. 11 terrorist
attacks renewed focus on Veterans Day

---

By Leila Fujimori
lfujimori@starbulletin.com

Though it is a day set aside to honor America's veterans, retired Gen. Fred C. Weyand urged people to also remember civilians, particularly those who sacrificed their lives on Sept. 11.

In his keynote address at yesterday's Veterans Day service at the National Memorial Cemetery of the Pacific at Punchbowl, Weyand urged those in attendance "to hold in your hearts all of those who've sacrificed their lives to protect our freedom."

Exactly two months after the terrorist attacks in New York City, Washington, D.C., and Pennsylvania, many of the roughly 700 people in attendance agreed that recent events have cast a renewed focus on Veterans Day.

"I think (Sept. 11) created a newfound respect for men and women in uniform," said Hono-lulu attorney Steve Thaler, 30.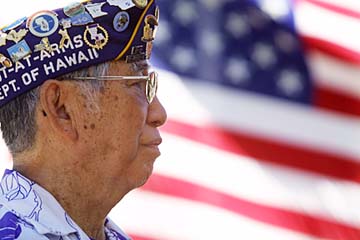 RICHARD WALKER / RWALKER@STARBULLETIN.COM
Thomas Tanaka, who served in the U.S. Army during
the Korean War, was among those attending yesterday's
ceremony at the Hawaii State Veterans Cemetery in Kaneohe.
---
Vietnam veteran Bill Chao, 54, visits Hawaii from California with his wife and two children every year at Veterans Day and Memorial Day.

"We see a greater sense of patriotism because of the presence of the military here," said Chao's wife, Carol, 48. "It's a good way for children to learn without being embarrassed about it."

Their 14-year-old son, Alex, said he sees changes in people everywhere since Sept. 11.

"People are more willing to show their patriotism and national pride," he said.

Mary Blewitt, 53, has been wearing red, white and blue ever since Sept. 11. Yesterday, her patriotic colors also included green -- her father's woolen Army cap with brass insignia, which she brings with her to the service each year.

"People forget even with these observances, because it's hard to relate when you haven't seen the sacrifices or had to make them," she said.

For some it was their first Veterans Day service. They included 10-year-old Brent Taylor and his 5-year-old brother, Nathan, who squinted up at the jets during the missing-man flyover and watched in awe as cannons blasted during the 21-gun salute.

But it was the veterans who turned out in great numbers yesterday.

A special veteran in attendance was 100-year-old Col. Frank Steer, who saw combat in both world wars.

Yesterday he wore his French Legion of Honor medal, awarded to him when he was 17 for combat in France against the Germans.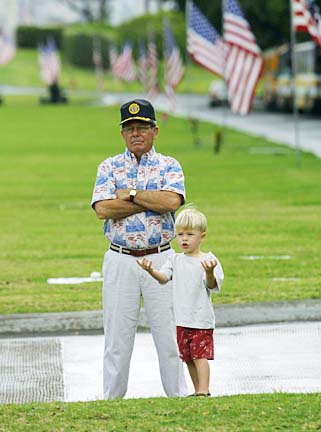 RICHARD WALKER / RWALKER@STARBULLETIN.COM
Jay Rigle and grandson Adam Quandt, 3, were among those
watching yesterday's Veterans Day ceremony at the National
Memorial Cemetery of the Pacific at Punchbowl. Rigle served
aboard the USS Missouri in 1954-55.
---
Steer, who served in the Pacific during World War II, saw a similarity between the Sept. 11 attacks and the Japanese surprise attack on Pearl Harbor almost 60 years ago.

"It was a clever military action in New York, and Pearl Harbor was also very clever," he said. "They caught us with our pants down."

Other veterans said Pearl Harbor and Sept. 11 were very different.

David Au, 77, a World War II Army veteran and American Legionnaire, remembers watching anti-aircraft gunfire on Dec. 7, 1941, while standing on the roof of his School Street home.

"Those days, you only think about your enemy," Au said. "Today it's different. ... Your next-door neighbor (might be your enemy), we don't know. You have to be very alert."

De Vern Little, an Army paratrooper with the 82nd Airborne captured in Belgium during World War II, said similarly: "This war is nothing like what we went through. The enemy is not in front of us. It's a terrorism war. It's very different."

Florida resident Bob Dunlap, a former prisoner of war who served in World War II with the 28th Division, 112th Regiment, said that after World War II, "we went back to normal.

"I don't think we'll ever go back to normal. ... We'll never see the freedom we had."
E-mail to City Desk
---
---
© 2001 Honolulu Star-Bulletin
https://archives.starbulletin.com