CLICK TO SUPPORT OUR SPONSORS

---

---
Wednesday, October 31, 2001
Isle auto sales
reverse 5% in quarter


Local industry executives express
relief that the decline wasn't worse
due to the terrorist attacks

---

By Rick Daysog
rdaysog@starbulletin.com

Sales of new cars and trucks in Hawaii slipped 5 percent in the third quarter of this year, but it could have been worse.

A total of 13,341 new autos were sold statewide during the three months ending Sept. 30, down from 14,036 in the year-earlier period, the Hawaii Automobile Dealers' Association said.

The latest results -- based on county new vehicle registrations -- don't reflect the full impact of the Sept. 11 terrorist attacks, which has battered Hawaii's tourism sector and prompted thousands of layoffs statewide.

Here's a snapshot of the latest HADA quarterly report:

>> Sales of import models dropped 3.8 percent to 8,738 from third quarter 2000's 8,738,

>> Domestic car and truck sales declined 6.9 percent to 4,931 from the previous third quarter's 5,298,

>> Year-to-date, new car and truck sales are down 2.9 percent to 39,154 from 40,333 in the same period last year.

Local industry executives said they were relieved the decline wasn't more severe.

Eric Miyasaki, president of Nissan Motor Corp. in Hawaii, said local car dealers haven't experienced the same downturn suffered by travel companies and the airline industry.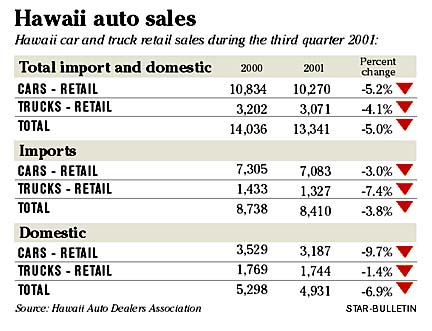 During the weeks after the Sept. 11 tragedy, new car and truck sales dropped by about 10 percent but began to stabilize by mid-October, Miyasaki said.

One reason is aggressive incentives by manufacturers.

Since mid-September, U.S. and foreign automakers have scrambled to boost their business, Miyasaki said.

Some are offering zero-interest rate financing for some models while others are making 60-month car loans available at 2.9 percent on more popular models.

Despite incentives, fleet sales to local rental car agencies have been hard-hit by the ongoing tourism downturn.

With visitor arrivals plunging by double-digit percentage rates, local fleet sales have plummeted by 36.5 percent to 4,287 from third quarter 2000's 6,750.

"It looked like the momentum was building up prior to Sept. 11," said Dave Chun, president of Honolulu Ford in Kakaako.

"Now I'd be happy if I can do what I did last year."
E-mail to Business Editor
---
---
© 2001 Honolulu Star-Bulletin
https://archives.starbulletin.com