CLICK TO SUPPORT OUR SPONSORS

---

---
Island Images



Saturday, October 27, 2001
---
SNIFFING FOR LOVE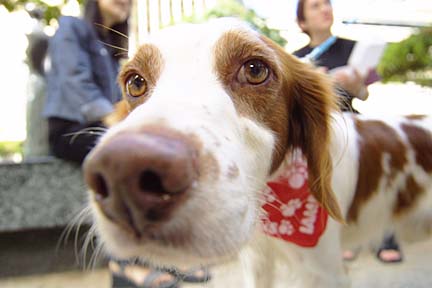 RICHARD WALKER / RWALKER@STARBULLETIN.COM
Dusty, a Brittany Spaniel, was out and about at Tamarind Park
helping the Humane Society spread the word about Love-A-Dog
month. Dusty, who had to be given up because his owner was
called to active duty on the mainland, is available for adoption
along with other dogs at the Humane Society.
---
AMERICA HONORED AT THE BIG GAME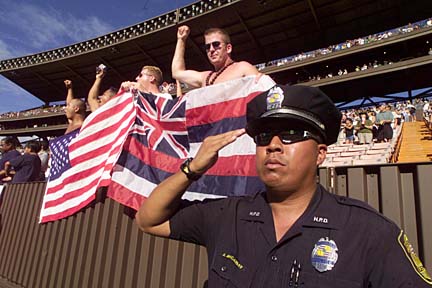 DENNIS ODA / DODA@STARBULLETIN.COM
Honolulu Police Department officer Alfred Macaibay
saluted during the national anthem at the start of the
UH-Fresno State football game while, from left,
Al Salvador, Rich Nepomuceno, Joe DiMartino
and Todd Paxton hold up the flags.
---
E-mail to City Desk
---
---
© 2001 Honolulu Star-Bulletin
https://archives.starbulletin.com