CLICK TO SUPPORT OUR SPONSORS

---

---
Sunday, October 21, 2001



[UH FOOTBALL]
---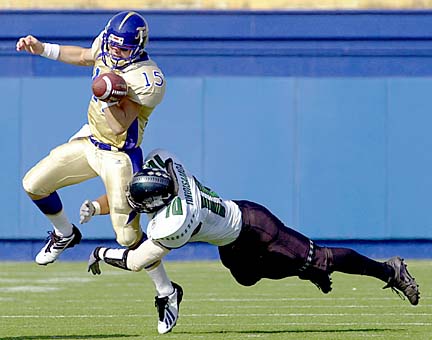 ASSOCIATED PRESS
Tulsa quarterback James Kilian loses his grip on
the ball while being tackled by Hawaii's Pisa
Tinoisamoa. The Warriors won 36-15.
---
Rolo has
UH rollin'


The Warriors win their third
in a row behind their backup QB

Tinoisamoa works within system

---

By Dave Reardon
dreardon@starbulletin.com

TULSA, Okla. >> The Hawaii football team peeked into the future, just a little bit. Then it took care of the business at hand.

UH started erratically, but again scored in bunches, played stifling defense and got huge boosts from its special teams. The result was a 36-15 victory over struggling Tulsa that wasn't as close as the score indicated yesterday at Skelly Stadium.

Quarterback Nick Rolovich, named to start the day before, passed for three touchdowns as UH rolled up 435 yards with no turnovers.

Except for scoring drives at the beginning and the end, the UH defense was close to flawless. Pisa Tinoisamoa led the way with 14 tackles.

Toss in 15 points scored or set up by special teams and it was a complete triumph.

"I think this team is really coming together," Warrior coach June Jones said. "The team effort is there in all phases of the game."

Hawaii's third-consecutive Western Athletic Conference victory -- a first for UH since 1992, when it won a share of the WAC championship -- set up a showdown with Fresno State at Aloha Stadium this Friday.

After falling behind 7-3, the Warriors (4-2, 3-2 WAC) showed no quarter in the second quarter with 23 unanswered points, sending the Golden Hurricane (1-5, 0-4) to their fifth loss in a row.

Tulsa coach Keith Burns tried to find hope for his team's future in that Hawaii is rebounding from a 3-9 season of a year ago.

"Last year they struggled. Now they're back," Burns said. "They're going to compete for our conference championship with Fresno."

UH completed its road schedule with a 2-1 mark, but now has six tough opponents left to play at home.

Other guests at the team's hotel might have thought the Warriors won Friday night, as players celebrated Boise State's 35-30 upset of Fresno State, which opened up the WAC race.

"We've been excited for about 24 hours now, since that game started last night. We were watching every play in that game. When we saw what happened at the end we were jumping on beds and pounding walls," said senior slotback Craig Stutzmann, who helped key UH's offense with all five of his catches, good for 77 yards, in the first half. "We just carried that feeling into this game. The defense had a great game, we had a great game. What more could you ask for?"

How about special teams?

Freshman Justin Ayat hit two field goals, including a 55-yarder, just 1 yard shy of Jason Elam's school-record kick in 1992. Mat McBriar had his best game, with a 69-yarder among his five punts that averaged 47 yards. And Mark Tate started the game with an 80-yard kickoff return to set up Ayat's first field goal, a 38-yarder.

Then there was Abraham Elimimian and Keith Bhonopha combining on a safety as Tulsa punter Casey Lipscomb bobbled a snap in his end zone. Robert Grant's heads-up tackle on a Hurricane kickoff return lateral set that one up, as Tulsa began the possession on its 4.

The special teams helped the offense and defense settle into the game. Once both did, it was over for the Hurricane. Hawaii has now outscored its last two opponents 102-22.

Rolovich, who won his third game in as many starts this season, completed 17 of 21 passes in the first half, including one of his two touchdowns to Ashley Lelie and another to Justin Colbert. Rolovich completed nine consecutive passes in a stretch of the first half.

Hawaii did not commit a turnover -- its first game without an interception since Oct. 7, 2000.

Rolovich started because Jones determined that Tim Chang was not ready to come back from a sprained right (throwing) wrist.

Rolovich was replaced by Jared Flint after three quarters with Hawaii leading 33-7. He finished with 25 completions in 34 attempts for 324 yards.

"I'm pleased," Jones said. " I'm really happy for Rolo, how he stood in there and made some throws. He took some shots.

"It was good to see."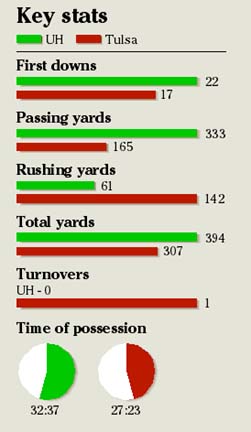 The Warriors were less than enthralled with some of the early happenings, though.

Tulsa quarterback Josh Blankenship hooked up with Donald Shoals for a 25-yard touchdown pass seven minutes and 21 seconds into the game, capping an 11-play, 65-yard drive on the Hurricane's first possession. Tulsa led 7-3, and it was time for the Hawaii defense to check itself.

Safety Jacob Espiau said the Warriors' early defensive problems had nothing to do with thinking about Fresno State.

"The first drive there's always jitters," said Espiau, who was in on six tackles. "You only play one game a week and the game's faster than practice. But we got the jitters out and we got it done."

So did the offense.

After settling for three points on Tate's return and falling behind on Shoals' score, Hawaii was stopped at the Tulsa 48 on a sack of Rolovich by Michael Dulaney on its next drive.

But McBriar's punt bounced on the Hurricane 1 back to the Tulsa 4, where it was downed.

After a three-and-out, Hawaii took over on its own 39. Five plays later, Thero Mitchell was in the Tulsa end zone at the end of a 5-yard run and UH led 10-7 at 14:28 of the second quarter.

The Elimimian-Bhonopha safety came 1:37 of game time later.

After the Tulsa free kick, Rolovich hit Stutzmann for three first downs in a row, Mike Bass took a screen pass for 27 yards, and Rolovich found Lelie on a slant for the 12-yard TD at 9:01.

Colbert's first touchdown of the season, making it 26-7 with 1:03 before the half, was set up by his own 25-yard reception and a pass interference call.

Lelie's spectacular grab across the middle and fighting gallop into the end zone for 44 yards made it 33-7 with 2:33 left in the third quarter.

James Killion's 2-yard TD run against the Hawaii backups with 5:34 left in the game came after his 44-yard pass to Edmond Freeman.

"Those yards, they don't matter," Burns said. "They came late, and they're trying to get out and get to the plane and we're trying to make something happen."

[COMING UP]

Fresno State within
Hawaii's reach after loss

The Western Athletic Conference's financial loss gives Hawaii an opportunity.

Boise State's upset of Fresno State on Friday killed the Bulldogs' dreams of playing in a BCS bowl and also snuffed the big payday for all the teams in the WAC that would have come with it.

But it also put UH and others back in the race for the conference championship.

Hawaii would need help from other teams, but if it beats Fresno State on Friday at Aloha Stadium, both teams will have two losses and Hawaii the advantage on tiebreaker.

UH has beaten FSU the last three times they've met at Aloha Stadium. The Bulldogs lead the series overall, 18-14-1.

[EXTRA POINT]

Bhonapha in on another
big special teams score

Hawaii's special teams have become just that -- special -- in recent weeks.

When Abraham Elimimian and Keith Bhonapha teamed up for a safety on Tulsa punter Casey Lipscomb, UH took a 12-7 lead at 12:51 of the second quarter. Seven plays later, the Warriors padded it to 19-7 on Nick Rolovich's first of two touchdown passes to Ashley Lelie; with UH's defense stiffening, the issue was settled before halftime.

Elimimian came in unblocked on Lipscomb, who bobbled the snap from his 6-yard line.

"I tried to strip it, but he got a hold of it and KB came in and cleaned it up," Elimimian said.

Bhonapha returned a blocked punt for a touchdown at Southern Methodist.

---

Dave Reardon, Star-Bulletin

---




Scoring summary

First quarter

HAW-- Ayat 38 kick kick 12:19
TUL--Shoals 25 pass from Blankenship (Earnest kick) 7:39 Second quarter

Second quarter

HAW--Mitchell 5 run (Ayat kick) 14:28
HAW--Bhonapha safety 12:51
HAW--Lelie 12 pass from Rolovich (Ayat kick) 9:01
HAW--Colbert 14 pass from Rolovich (Ayat kick) 1:03 Third quarter

Third quarter

HAW--Lelie 44 catch from Rolovich (Ayat kick) 2:33 Fourth quarter

Fourth quarter

HAW--FG Ayat 55 (13:44)
TUL--Kilian 2 run (Culton pass) 5:34
Attendance--17,629

Team statistics

| | | |
| --- | --- | --- |
| | HAW | TUL |
| First downs | 22 | 17 |
| Rushes-yards | 33-61 | 37-142 |
| Passing yards | 333 | 165 |
| Comp-Att-Int | 26-39-0 | 17-35-0 |
| Return Yards | 112 | 61 |
| Punts-Average | 5-47 | 7-39.4 |
| Fumbles-lost | 3-0 | 2-1 |
| Penalties-yards | 11-83 | 4-50 |
| Time of Possession | 32:37 | 27:23 |

Individual statistics

RUSHING--Hawaii: Mitchell 15-42, Bass 6-19, Owens 2-18, Stutzmann 1-3. Tulsa: Blankenship 6-54, Richardson 14-41, Kilian 5-18, McKenzie 6-16, Bohanon 4-16, Landrum 1-3.
PASSING--Hawaii: Rolovich 25-34-0-3, Flint 1-5-0. Tulsa: Blankenship 16-32-0-1, Kilian 1-3-0.
RECEIVING--Hawaii: Lelie 7-85, Stutzmann 5-77, Colbert 4-65, Harris 4-47, Bass 4-39, Uso 1-11, Welch 1-9. Tulsa: Shoals 7-79, Richardson 6-28, Freeman 1-44, McKenzie 1-11, Birks 1-3, Roach 1-0.

---



E-mail to Sports Editor
---
---
© 2001 Honolulu Star-Bulletin
https://archives.starbulletin.com