CLICK TO SUPPORT OUR SPONSORS

---

---
Sunday, October 21, 2001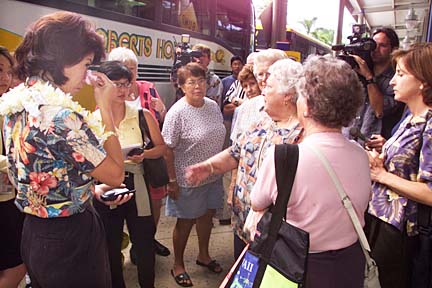 KEN SAKAMOTO / KSAKAMOTO@STARBULLETIN.COM
Vice President of Destination Services, Lei Fountain,
became emotional as she spoke to passengers who
had their cruise canceled due to the shutdown of American
Classic Voyages' cruise ships yesterday.
---
Stranded


Employees and tourists are
feeling scuttled after 2 cruise
ships go bankrupt

---

By Gary T. Kubota and Lisa Asato
gkubota@starbulletin.com
lasato@starbulletin.com

Pregnant and facing payments for a new vehicle, Alyssa Lopes said she's unsure about her future after being laid off by American Classic Voyages Inc., but she's hopeful the company will recover from Chapter 11 bankruptcy.

"It will be nice to see it come back someday," said Lopes, a purser superintendent on Maui.

American Classic's two ships disembarked their last load of passengers and most of the crew members yesterday, leaving hundreds of former employees uncertain about their job prospects in a slumping economy after the Sept. 11 attacks.

The ms Patriot, with some 1,100 passengers, ended its cruise in Honolulu. The SS Independence, carrying about 780 passengers, halted service on Maui.

The Independence was expected to join the Patriot in Honolulu Harbor at midnight last night, said Fay Rawles, American Classic human resources manager.

Seafarers union official Neil Dietz said the shutdown affected 600 members. He said the union is offering job placement services for workers aboard other ships and also an opportunity to train for other jobs at its schools on Oahu and in Maryland.

American Classic has said it hopes ships it has under construction will be based in Hawaii starting in 2004.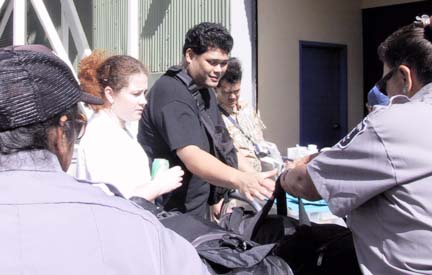 KEN SAKAMOTO / KSAKAMOTO@STARBULLETIN.COM
Former SS Independence workers Krishinda Bledsoe
and her boyfriend Michael San Juan had their baggage
examined yesterday as they left the cruise ship for the last time.
---
Many other businesses said they'll feel the impact of the ships ceasing operation.

Bob Lewis of Big Bob's Taxi on Maui said he relied on passengers on the two ships to provide about four days of income for him and he enjoyed the business because the visitors tipped well.

But since Sept. 11, business has been getting worse.

"This war, man, just changed everything," he said.

Carrying suitcases, trash bags of belongings and TVs off the boat, at least 250 Independence employees received their last paycheck yesterday, along with vacation pay and $300 cash for travel expenses.

Coming off the Patriot in Honolulu Harbor, Darren Hochstedler was among the ship's 435 staff and crew who were hit with the news Friday.

There were rumors the company was in trouble, but bosses were assuring workers they would keep sailing, said Hochstedler, a ship entertainer.

"We knew for sure it was happening" when Friday's Kona stopover was canceled, he said. The captain "just got on the P.A. and told everybody right into their room, so everybody knew (about the bankruptcy) at the same time."

David Burnham, who steered the Patriot, said the two ships steamed side by side Friday near Lahaina while "God Bless America" streamed over the P.A. system.

"Tears were coming down old lady's faces and everybody started hugging," he said.

Donna Delizo stood outside Aloha Tower waiting for her son Dezmen Anoina to get his things from the ship. He had just started as a dishwasher last month and was hoping to work his way up the ranks, she said, carrying Dezmen's 21-month-old daughter, Dezlynn. Now the Waialua High School graduate has to start all over again.

Independence employees said they were surprised and some of them cried when notified Thursday about the plans to shut down the seven-day, interisland tours in Hawaii.

Some were upset about the short notice and being forced to catch a flight to their homes on Oahu.

"They should have let us off in Honolulu," said Jose Rodriguez, a Honolulu resident who was let go on Maui.

Former workers Michael San Juan and his girlfriend Krishinda Bledsoe said they plan to stay with friends on Maui temporarily before looking for jobs.

"The job market is so hard in Honolulu, we'll probably go to Tacoma, Washington, or Seattle," said San Juan, a Kaneohe resident who worked as a chef aboard the Independence.

Laurie Victorino, a former cabin attendant, said she's going to have to look for a place to stay in Honolulu.

"The ship's been my home, so I'll be starting from the bottom," she said.

Victorino said she cried when she heard the Independence was shutting down its operations, because people aboard the ship were part of a family. But she feels fortunate when she thinks of the many other people killed in the terrorist attacks at the World Trade Center.

"At least we have the opportunity to regain," she said. "You've got to be thankful for what you've got."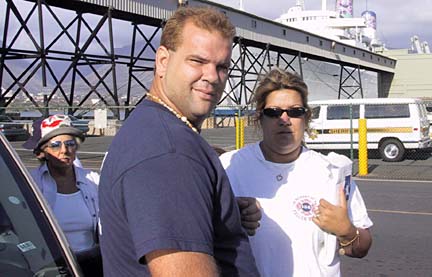 GARY T. KUBOTA / GKUBOTA@STARBULLETIN.COM
Florida residents Gregory and Diana Brown said yesterday
they don't know where their family will stay now during
their vacation in Hawaii after the cruise cancellations.
---
Independence passengers said they enjoyed their cruise, although they didn't get to disembark on Kauai as planned.

"That was very disappointing," said Don Seidel, a Washington state visitor. "We had plans there." The ship took a trip along the Na Pali coast instead of docking at Nawiliwili Harbor.

Outside the security gate in Kahului, several passengers who had reservations to board the next cruise said they hadn't heard about the shutdown.

"We're definitely upset. We feel wronged," said Gregory Brown, a Florida resident traveling with his wife, Diana, two children, and two relatives.

Brown said he didn't know where they will be staying during the seven days they were supposed to be on the interisland cruise. He said the price of the cruise was $1,299 a person and now the family has to look for more money to pay for their trip.

In Honolulu too, expectant passengers waited pierside with tickets in hand, wanting answers.

"They're not telling us anything," said Fred Shanks, who flew for 13 hours from Florida with his wife, Carol. Their cruise tickets cost $1,000, Fred said, adding: "We came to see what they're going to do. I figure we lost it."

Lei Fountain, vice president of destination services, tried to quell concerns while battling her own emotions.

"For those of you who were getting on (the Patriot) this is the group that's hardest for us because we have no answers for you except we cross our fingers and pray to God you bought travel insurance and that you charged on a credit card," she said.

The airlines said tickets bought through American Classics would be honored anytime through Saturday on a space available basis, she said. "The good news is airlines are not full," she said. But she also told them if they choose to stay in Hawaii they would have to handle their own accommodations.

Fighting back her tears, Fountain told the passengers: "None of us here in this uniform has thought about us yet," she said. "I've asked my staff to think about us next week Wednesday. We're going to get together and we're going to think about us and we're going to feel sorry for ourselves and we're going to cry."
E-mail to City Desk
---
---
© 2001 Honolulu Star-Bulletin
https://archives.starbulletin.com