CLICK TO SUPPORT OUR SPONSORS

---

---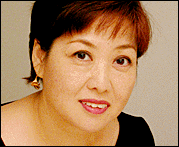 Local Color



Sunday, October 21, 2001
BY SUZANNE TSWEI
---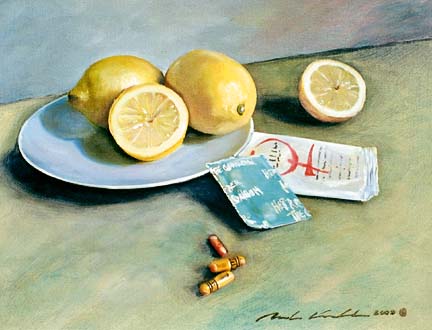 "No Sweet Without Sour" is, like much of Mark Kadota's
other work, about "how we live our lives and the
different ways we die."
---
Artist's paintings reflect
on fleeting pleasures in life

---

by suzanne tswei
stswei@starbulletin.com


What does a plate of yellow lemons have in common with packages of condom and drugs? Plenty, if you ask artist Mark Kadota, who juxtaposed them in a still life painting.

"They are all about life and they are all about death. They are about how we live our lives and the different ways we die," he says.

The painting, titled "No Sweet Without Sour," is as much a celebration of life as it is a reminder of our mortality. It is about the quiet beauty of life that can be found in nature, such as the humble lemon. And it is about the manmade inventions -- the condom and pills -- that have invaded and complicated our lives.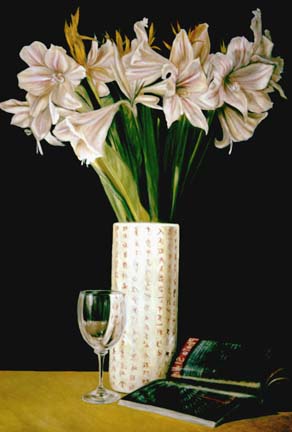 The work above is entitled "Beauty is Less What One
Sees, Than What One Dreams." Above right, "Silence Answers Much."
---
"We all pretend we are gong to live forever, but we are not. I am interested in documenting the things that we live with in the 21st century," Kadota said.

Taking a cue from 17th century Dutch masters, Kadota uses still life as vignettes of our daily lives. His exhibit, "Memento Mori," is on view at The Contemporary Museum at First Hawaiian Center. It runs through Dec. 5 in conjunction with artworks by Robert Kushner, Saba Daraee, Sanit Khewhok, Jinja Kim and Rebecca Ramos. (See next page for their works.) Kadota's paintings are in the downstairs gallery while the artists' works are on the second floor.




"Memento Mori: Recent Works by Mark Kadota"

Place: The Contemporary Museum at First Hawaiian Center, 999 Bishop St.

Time: 8:30 a.m. to 4 p.m. Mondays to Thursdays, 8:30 a.m. to 5 p.m. Fridays, through Dec. 5

Admission: Free

Call: 526-1322




It's surprising to see realistic paintings from Kadota, although pinning him with a label has always been impossible. The multi-faceted artist has been a performance artist, painter, potter, dancer, musician, writer, teacher and curator. He is primarily known for his multi-media abstract paintings.

When we last visited Kadota, he was on the cutting edge of contemporary art making: Creating blurring portraits of his friends by snapping their pictures repeatedly on singular frames of film. The faces didn't look human and prompted gallery visitors to denounce them as ugly.

While the human portraits made some visitors cringe, his still life paintings elicit the opposite reaction. The luscious realism of the fruits and flowers engages viewers immediately. But Kadota wants the viewers to remember that it is the idea behind his art that matters, not the appearance.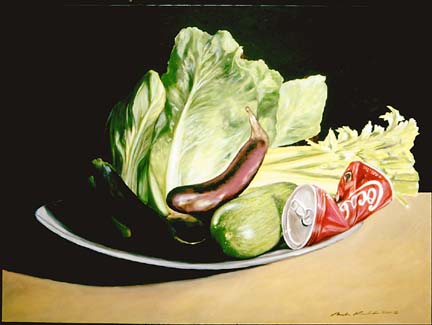 Kadota combines still life with contemporary images.
Above, "There is a Fool at Every Feast."
---
"I am a conceptual artist. It doesn't matter what I do, whether it's a painting or a piece of music I write, it's the idea that's important. Whatever I choose to carry out, that idea is only the vehicle," he says.

And his idea is focused on the fragility of life, which on the heels of Sept. 11 is a timely reminder for us to reexamine our lives, Kadota says. His inspiration for the series of still life came from Dutch proverbs, which serve as titles for his paintings.

"I thought these proverbs, which are centuries old, are still meaningful today. Things like 'silence answers much' can say a lot about how we live now and how we should live," he says.

Kadota, who divides his time between his home in Waianae and an apartment in Amsterdam, began the still life paintings about a year ago. His time in Amsterdam offers opportunities to study museum works. As he was inspired by Dutch proverbs, he also learned from the Dutch masters.

"I was intrigued by how everything they put in the picture had a hidden meaning. Everything is supposed to be a symbol for something," Kadota says.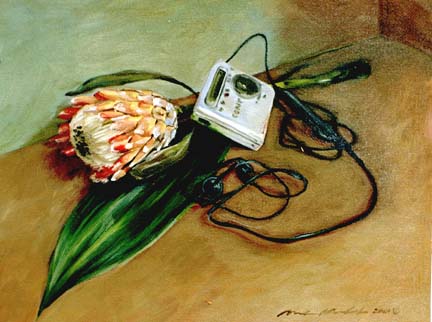 "We all pretend we are gong to live forever, but we are not.
I am interested in documenting the things that we
live with in the 21st century."

Mark Kadota
Artist
---
A full glass symbolizes life, while an empty one signifies the end of life. To update the list, Kadota included a hand-held computer, Walkman, CDs, cell phone and other modern inventions in his paintings.

"The manmade things are contemporary symbols for how we live. I think it's interesting that we think of the fruits and flowers as things that won't last forever and the modern conveniences as things that will go on forever.

"But actually these manmade things have a very limited shelf life, kind of like how our lives on earth is short, too. These are the things that offer us fleeting pleasures, and that's exactly what we should remember. They are fleeting, and so is life."





---




---

Suzanne Tswei's art column runs Sundays in Today.
You can write her at the Star-Bulletin,
500 Ala Moana, Suite 7-210, Honolulu, HI, 96813
or email stswei@starbulletin.com
E-mail to Features Editor
---
---
© 2001 Honolulu Star-Bulletin
https://archives.starbulletin.com