CLICK TO SUPPORT OUR SPONSORS

---

---
Sunday, October 21, 2001
'Perfect Blue' is
perfectly intense

---

By Wilma Jandoc
wjandoc@starbulletin.com

Psychological thrillers in anime are nothing new, but there will be those that will push the subgenre further. The feature-length anime "Perfect Blue" is a perfect example.

Mima Kirigoe is lead singer of the budding pop idol group Cham when, at the urging of her agent Mr. Tadokoro, she quits to enter the more lucrative field of acting. She accepts the change as inevitable but is obviously not very happy with it.

Her first role is in a TV drama called "Double Bind," in which she plays the sister of a murdered woman. The drama's producers have good words about her acting, so Tadokoro pushes for her to have a greater role.

But it's apparent that someone else is upset with Mima's change. A threatening fax and a letter bomb are just the start of a reign of fear. Mima's other agent, Rumi Hidaka, pleads with Tadokoro to have Mima return to Cham, but he refuses.

Mima then finds a Web site called "Mima's Room" that has intimate details of her life, down to such things as which foot was first when she stepped off the train to go to work.

Her stifled unhappiness finally explodes when, again at the urging of Tadokoro and despite her reluctance, Mima does a "Double Bind" scene in which her character is raped at a strip club. On returning home, she tears up her room in uncontrollable rage, screaming about her unwillingness to do the scene.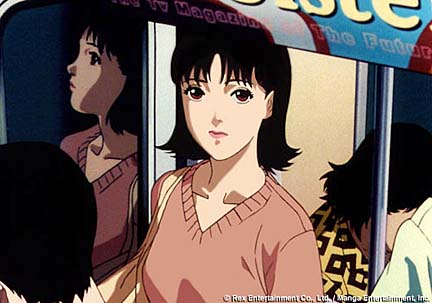 Kikaida alert!

Kikaida, the blue-and-red -- or is he red-and-blue? -- Japanese superhero of the early '70s is returning to Hawaii TV. Beginning Nov. 4, "Kikaida" will air at 7 p.m. Sunday evenings on KIKU-TV. These are the original 43 episodes. We'll have more information later in your favorite Kikaida spot, here in the Sunday Star-Bulletin's "Drawn & Quartered."




Her life quickly spirals down from there as she struggles to cope with her actress role. Among her delusions is a giggling image of herself in her old Cham outfit, taunting her with a menacingly cheerful singer's smile and eternally bright personality.

Then there is an obsessed fan of Mima's called Me-Mania who, at Cham's last performance, pretended to hold Mima in the palm of his hand. She sees him everywhere, only to have him disappear from view the next second.

Mima loses track of time and her sense of identity as memories meld into one another. She comes to rely on "Mima's Room" to tell her what she did the day before, religiously following the Web site in a zombie-like state.

Eventually, Mima's associates are stalked and brutally murdered, including the drama's scriptwriter and Mima's photographer, and she realizes she cannot remember what she was doing during the murders.

The anime creates a disturbing atmosphere of psychological confusion from the very beginning: Clips of Mima shopping for groceries mingle with shots of her last performance with Cham. The two timelines eventually merge, but not before viewers are almost completely confused about what is going on and when.

Repeated scenes and seamless transitions between hallucination and reality, and one day and another, draw viewers deep into Mima's chaotic world.

The anime uses numerous shots of Mima staring with a pensive, vaguely unhappy expression, creating some slowdown in an otherwise well-paced movie.

It is a very graphic movie, with intensely violent scenes that are definitely not suited for children.

"Perfect Blue" will take several viewings to completely understand, although the general story line and its conclusion are easy enough to grasp on a first watch.

It goes beyond other anime in terms of suspense and subject matter in its exploration of the dark side of fame and a brutal behind-the-scenes look at the pop-idol industry.

The one thing it lacks is an in-movie explanation of the anime's name -- Mima's dialogue referring to the name was apparently taken out before "Perfect Blue's" general release. The only way to find that out is by scrolling through the chapter names on the DVD.

Based on the novel by Yoshikazu Takeuchi and directed by Satoshi Kon, "Perfect Blue" had a limited run in English-dubbed form in American theaters in 1998. It is available on DVD and VHS.





Click for online
calendars and events.
E-mail to Features Editor
---
---
© 2001 Honolulu Star-Bulletin
https://archives.starbulletin.com